RI Scene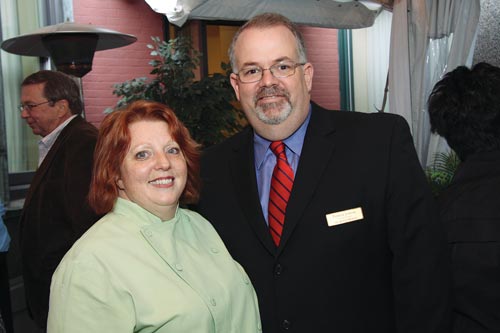 Aspire Restaurant and the Hotel Providence launched their Friday night jazz series on the new tented terrace on May 1. The South Beach-inspired rooftop terrace is located above the Hotel Providence. This, coupled with Aspire's new menu, offers a new Friday night destination for jazz aficionados.
At left: Terri Boehm, executive chef, Aspire Restaurant and Patrick Jordan, general manager, Hotel Providence.
Star Kids Scholarship Program hosted their seventh annual Star Gazing Soiree on April 25 at the Carnegie Abbey Club
in Portsmouth. The event raised more than $70,000 towards the program's goal of providing educational opportunities to 100 children in the communities of Newport, Fall River and New Bedford.
At left: Vespa Scooter raffle winner, Laura Oliveira of Dartmouth, Mass., receives keys from Dorsey Beard of Bruce Beard Automotive, Middletown.

An artistic street chalk drawing contest took place on the streets of East Greenwich during the eighth annual Arts On Main, hosted by the Hill & Harbour Main Street Merchants Group, on May 2.
At left: Liz Colavita and Sarah Craft.

The Greater Providence Chamber of Commerce held its annual Business EXPO at the Rhode Island Convention Center on May 6. With a theme of "Knowledge. Power. Opportunity." this year's event fueled local businesses and their employees with new ideas and opportunities to weather the current economic downturn.
At left: The Inside Scoop gave out free ice cream samples at Rhode Island Monthly's booth.

John Palumbo, president and publisher of Rhode Island Monthly, gave a lecture to public relations majors at the Public Relations Summit, sponsored by the College of Arts & Sciences, University Advancement and the Schools of Journalism and Communication Studies, at the URI Alumni Center on April 20.