RI Scene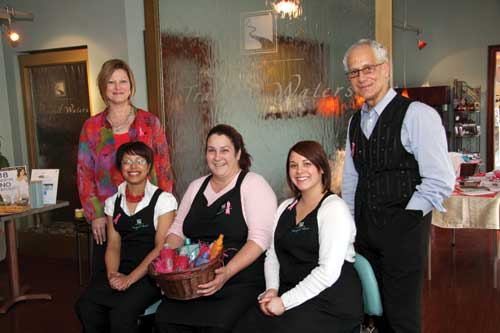 On April 17 and 18, New York City's renowned hairstylist Philip Pelusi teamed up with Tranquil Waters Salon, Spa and Café in Seekonk to fight breast cancer, one haircut at a time. Pelusi lent his styling, cutting and product expertise to visitors and contest winners at Tranquil Waters, raising nearly $1,000 for breast cancer research.
At left: Tranquil Waters staff members; June Ferreira, owner; Jennifer Washington, stylist manager; Diana Paradis, stylist; Laura Galanek, stylist; and Philip Pelusi, owner of Tela Design Studio in New York City.
Meridian Custom Homes held a Grand Opening on April 16 for their newest subdivision of custom homes, designed for one-floor living. The neighborhood of Hampden Cove is just over the state line bordering Barrington and Swansea.
At left: Meridian employees; Pat Quinn, finance manager; Jim and Sue Andrade, new homes consultants; Alex and Rod Mitchell, managing directors; Chris Kelley, director of new homes; John Knowtton, project manager.

On April 15, Trinity Repertory Company held an opening night party for Oscar Wilde's The Importance of Being Earnest, directed by Beth F. Milles. Approximately 500 guests joined the celebration, which included Trinity Rep actors, designers and subscribers. For show information, visit www.trinityrep.com.
At left: Brown/Trinity Rep Consortium students Rebecca Gibel (plays Cecily in The Importance of Being Earnest), Patrick Mulryan (plays Merriman in Earnest), Per Janson, Karl Gregory (plays Algernon in Earnest), and Michael Perlman (assistant to the director for Earnest).

Lila Delman Real Estate was recognized with five performance awards from the Kent Washington Board of Realtors at The Circle of Excellence Awards ceremony held on April 2 at the Crowne Plaza in Warwick. Melanie Delman, president of Lila Delman Real Estate, received the Platinum Plus award, the highest achievement for individuals for total dollar value sold, for the second year in a row.
At left: Melanie Delman, president of Lila Delman Real Estate.