RI Scene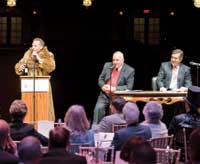 Rhode Island Hospitality Association's Roast and Toast Supporters and friends gathered at the Providence Performing Arts Center on March 24 to celebrate Dale Venturini's twentieth anniversary as president/CEO of the Rhode Island Hospitality Association and Vice Chairman Steve Marra's long-term commitment to the hospitality and tourism industry. The roast, hosted by Gene Valicenti of NBC-10 and Frank Williams, retired chief justice of the Rhode Island Supreme Court, examined the impact Venturini and Marra have had on the industry. More than 300 people attended the roast, with nearly $30,000 raised. Proceeds benefit the Rhode Island Hospitality Education Foundation.
Baxter's Customer Appreciation Night As a special thank you to their devoted customers for their business, Baxter's Fine Jewelry of Warwick held a private screening of The Pink Panther 2 on February 6 at the Warwick Mall Showcase Cinema. Guests enjoyed popcorn and soda, as well as a chance to win a $200 Baxter's gift card.
At left: Mr. and Mrs. Harrison Day of Cranston, winners of the Baxter's gift card, with Paul Messerlian, vice president of Baxter's Fine Jewelry of Warwick.

Washington Trust Receives National Award On February 17, Washington Trust was recognized in the "Reaching out to the Underserved" category at the American Bankers Association in Phoenix, for their approach to making a difference in their community. Since 2001, the "PB Express" has been a way for Washington Trust to give back and help stock the shelves of local food banks with thousands of jars of peanut butter during the winter months.
At left Elizabeth Eckel, senior vice president of marketing and investor relations, Washington Trust, receives the Award from Arthur Connelly, chairman of the American Bankers Association.