RI Scene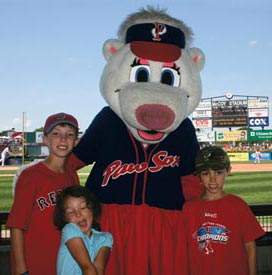 Rhode Island Monthly's Annual PawSox Outing
Rhode Island Monthly's annual company outing was held at McCoy Stadium on July 30. Staff, friends and family enjoyed the ball game as they munched on hot dogs, hamburgers, sausage and peppers and refreshments. The interns even had the opportunity to throw the first pitch!
Above: Friends and family of Rhode Island Monthly pose with Sox during the game. At right (left to right): Carla Cook, Providence College senior and marketing intern, and Kristina Reardon, Providence College graduate and editorial intern. Photo by Brian Kershaw
Goka Party to Fashion Week
Goka Design held a summer bash at Aspire on August 17 to raise funds towards their participation in Fashion Week in New York. The event included food and wine, a DJ on the open patio, a fashion show, a performance of "monsters" from Big Nazo, and, of course, shoes, shoes and more shoes!
Above: Alessandra Gold, founder and designer of Goka Shoes, with the Rhode Island Modeling Agency models after the show. Photo by EG Photo AT RIGHT (left to right): Alessandra Gold, designer and founder of Goka Shoes and Erminio Pinque, founder and artistic director Big Nazo Lab. Photo by Mark Ouellet