Rhody Native Plants at This Week's Garden Show
Keep your landscape local with plants native to the Ocean State.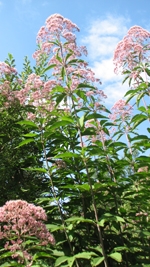 It's been wonderful to have a real winter this year, complete with snowmen, sledding, coyote tracks across the backyard, and white trees in the starlight, but it's also nice amid all this chilly weather to think about Spring. Our annual Rhode Island Spring Flower & Garden Show is buzzing in downtown Providence this week, to encourage all of us to dream of long sunny afternoons outdoors. Visitors who look closely may find some Rhody Native plants among the showy flowers and beautiful designs, at the exhibit for the Rhode Island Wild Plant Society.
Those plants represent a fundamental change in how we think about our lawns and gardens. Native plants evolved right here in Rhode Island over thousands of years. They're adapted to our local climate and soils, so they don't require a lot of help from us to thrive. Gardeners can use less fertilizer and fewer pesticides. Local birds, butterflies, and wildlife count on native plants to provide the nectar and seeds they need. And Rhode Native plants are grown by local nurseries, keeping the dollars you spend right here in the local economy.
The seeds for those plants have been painstakingly collected by hand in the wild, by teams of volunteers and students led by botanist Hope Leeson. Each collected plant is carefully selected, labeled and stored in an ancient lab space shared by the Rhode Island Natural History Survey, based at URI's Ranger Hall. Volunteers, who range from master gardeners to college students to landscape business operators, turn up on Friday afternoons to help with the labor-intensive work of removing the seeds from the plants, sorting, and labeling. (If you want to help out, the next seed-cleaning day is set for March 1, click here for info.)
Since 2010, Hope and her crew have collected seeds from sixty native species across the state, including trees, shrubs, wildflowers, and grasses. The seed then goes to local commercial growers who produce seedlings with the Rhody Native logo for sale in the spring. You can find them at The Good Earth Gardening Center in Scituate, Clark Farms in South Kingstown, Wildwood Nursery in East Greenwich, and more than a dozen other places. Click here for the list.
Native plants are prized for ecosystems that need restoration — Roger Williams Park is working with Rhody Native to create a vegetated buffer around its polluted ponds, to help prevent erosion along the shorelines. But they're also great for your backyard. A few years ago I planted a single little Joe Pye weed, a local Rhode Island wetland plant, and it's spectacular. By midsummer its tall, leafy stalks are taller than me, each one topped by a bushy head of purple flowers. It needs no care other than an annual clipping of the dried stalks in fall, and they make perfect kindling for the fire pit. Every summer it comes back, bright and fresh as the first year.
Other perennial wildflowers in the Rhody Native family bloom golden, blue and red. Ironwood and tupelo tree seedlings also will be available this year, along with shrubs including winterberry, steeplebush, winged sumac, and northern arrowwood. So as you visit the Flower Show, or just dream over your seed catalogs on these cold winter days, think about adding some fresh made-in-Rhode Island color to your landscape in the spring.
Rhode Island Spring Flower & Garden Show runs through this Sunday at the Rhode Island Convention Center, 1 Sabin St., Providence. For more information, go to flowershow.com.