Rhody Classics: A Twin Oaks Lifer
You've probably celebrated a birthday or two with Frank Caduto.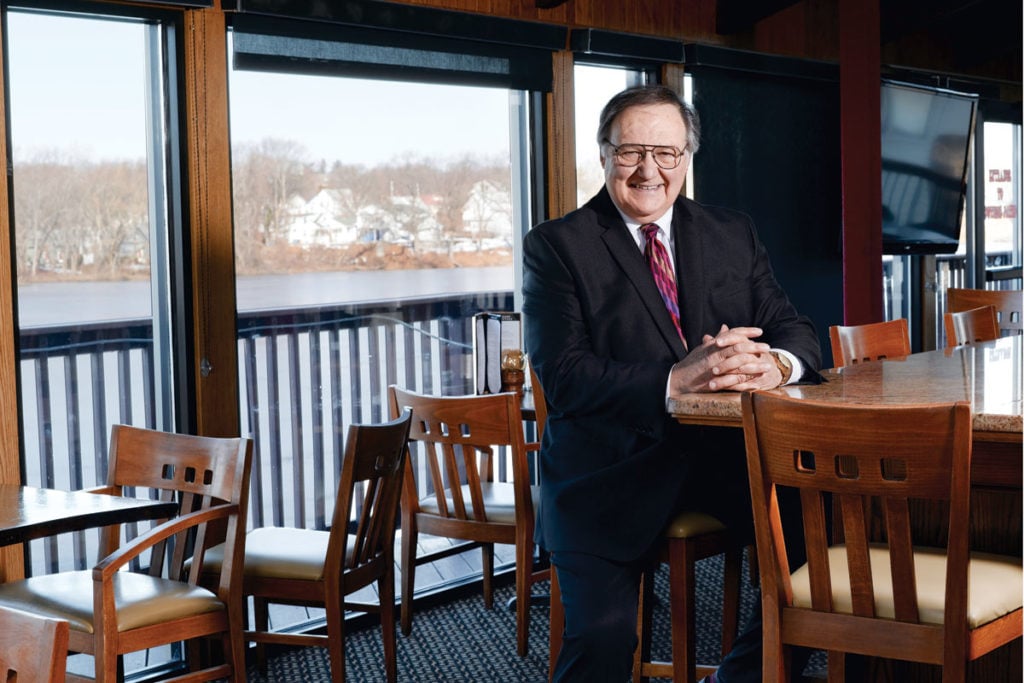 Twin oaks' legacy began in a cellar where neighborhood men would get their pours during Prohibition. The bar still stands in the basement of a modest white house across the parking lot from the current restaurant. The speakeasy started in 1928 with turkey and meatball sandwiches sent downstairs by Mrs. Eva DeAngelus. Twin Oaks opened as an official restaurant five years later, in 1933, and has been successful ever since, for more than eighty-three years.
Frank Caduto, seventy-five, has been working there for fifty-three of those years. He's seen the fourth-generation restaurant survive expansions, a fire and a rebuilding, while working various jobs including bartender, waiter, general manager and maître d'.
When did you start working here? I started in 1964. I was a salesman selling furniture, and I came down and sat with Billy [DeAngelus Jr.] to talk about the job. As we talk, I see these two guys run around like crazy. I said, how am I ever going to do this? He told me I had two weeks to learn the job. I came back the next night and they said you're going to have to tend bar. I get behind the bar, and as the customers ordered drinks, they had to tell me how to make them. I didn't know anything.
What's a day in your life like? This is how I lived my whole life: In the morning, I'd play tennis or go to the gym, then at twelve o'clock I'd have lunch, and then I'd go to bed and sleep for two or three hours. I'd wake up, shower, shave, get ready for work, and I did that every single day all these years because I was the last one out. In the old days, I wouldn't leave until two o'clock in the morning. You get here at four and run around all day long, you knock yourself out. How are you going to do that six days a week? You can't. I tell the young people you have to pace yourself.
Tell me about how waiters memorize orders? The original restaurant was a speakeasy across the street. They had two things on the menu, meatball sandwiches and turkey sandwiches. Mrs. DeAngelus would prepare food upstairs and bring it downstairs. As they moved over here, there were only a half dozen things on the menu, but the waiters never wrote orders down. Now they do the same thing today. One server, Gene, will go eight to twelve people. You remember it from the table then punch it into the computer for the kitchen. It just carried on from one generation to the next. Some of the guys group all the meat together; all the poultry together. However you want to do it in your mind as long as you get it done.
Are all the servers still male, and is there a reason for it? All male. It started as a tradition. We always had it that way. It seems like it carried on. Matter of fact, a big proponent of that was Mrs. DeAngelus. She was the one who initiated it. They all still wear a bow tie and white shirt. That's part of the tradition.
Does the name Twin Oaks come from the two oak trees out front? Yes. They've tried to preserve those two out front. There used to be a lot more but they died in the fire in 1980. This whole restaurant burned down to the ground. We had to build over the previous foundation. It was Valentine's night; a windy, rainy night. For some reason, I got out of bed and knew something was wrong. I heard all the sirens. I looked out the window and I saw red in the sky. We got dressed, went in our cars. The restaurant was totally gone. My wife [at the time] looked at me and said, "What are we going to do now?" I looked at her and said: "I gotta find a job." A few weeks later, Billy opened another place (where Mardi Gras in Cranston is now) for us to work while he rebuilt the restaurant. I got a temporary job at Camille's but he moved the whole staff into that building to keep us all, then I came back to this place with everyone else. They rebuilt this place and we opened up October 1. Imagine coming back after a loss like that?
How has the restaurant changed since you started working here? When I came in, it was a small restaurant, seating 100 to 150 people. People would come in and wait in the hallway. They would actually sit on the floor and wait. We went from 150 seats to the 650 seats of today. Some people say it's not as busy as it used to be, but it only appears that way because we have a lot more seats. We want you in the restaurant. There's no money to be made sitting in that hallway.
How has Twin Oaks stayed so consistent? The original chefs that started this restaurant were the backbone. Tony Sepe was the chef for more than fifty years. The last sixty years, there's really only been four chefs. Everyone says Twin Oaks is consistent, well why wouldn't it be? You have the same people; the same recipes. And now we have Ryan Mancini, a great chef. He has added to our menu with new entrees and specials.
Who is your most memorable regular from over the years? Everyone from the governors to the mayors to the senators, to the guy who works for the city, sanitation workers. They come through the door, they are treated the same way. We have had a lot of movie stars, but our regulars are our stars. We take care of them because they come every week. If I didn't have a calendar, I can tell what night of the week it is by who's here.
What's your favorite part of the job? Just being with the people. The DeAngelus family has been fabulous to me. Billy DeAngelus was my best friend. We were together every day for all those years. And now his son and daughter, Billy DeAngelus III and Susan. They are a wonderful family, and they are very good to us. Twin Oaks has always taken care of its own people. No one ever leaves Twin Oaks on their own.
100 Sabra St., Cranston, 781-9693, twinoaksrest.com