Rhody Classics: NBC's Frank Terranova
The "Cooking with Class" host reflects on twenty years on air.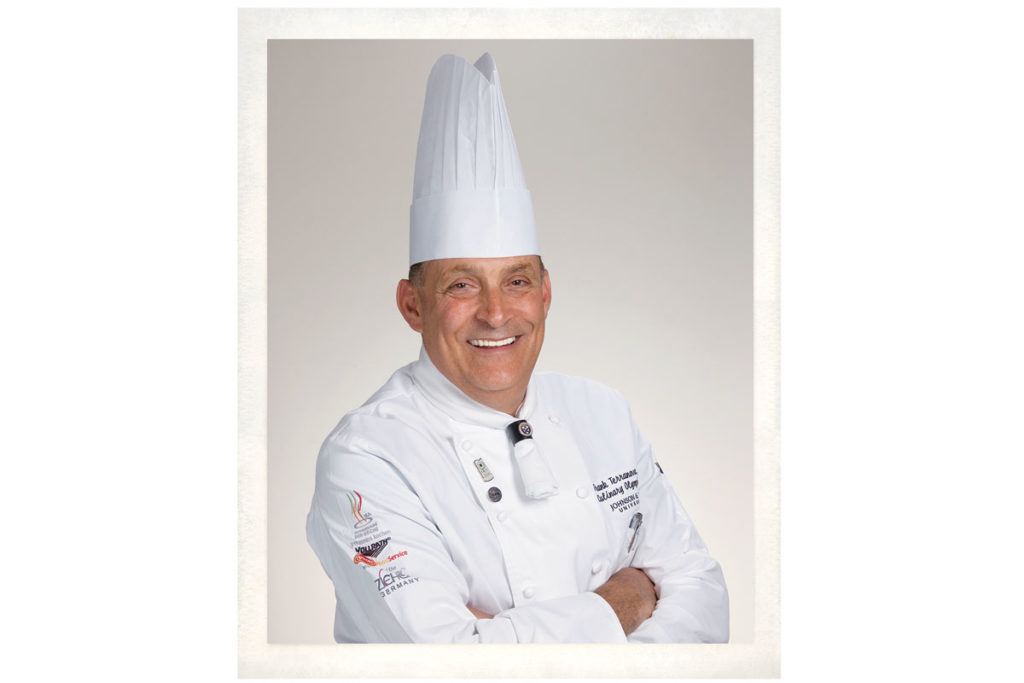 The Johnson and Wales University senior instructor offers a behind-the-scenes look at the NBC 10 cooking segment, which became popular before reality TV chefs dominated the small screen with cooking shows. He also explains how dining out has evolved in Rhode Island (or not).
How did you get involved in restaurants, and how has the scene changed over the years? Being from an Italian background, I always liked to cook. Going back forty years ago, Rhode Island had basic restaurants, and chefs were not looked upon as highly as they are today. Things have changed dramatically. I worked at Twin Oaks and everyone would go to the Greenwood Inn, Camille's and the Old Canteen. That was pretty much the scene. From there, I went on to be executive chef at RISD, then I did a short stint as executive chef at the Turk's Head Club in Providence, and finally, I came to Johnson and Wales. This is the twenty-seventh season that I have been here.
How did "Cooking with Class" start out? "Cooking with Class" is a collaboration between Johnson and Wales University and NBC 10. It's a class for the viewer, and mostly for the student production team, as they work under a six-to-one teacher ratio. The segment started when Barbara Morse [Silva] came into the school and did a Thanksgiving presentation in the kitchen to demo a recipe, then they came back to do Super Bowl recipes. After that, they wanted to make it a regular segment for a year. It was a year, and it kept going and going. At first, they told me to loosen up on camera. I did, and then all of a sudden it started becoming more popular. Here we are, twenty years later, and I've worked with many of the station's on-air personalities over the years.
How do you put together the segment? Five to six students work on it. This is a total student-driven operation. We sit down and everyone throws out recipe ideas and we see what works. We want people to make meals without breaking the bank. A student is in charge of all the recipes, including formatting and making adjustments. The students prepare all the food. We can knock out twenty shows probably in three hours. Now we alternate weekly with "Cooking with Class" and healthy recipes for "Changing the Way the World Eats" with chef Jonathan Poyourow. Students include the final work in their portfolios.
How has fine dining changed over the last two decades? Fine dining, if you're looking at having a multi-course meal, it's more casual. A perfect example is Persimmon. You go in, it's fine dining, but it's done in a more casual way. People don't want to get dressed up. You have a lot of casual places, and people just want to stop in and go.
What are some other changes you've seen? I talk to a lot of chefs, and some people are getting tired of hearing the term "farm to table." I've been in this business for forty-plus years; everything I order came from a farm. Nicks on Broadway uses all sustainable fish caught in Rhode Island, including a lot of scup. I ate scup when I was a little kid. A lot of people don't know the name. You hear the term porgy or scup: What the hell is that? You go into every market and everyone wants salmon, cod, salmon, cod. That's the only fish they know. They are not used to seeing scup. We're working to change that.
What makes classic restaurants continue to be successful? People go to Wright's Farm and get all the chicken they want for $12.75. People go to Twin Oaks because they want a lot of food and it's piled on the plate. Joe Marzilli's you go in, and it never changed. Everything is pink in the joint. Camille's is the same way. They change hands maybe, but nothing changes. The original Rhode Islanders, they don't like change.
What's your favorite classic Rhode Island food? I am a hot dog fanatic. I eat hot wienies around the clock. I can put down a half-dozen easy. I live down the street from Wein-O-Rama. I will take Mylanta and come back and take one as a chaser. Every state has its own indigenous item. Rhode Island has hot wienies, coffee milk, clam cakes. They are always going to be here because typical Rhode Islanders always go to these places.