Rhode Island's Top Nurses
Thirteen of the state's finest nurses are celebrated in this annual feature, Excellence in Nursing.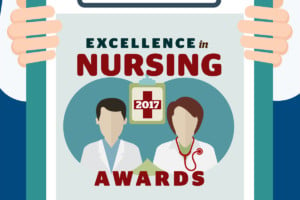 "The doctor will see you now," is a phrase that often inspires a sense of dread in a majority of the population. We immediately visualize indiscernible medical charts, ice-cold stethoscopes and (well-meaning!) lectures about our diets. But swap "doctor" out for "nurse" and you might paint a different picture: one filled with kind smiles, soothing hands and invaluable guidance. It doesn't matter if you encounter one of these professionals in a hospital, an assisted living facility, an independent practice or even your own home, there's something comforting and admirable about nurses' overwhelming desire to help others. That's why Rhode Island Monthly and the Rhode Island State Nurses Association think it's about time for you to see them: Read on to learn more about thirteen remarkable men and women who go above and beyond to make our state's residents not only healthier, but happier.
Panel of judges: Irene Eaton, MSN, RN, immediate past president of the American Nurses Association — Maine; Karen Ballard, MA, RN, FAAN, immediate past president of the American Nurses Association — New York; Christine Ryan, MSN, RN, executive director of the American Nurses Association — Vermont.
---
Certified Nurse Midwife of the Year
Linda Nanni, MS, CNM, FACNM
Director of the Care New England Medical Group Midwifery Service — Women's Care, Women and Infants Hospital
Would you say the role of a midwife has changed over the years?
Although it still has some misconceptions in the general public, such as not knowing that we offer office gynecology as well as prenatal through postpartum care, my understanding is that the entity is a little more well-known now. And I think we're more integrated; certainly in this area we have a very good collaborative relationship with the medical community. In the national sense… When I was right out of school in the 1980s, we didn't have prescriptive authority or third party reimbursement, but now every state in the country has those aspects for midwifery care. It allows us to practice to the full extent of our education.
How would you like to see it evolve in the future? I would love to continue to see midwifery integrated in hospital systems with midwives working in collaboration with physicians even more. Each profession has expertise to bring to the arena. Midwives come from a place where birth is a normal physiological event, and we try to maintain some level of that even if things become more complicated, which is good for patient care and outcome. There's so much technology now that it's easy to just make it a go-to, but there are many women who want to try and avoid it, within the realm of safety, and we have the expertise to help make that happen within the hospital system.
What is your favorite part of your job?
Being at birth. It's a very special moment in a woman's life, so to share that intimate, powerful, never-forgotten moment is really an honor. I've helped deliver more than 3,500 babies and each one is special. I wouldn't change my profession at all — I love doing what I do.
---
Certified Registered Nurse Anesthetist of the Year
Jon Jordan, ADN, BSN, NSNA, CRNA
Certified Registered Nurse Anesthetist, the Miriam Hospital and Rhode Island Hospital; Rhode Island Association of Nurse Anesthetists member
How did you get into nursing in the first place?
I first worked for the Navy's medical department, and afterwards I had some friends who were going to go to anesthesia school. I decided to look into it too and when I did, I said, "Wow, that's what I want to do." So, in essence, I became a nurse because I wanted to be a nurse anesthetist, knowing full well that it's a long road, it's a lot of work and it's hard. You have to know your chemistry, pharmacology, physics and things like that because it plays into your job every day.
Do you also work directly with patients?
The nurse anesthetist is the person who has seen you before they ever saw you. I've studied your chart and your medical history, and based upon what I've seen, I've formed a rough plan for how I can best support you through what comes next. Then I'll meet with you and work on building a relationship. People are scared when they come for surgery, and anesthesia is a huge component of that: They'll ask, "How are you going to put me to sleep?" and "What happens if I wake up during surgery?" It's my job to answer all of those questions and make the patient feel at ease.
What's your favorite part of your job?
Making somebody well again, hands down. Once I was helping take care of a woman who had a brain tumor and she didn't have anybody with her. She was afraid, so I held her hand and said, "I'm going to be with you the whole time and everything is going to be just fine." And it was. She woke up just as I was getting her ready to go to the recovery room and I remember she looked at me, pulled her oxygen mask down and calmly asked, "Can I kiss you?" Those are the moments that make you feel like you did a good job.
---
Clinical Nurse Educator of the Year
Claudette Jobin, MS, RN, CCRN
Level 3 Chairperson, St. Joseph's School of Nursing, CharterCare
When did you know that you wanted to be a nurse educator?
It really started when I was a patient at eleven years old. I had watched this one nurse help a little boy whose face had been disfigured by a car accident. Every day she came in and worked with him and every day he looked better. I remember thinking, "Gee, she's doing that little boy an awful lot of good… I'd like to do that too!" And then I eventually went to nursing school, and it was then that I knew I wanted to work in intensive care nursing, specifically coronary care. The only thing that ever bothered me was that I was also interested in teaching. So I did both!
What advice do you give new nurses?
One, knowledge replaces fear, so always be prepared. Two, join and stay active in organizations. Every specialty has one, and they always have conventions which let you see what other nurses around the country are doing. They help you be the best nurse that you can be. Three, try to see a loved one in every person that you take care of. Treat them like they were your parent or your best friend. And finally, I always tell my students that they need to get a position that they enjoy. There's no bad position, but there is a right position. Once you've found that, you'll love going to work every day.
What makes nursing such a great career?
On my very first day of nursing school, my professor­ — Dayle Joseph, the dean of the URI's nursing program at the time — described nursing as an art, a spirit and a science. And it is. It's something that we develop and it's something that's changing all the time. It's always a new experience and there's always something to learn. And it's people. That's probably the best part of it: caring for people. Nursing is a wonderful profession and it's a gift that keeps on giving.
---
---
Nurse of the Year in a NonTraditional Setting
Jean Marie "Gina" Rocha, MPH, RN
Vice President of Clinical Affairs, Hospital Association of Rhode Island (HARI)
How did you get into nursing?
My mom was a licensed practical nurse (LPN), and I always admired how she was able to do both: be a career woman and raise a family. So I decided to follow her track. If I had a choice to do it all over, I certainly would pick nursing again. Even though women today have a lot more opportunities than they did back when I graduated from URI, I would still choose nursing in a heartbeat.
What would you say is the best part of your job?
HARI is an advocacy organization that aims to remove all cause-harm from the system by looking at it from all from perspectives, including financial, legislative, communications and so on. I serve as the nursing perspective, and my favorite part is working with my colleagues to identify issues and improve upon them. For example, with the uniform surgical protocol, we voluntarily looked at how we could make the care better for all surgical patients in Rhode Island. We looked at current practices, aligned them with best practices and then agreed to standardize them throughout the state's hospitals. So no matter which hospital you walk into, you're going to receive the best care possible. The work that we did together has helped eliminate wrong site surgery or any surgical harm to patients. It's pretty neat to help make changes that positively affect tens of thousands of patients every year. That I contribute to that… That's memorable to me.
Do you have any advice for new nurses?
I would say you should always stay true to your core values. Also, nursing is one of those professions where you need to take care of yourself before you can take care of your patients. It's just like being a parent: You have to give yourself that self-nourishment so that you can be at your best while caring for someone else.
---
Nurse Leader of the Year
Paula Gellner, MSN, RN
Clinical Manager, Cardiothoracic Intensive Care, Intermediate Cardiothoracic Unit, Rhode Island Hospital
How did you get into nursing?
It was something that I had a curiosity for from a very young age. My grandmother was very ill and in and out of the hospital for many years when I was a child, and I remember wanting to know more about what was going on. Then, when I was sixteen, my father died suddenly and he was diagnosed as having had a heart attack. At that time I thought, "Okay, what do I want to know about this?" It drove my desire to learn more about cardiology, and when I went to school, I knew that's where my interest was. Throughout my career I've actually worked on every level of cardiology, from step down and medicine to surgery and cardiac rehab.
How did you end up at Rhode Island Hospital?
A temporary assignment, actually. I was previously in D.C. working in nursing administration when I was approached by an agency about moving to Rhode Island on a six month basis. They wanted me to work with their cardiothoracic nurses on improving their methods and changing their work flow. I took the leap, and from the start we focused on what we were doing for the patients to improve not only their health but their experiences. We looked at what kind of training the nurses needed and then began educational programs where they could take topics that interested them or that were timely for the unit. We also focused on creating more of a team effort by involving physicians, mid-levels and advanced practice practitioners. We addressed what their needs were, and we also encouraged them to help the nurses learn. Now, the team is tremendous.
Do the qualities of a good leader and a good nurse overlap?
The qualities for a good leader have to do with knowing who you're leading and being able to communicate with them. It's listening to what the staff is asking of you and being aware of what they need. And it's being able to respond to that in a timely manner, being able to differentiate which needs are immediate, and, if it's something we can't do right away, knowing when and where to follow up. And that applies to nursing as well. They are front and center with the patients and have to be able to communicate and make decisions about their care in the same manner.