Rhode Island's Top Nurses 2016
Twelve winners work in health care around the state.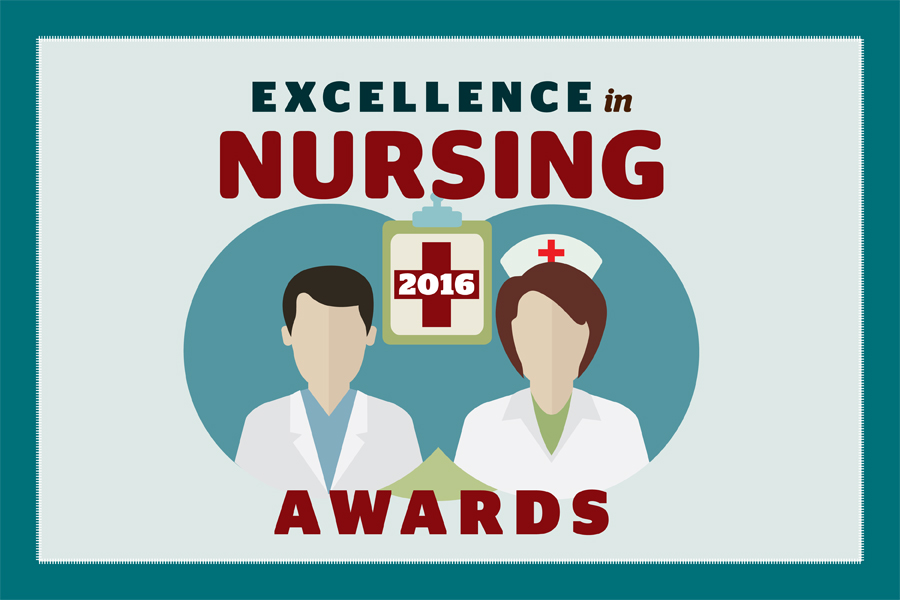 What makes for a good nurse? Ask anyone in the healthcare world and they'll tell you the following: Compassion. An inquiring mind. Perseverance. An unrelenting desire to help people. But what makes an excellent nurse? They're the ones who hold your hand through the good and bad, who stay by your side well past their shifts end, who advocate for your best interests and who inspire others to follow in their footsteps. The twelve remarkable men and women featured in the following pages go above and beyond to not only make our state's residents healthier, but also happier. Their hard work and dedication deserves a lifetime of acknowledgements, but, in the meantime, the least we can do is celebrate them as Rhode Island's Top Nurses of 2016.

As many in the field can attest, nursing is a profession with boundless and unparallelled opportunities, whether you go on to work in a hospital, an assisted living facility, a classroom or a non-traditional setting. In order to make sure every niche was truly covered, Rhode Island Monthly and the Rhode Island State Nurses Association decided to increase this year's number of nursing categories from eight to twelve. Once again, any and all nominations were reviewed and scored by a panel of out-of-state nursing professionals to ensure that no biases (we are a tiny state after all!) influenced the judgements. Here, the excellence in nursing recipients share some of their favorite patient experiences, advice for new nurses and reasons why they would never, and could never, consider doing anything else.
PANEL OF JUDGES: Judith Joy, RN, MSN, PhD, interim executive director of the New Hampshire Nurses Association; Christine Ryan, RN, MSN, executive director of the American Nurses Association-Vermont; and Irene Eaton, RN, MSN, immediate past president of the American Nurses Association-Maine.

---
Clinical Practice Nurse of the Year
Ryan Parker, BSN, RN
Clinical Manager of the Inpatient Rehab Unit, Rhode Island Hospital, Providence
How did you get into nursing? I was originally a psychology major but it wasn't my thing. I come from a family of nurses. My mother, my sisters, my aunts — all nurses. I was hesitant at first but there were definitely draws to the nursing field; I enjoyed connecting with people. So I went for it and I've loved it ever since. I think it's those relationships you have with different types of people. That's the great thing about working at a hospital; it doesn't matter who you are, where you come from, what your background is. I can work with the president, or I can work with Joe who lives on 39th street. I've always found that appealing.
How do you get through the more challenging aspects of your job? When I worked with cancer patients, they'd say, "how do you do it?" But you can have such an impact on this person's life. At their worst moment that they're going to go through, what can you do for them? That's how I've always looked at it. Every time I meet a patient I say, "How can I make your experience better?" They appreciate it. And that's what you have to realize and understand. I guess that's my strength. Maybe not organization, but making people feel good. It's nice to see that I can have an impact.
Have you ever struggled with the stereotype that nursing is a "woman's job"? Never. The only problem I've ever had is sometimes little old ladies take issue with me taking them to the bathroom. Sure, my friends bust my chops but when you're happy and you're doing something you love, it doesn't matter.
Do you have any go-to nursing stories? I have so many. Just yesterday this woman, who's been in rehab for two months and has multiple terminal issues, found out I was nominated for these awards and it brightened her day. You have great stories that are fun and enjoyable, and then there are those where you were with a patient when they passed and you didn't leave the family's side for twelve hours. You're with these people since day one. If you ask me about Mr. Smith or mister whoever, I'll have a story for you. Each patient is special and every day is a story in a hospital. That's what keeps me there.

---
Clinical Nurse Specialist of the Year
Tamara DeSousa, MSN, RN, CCNS
Post-Baccalaureate Nurse Residency/RN Transition to Practice Program Coordinator and Veterans Affairs
Learning Opportunity Residency Coordinator, Providence VA Medical Center, Providence
Tell us more about the programs that you run. I run three programs at the Providence VA Medical Center that prepare nurses to care for the unique needs of our Veterans. Our primary program, the post-baccalaureate nurse residency program, provides additional knowledge and skills to nurses who are coming right out of school. There's only six slots in the program and there's an extensive application process, but they get paid by the Federal Government's Office of Academic Affiliations, with benefits, to train for a year. We're lucky because we have an automatic pipeline to hire nurses to work in our facility. It's nice, they really want to work for us and we really want them to work for us.
What's the most rewarding part of your job? I have always had a passion for working with new nurses. Even when I was a nurse I was the one who would train the newbie. It was something that I felt I had a gift for, that I could connect with someone and have them understand a little more easily. I had initially wanted to be a teacher so it was fitting. But I would have to say the most rewarding part is at the end of the year ceremony, when they realize just how much the program has provided them with and seeing them be so fulfilled by what they've accomplished.
Why should people consider nursing as a career path? The beauty of nursing is we encourage inquiry. One person can change practice and make a difference. It wasn't like that when I first started in nursing. You did what you were told and you really didn't question much. Now we encourage you to question all the time and investigate, "Is this the best possible way we can do this, or can we do it better?" The other piece is that opportunities in nursing are endless. For example, when you work for the VA, you don't have to get a license to work in another state because it's federal. You could get a job at the Hawaii VA or in the Caribbean. And there are so many different types of nurses. It's amazing.

Long Term Care Nurse of the Year
Karen Peck, RN
Vice President of Clinical Services, Brookdale Senior Living, Northeast Division
Do you have any stand-out patient memories? There was one couple that absolutely did not want to move to one of our facilities. They had been in their home for more than fifty years but they needed a lot of help and they weren't accepting it. Their daughter really struggled with it. She tried everything, but she couldn't do it all by herself. So I started to visit with them in their home. The man was a contractor and he was always building stuff so I worked with him in his shed. His wife was a little Italian woman who loved to cook so we spent time together in the kitchen. It took me six weeks to get them to come and stay with us. At first they were totally irate, constantly telling me they were moving back home, but eventually they got more involved. He was running the men's club for woodworking and she started working with the head chef. They were happy.
How do you deal with the more challenging aspects of your job? You have to put yourself in somebody else's shoes. I'm not eighty-five so I don't understand being eighty-five, but I know I wouldn't want to be forced into something I didn't want to do. When I train, I always ask, "Is anybody here planning to move to assisted living or a nursing home when you get older? No, right? So what do we need to do to help people understand that this is a good thing? That it can be both a safe environment and a home?" In the end we have to try to problem solve. When we do that, it's a total win-win for everybody. But if I'm personally having a bad day, I'll go to the community and hang out with the residents. They reinforce why I want to be a long term care nurse.
What advice would you give to new nurses? I think getting into nursing is definitely a calling; it's tough. So be kind to yourself and be patient with the role because it's all encompassing. You wear a lot of hats and it takes a lot of effort and time to fully understand the role. But I think if you have any inkling to take care of people, then you should go for nursing. It's the best job I've ever had and the only job I'd ever want.

---
Clinical Nurse Educator of the Year
Megan Begnoche, RN, MSN, AOCN
Nurse Quality and Safety Manager, Rhode Island Hospital Comprehensive Cancer Center, Providence
Working in a cancer center can't be easy, how do you deal with the stress? My role is to impact or improve a cancer patient's experience. It's a daunting task, but an important one. I help lead activities that help to ensure quality and value in cancer care for patients and families, so that's challenging in itself. But focusing on the patient and realizing that we are there for them helps. And realizing that, as nurses on a multidisciplinary team, we can work together to figure out a solution. We rely on each other for support and to help us remain calm.
What's the best part of working in nursing education? We're all students at a certain point. We all influence each other and learn from each other and grow. I think that nurses have an opportunity to teach in each and every interaction. Whether it's the beginning of a disease, through treatment or helping symptom management, we're learning from each other. That hopefully leads to our students becoming mentors, and then it just keeps going. The impact is pretty great.
What experiences from your career do you share with new nurses? People learn from experiences, whether you're sharing things that went well or things that didn't go so well. That's one of the best things about nursing, it's a bit of storytelling. Providing education in scenario-based ways and relating back to a previous experience, it resonates. The first time you gave chemotherapy or the first time that you were with a patient when they died, being able to teach a new nurse that yes, it may be sad, but think of the impact that you are making for that patient or for that family just by being there. No matter what you get into, think of that, and it will bring you through.

Certified Registered Nurse Anesthetist of the Year
Laura Bassi, APRN, CRNA, MSNA
Nurse Anesthetist, Providence VA Medical Center, Providence
Why did you decide to go into anesthesia? Once, when I was doing a nursing rotation, I got to see open heart surgery. The anesthesiologist and the surgeon were really busy and everyone was all, "We need to save you!" The patient was so nervous. He was maybe twenty-one years old and they were about to chainsaw his chest open. I stood there and held his hand and I thought that there really needs to be more people who do this medicine stuff but who still know how to hold someone's hand and say, 'It's gonna be okay,' or crack a joke to make them smile. That was the day that I knew I wanted to go into anesthesia. It's the best of both worlds. You get nursing and the medicine, but you also get to be that comforting hand.
Has the role of nurse anesthetists changed since you first entered the field? I've definitely seen it expand, I get to do a lot more procedures. Today in Rhode Island, nurse anesthetists practice without supervision from higher positions and work in collaboration with physicians. I was actually the president of the Rhode Island Association of Nurse Anesthetists when that passed three years ago. I would say it was one of the proudest moments of my career, having an active role in getting that approved.
What are the most rewarding and challenging parts of your job? The most rewarding part is the patients and having total control over taking away their pain and making them feel better. The worst part is getting up at five in the morning, Monday through Friday. I'm on call a lot, and I also moonlight at another hospital. It can be a lot. But I'm actually going back to school to get my doctorate in business for healthcare policy and administration. It might not help out in nursing anesthesia, but I'm excited to go on and help improve healthcare in general.

---
Nurse Midwife of the Year
Debra Erickson-Owens, PHD, CNM, RN
Associate Professor, University of Rhode Island, Kingston; Research Scientist, Women and Infants Hospital, Providence
Do you have any go-to stories? Once, when I was at the Air Force Academy, tucked in the foothills of the Rockies, there was an incredible snow storm. One of the gals that we cared for through the Air Force clinic went into labor. Our base commander said, "Call the midwife! She can do the birth at home." But you don't just do a homebirth on a whim. So I said I would be happy to help her, but it needs to be in a hospital because we didn't plan this. He arrived with a snowplow, plowed up to my house, picked me up and we went to pick up the mom. When I walked into the house, everybody was all a tither. The med tech asked, "Don't you need to examine her? She could be having the baby right now!" But I know birth, and I know it by observing. She was working hard, her skin felt hot and sweaty but I knew she wasn't ready yet. Her friends built a cardboard toboggan and worked together to pull her down to the base commander's car. We got to the hospital and we learned there were no other providers besides the ER doctor because the hospital was shut down for the storm. I looked at her and said, "Well, I'm as good as you're gonna get and the water works great." She must have been in the shower for two to three hours before she delivered; the baby was a pound bigger than her first one. She did it all without drugs. She said to me, "I've seen a whole side to me that I never knew existed. I'm strong." And I think those are the pieces that are exciting about being a midwife, you witness women discovering themselves.
You recently stopped delivering; what are you up to now? As of last year I had helped 1,400 women give birth. It's a lot of work to be a midwife, but it was worth every minute. So why did I stop practicing? I'm totally invested in my research project at Women and Infants Hospital. We're looking at baby's brains and studying the difference between cutting the cord right away and waiting five minutes. In those five extra minutes babies receive more iron rich blood cells, and our hunch is that this helps with brain development. I think this study has global implications. Some people might ask, "Well, if you're not delivering babies, can you still call yourself a midwife?" Yes, it's my core. It's who I am.

Nurse Executive of the Year
Maria Ducharme, RN, DNP, NEA-BC
Chief Nursing Officer/Senior Vice President of Patient Care Services, Miriam Hospital, Providence
How did you end up in these roles? I knew I wanted to be a nurse as a young teenager. When I was preparing for confirmation I had to complete a certain number of community service hours, and I did those in a nursing home. I far exceeded the requirement because I enjoyed it so much. Then, when I was old enough to work, I took a job as a nursing assistant until I finished school and became a registered nurse. When I started taking care of patients I never thought about being a chief nursing officer or going into administration. I just really loved taking care of patients and making a difference in people's lives. But different opportunities arose and colleagues said I would be really good in a leadership position. Then I started to realize that as a nurse leader you have the opportunity to make an impact on a broader scale. So I followed some of my great mentors' leads and said, "Alright, I can try this." Now, I really enjoy having an influence on other nurses so that they can take better care of their patients.
What's something that you think sometimes gets overlooked about nursing? We're the folks at the bedside 24/7 and we have a big impact on the outcome of patients. People don't always recognize that. Also, nurses are really good in chronic care, dealing with heart disease and diabetes, and they're great with counseling patients. These more unique spheres are really important today because patients need to be educated about their disease process and nurses are very good at that.
We heard you do a bit of lip-syncing in your free time. Well, not exactly! As an organization, Miriam Hospital always raises money for the American Heart Association. This year, one of the coordinators had the idea to hold a lip sync contest and have all the proceeds go to the Heart Association. I thought it was a great idea, but then she said, "And you can be the headliner!" I was like, "Oh wait, no, that's not a great idea!" But she made the point that it would draw people in and get everyone else to participate. I knew I had to walk the talk, so the CFO and I did "Achy Breaky Heart." We had fun with it.

Honorable Mention: Cathy Duquette, PhD, RN, NEA-BC, CPHQ, FNAHQ, Executive Vice President of Nursing Affairs, Lifespan, Providence
---
Nursing Leader of the Year
Marie Ghazal, MS, RN
Chief Executive Officer, Rhode Island Free Clinic, Providence
What drove you towards nursing? I grew up in Central Falls, a very poor community at the time, and during the summers I worked for the city's Parks and Recreation Department. It showed me the health needs of the community up close, how no one had dental care and most of the kids didn't have healthcare. I realized that everyone deserves healthcare. So it was my passion early on, wanting to change a community, make a difference in people's lives and serve the underserved.
How did you end up at the Rhode Island Free Clinic? I accepted the position because of the mission. At the Rhode Island Free Clinic we provide healthcare to uninsured adults, people who don't even have access to Obamacare. I saw it as a great opportunity to lead an organization where I could mobilize healthcare for people who really needed it. We work with incredible volunteers and the quality of the care that's given is tremendous. The people we treat are so grateful. It's very fulfilling.
What are some challenges you face as a leader and how do you overcome them? Remaining focused. As a leader there's so many daily issues like raising money, dealing with volunteers and keeping the wheels going. But you always have to stay focused on the mission and keep everyone on task. And it's important to give positive reinforcement and involve the staff in the organization's successes so they know that they are appreciated. The volunteers, the donors, the board… we can only do what we do because they give back to the community.
What do you want people to know about the Free Clinic? Many people have a picture of some dimly lit back room, but if you go to our clinic you'll see that it's a quality operation. It is run by professionals, and the patients get just as good care as they would from a personal physician. And anyone can use the clinic. We serve a lot of diverse populations.

Honorable Mentions: Gail Dombeck, RN, BSN, Director of Nursing, the Cedars, Scituate; Lauren Pond, RN, CCM, Administrative Director of Care Management, Lifespan, Providence
Nurse of the Year in an Academic Setting
Donna Huntley-Newby, PHD, RN
Associate Professor/Director of the RN to BSN program, Rhode Island College, Providence
How did you get into nursing education? I always wanted to be a nurse. My family has nurses, nurse midwives, teachers and doctors so it was more or less a given that I would choose one of those professions. My family taught me to believe in giving back, and that's what nursing is all about. I entered nursing education after I had been a staff nurse and an administrator for a period of time and I fell in love with making a difference in terms of the students; bringing them to the profession and knowing that whatever knowledge
I gave to them was going to touch a lot more people.
Have you had a student that changed the way you viewed nursing? Every interaction I have with students opens my eyes. It's amazing how they can take a concept and run with it. I have an opportunity to not only teach undergraduates but also experienced nurses who are coming back for their baccalaureate degrees. To see them get excited about nursing theory or some new concept, to hear how they talk about it and witness how they apply it in their work setting, I find it all very rewarding.
What would you say to someone who is considering nursing as a career path? It's a wonderful profession and there are so many opportunities that are emerging. You can always find a new niche or create your own. With the new Affordable Care Act, there are going to be a lot of opportunities for nurses to become entrepreneurs. They will be able to start their own businesses and focus on providing care to selective communities of interest.

---
Community Health/Home Health Nurse of the Year
Andrea Blessing, RN
Clinical Director of Home Care Nurses, The Cedars, Cranston
How did you get into home care? I didn't always want to be a nurse. I first majored in psychology but I didn't want to go on to graduate school. I always liked to help people though, and I was interested in the medical field, so I got my CNA's license to be a nursing assistant. I really liked it and liked working with the geriatric population, so I went on to get my nursing credentials. I worked in subacute rehab, did some acute care in the hospital and I worked out in the field as a case manager for several years. I soon realized that, instead of just being at someone's bedside for two minutes at a time, I wanted to spend quality time with the patients. I enjoyed being able to witness their progress first hand as they got better. That was the most rewarding part.
How do you handle some of your job's more stressful situations? It's tough if you've come to a situation where the patient is starting to get to a critical stage. They were fine on the phone but now you've walked in and they're in dire straits. But you can't let yourself get riled up, that only makes things worse. Sometimes a patient needs to go to the hospital and they're saying, "No, I don't want to go, I'm not going," and the family members keep questioning, "Do they really have to go?" You just have to keep everyone calm and explain the rationale. I've learned that if you're calm and composed, usually the patient and everyone else in the room will follow suit.
What's the best part about your job? We have the greatest team at The Cedars. I look forward to going to my job every day. I like knowing that my team can come to me if they have questions and that if I have a question, I can go to them. We're very supportive of each other. It's serious work, but we still have fun.

Nurse of the Year in a Non-Traditional Setting
Sandi Delack, MED, BSN, RN, NCSN, FNASN
Health Services Coordinator, Johnston Public Schools; School Nurse Teacher, Ferry Middle School, Johnston
What do you do on a day-to-day basis? I'm a health services coordinator for the district so I coordinate the other nurses that I work with and keep things flowing and consistent. I'm also a school nurse. I care for five students with type one diabetes, I deal with gym injuries, general illnesses…. It's like an emergency room where you never know what's going to come through the door. But I usually see about sixty kids a day.
How has the role of a school nurse changed since you first entered the profession? I've been a school nurse for twenty-eight years and it's very different from when I started. We have many more kids with complex needs like students with ventilators and feeding tubes. We're taking on a lot more of the healthcare that used to be done outside of the school. Sometimes the school nurse is the only health care provider these kids see, they don't have their own private provider. Or I've had parents say to me, "Can you look at his throat and see what you think? I have a $4,000 deductible and I'll take them to the doctor if I need to but if you could just check it out first…" And we do a lot with working with families to try to get them signed up for insurance. It's drastically changed.
What's something you wish more people knew about what you do? School nurses are on the front lines of kids' health; we don't just hand out Band-Aids. We see children with everything from chronic and acute conditions to mental health concerns. We coordinate and consult with private physicians about kids who are coming back from surgery or kids who are going through chemotherapy. We administer immunizations and perform all kinds of screenings. We have these kids, some from the time they're three years old through age twenty-one, and we have the opportunity to affect and improve the future culture of health. That's what I love about it, that we can really make a difference.

---
Nurse Practitioner of the Year
Jerilyn Devin,MSN, APRN-CNP
Pediatric Pulmonary Nurse Practitioner/ Ventilator Integration Program Coordinator, Hasbro Children's Hospital, Providence
How did you first get into nursing? I started young. My mother was a nurse, she actually went to Rhode Island Hospital's school for nursing, and then I was a volunteer nurse in high school.
Tell us more about your Ventilator Integration Program. That's where my passion is. I've worked with that program for the past ten years. It was initially an inpatient program and I helped develop the outpatient program. The program consists of children who require some kind of assistance breathing, whether it be with a tracheostomy tube and mechanical ventilation, or it can be non-invasive ventilation and we have many different therapies, programs and suggestions to help them achieve the best quality of life. I work with a great team of people, a pulmonologist, respiratory therapist, speech language pathologist and a parent consultant and I've learned a lot about what other positions do.
What's your favorite part of your job? I like working directly with the kids and the families. I like seeing them outside of the hospital too. The hospital has a day where the kids can go to the zoo and it's wonderful to see them out having fun. And the families will bring in pictures of things that they've done. One patient has met almost every single pop star that I can think of. She'll come in and tell us what concert she's going to or what movie she's seeing. It's nice seeing them do the things they enjoy.
Has a patient ever changed your perspective? I think there are several who have changed it. They make you realize what's really important in life, things that sometimes people will take for granted every day. Also, I see these amazing families and what they go through, what they do and what they're thankful for and I know that I have a lot to be thankful for. They make the most of everyday that they have.