Rhode Island's Top Mascots
Here are some of our favorites from around the state.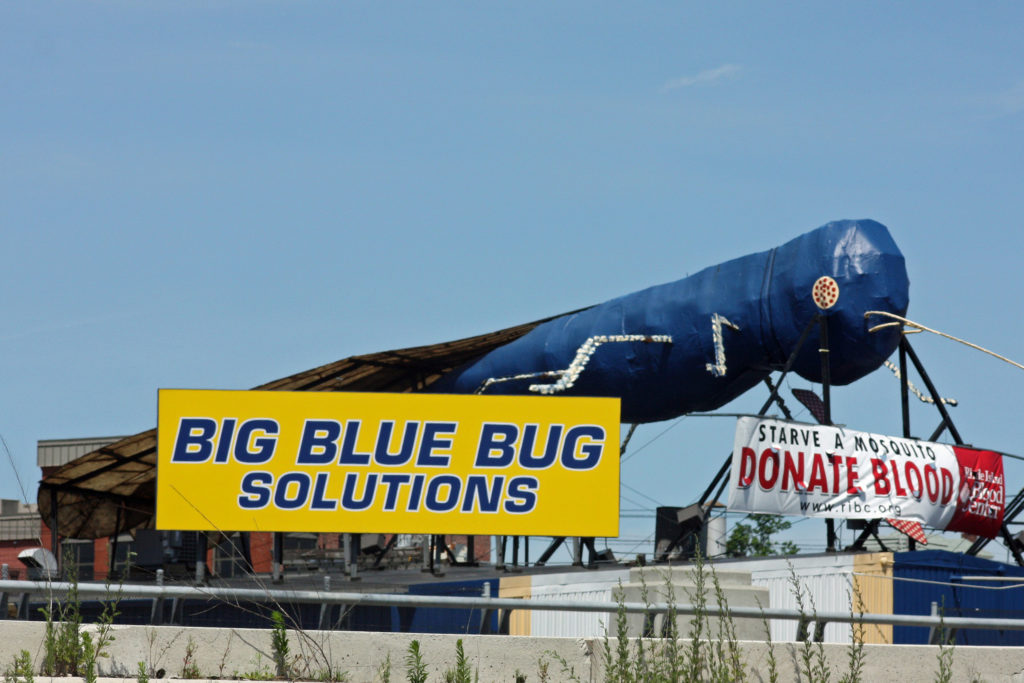 Here in Rhode Island, we love our mascots. From clam shacks and baseball teams to even pest control businesses, it seems like everyone has a spokes model, spokesbug (or even spokespud) for support. Here are some of our favorites from around the state.
1. The Big Blue Bug: Also known as Nibbles Woodaway, the mascot for pest control company Big Blue Bug Solutions wears ties, sunglasses, blinking red noses and antlers and has a costumed counterpart who makes the rounds about town. The Big Blue Bug can be spotted from I-95 by travelers heading south toward Warwick.
2. Tall Boy, Clammie and a new adopted shark: Narragansett beer already has a few mascots, including Tall Boy and Clammie, and now the company is running a new contest. They've adopted a shark to go along with the re-release of the 1975 Jaws can. For the summer months, all packs of Narragansett Lager will replicate the 1975 can famously crushed by Robert Shaw in the shark-infested thriller. In conjunction with the relaunch, Narragansett Beer is supporting shark conservation efforts in the Atlantic Ocean and giving 'Gansett fans a chance to name and track an adopted shark. Submit name suggestions through Narragansett's social media channels, including Facebook and Twitter now through Shark Week, beginning August 10, using the hashtag #NameTheShark.
3. Mr. Potato Head: He's the spokespud for Hasbro, but he also once spoke up for tourism in our whole state. Of course there are many of these taters dressed in all kinds of costumes all over the Rhode Island (some locations are known, some are still a mystery after eBay auctions whisked them away). The patriotic potato in Bristol serves as the mascot for the Fourth of July Parade. Uncle Sam Potato Head is just one of dozens of super-sized spud statues that were produced back in 2000 when Mr. Potato Head was named family travel ambassador of the state. See more fun facts about Mr. Potato Head. Photo by Carolyn Marsden.
4. The Fighting Seabee: The mascot for the U.S. Naval Construction Battalion stands at the Seabee Museum and Memorial Park, the site of the original Naval Construction Battalion in World War II. It was created by Frank J. Iafrate, and refurbished in 1999. Photo by Jim McElroy from Flickr. Check out his amazing Flickr page.
5. Doughboy: What's better than eating a doughboy from Iggy's? Watching a grown man or woman walk around in a doughboy suit while eating said doughboy, and resisting the urge to poke him in the belly button and yell "Hoo Hoo!."
6. NiRoPe: It's not a party in Rhode Island without NiRoPe from Cardi's Furniture. How did they get that nickname? It might seem obvious, but there is a story behind it, found on their website. "When we were kids, our parents bought us a ten-foot' row boat. This was a subtle way to let us know we would have to work to get anywhere in life. Our great-aunt Grace then told us we needed to name the boat. She took the first two letters of each of our first names, Ni for Nick, Ro for Ron and Pe for Pete, and called it "NI-RO-PE" as in rope to tie the boat." NiRoPe mascots will be at our best of Rhode Island party on July 24 for a photo opp. Get your tickets here.
7. Hay Bale Sculpture: Schartner Farms is an amazing place where the public and chefs alike gather the best farm ingredients, including strawberries, asparagus, corn and more. But the farm also has its own mascot appearing in the fall and winter, figures made out of hay hales, sorghum, pumpkins and more. The structure has turned up as a hay bale man, spiders, a man from outer space, a witch, Rudolph and more. This image (captured by Jesse Burke) appeared in the October 2011 issue of Rhode Island Monthly in a story written by Jen McCaffery.
8. College Mascots: Every University has its own mascot. University of Rhode Island has Rhody the Ram, Johnson and Wales has Wildcat Willie and Brown University has Bruno and Cubby the bears. Bryant University's sports teams are known as the Bulldogs, and a real bulldog named Tupper is the official mascot of the school. He even has his own Facebook page documenting his daily life. Unofficially, RISD has Scrotie. He showed up at a hockey game in 2001. Not sure what Scrotie is? Well, with a basketball team named Balls and a hockey team called Nads, you guessed it, Scrotie pays homage to the male genitalia, which RISD says is "impressive representation of RISD's collective talent as well as of our family jewels." We will let you see photos, if you're interested.
9. Paws and Sox: Paws and Sox can be spotted at every Pawtucket Red Sox home game at McCoy Stadium. Sometimes the bears select three or four little boys and girls to be bear cubs during the break in the second inning. They don mini-mascot costumes and run the bases while the song "Bare Necessities" from The Jungle Book plays. Read more in an article from the April 2014 issue of Rhode Island Monthly. Photo from PawSox Facebook page.
10. Big Rooster: This list would not be complete without mentioning the rooster that once stood in front of Solitto's Liquor Mart in Washington Park. He now lives outside Antonelli's Poultry on Federal Hill. So what made the happy rooster strut his stuff all the way to the Hill? Find out here. Photo by Mike Cevoli from the January 2014 issue of Rhode Island Monthly.
11. Myra Moo Cow: We mistakenly left A.B. Munroe Dairy's Myra Moo Cow off the list! Read about her in her very own blog post!
Finally, enjoy this fun photo taken by Big Blue Bug Solutions!
Did we miss any? Let us know your favorite Rhode Island mascot and tell us why!