Rhode Island's Design Sector is Booming
Local creative firms are quietly designing a stronger economy.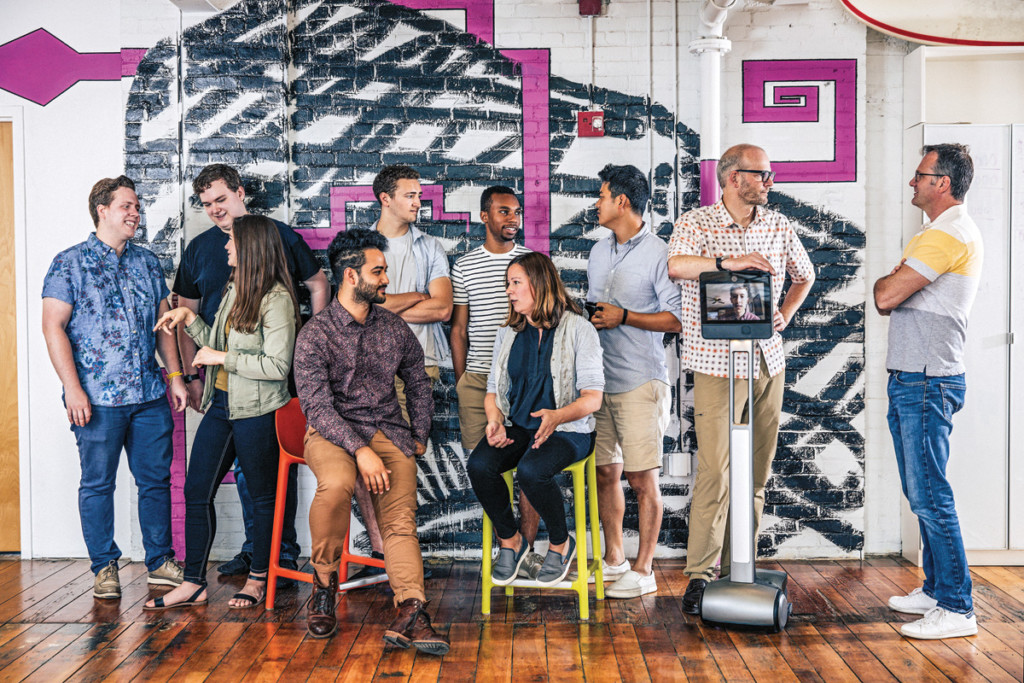 Imagine an industry that can revitalize rhode island's economy — one capable of doing so in the world we actually live in, not some fantasyland in which the factories come roaring back or Amazon arrives in town and creates 50,000 jobs overnight.
Don't try to name it, reaching for some nebulous buzzword or stock answer like "biotech," "the next Silicon Valley" or, worse yet, "innovation." Instead, just try to make a mental sketch of what that industry might look like. What are its defining qualities? What kinds of companies are leading the way? Where does it find talent?
Most likely, it would provide expertise and services, rather than making things, placing it under the broad "knowledge economy" banner. Ideally, it should have the potential to export, not necessarily in the sense of making goods and shipping them overseas, but in serving customers and clients beyond Rhode Island's borders.
This industry should be able to cluster in and around Providence, with companies of varying sizes existing as nodes in a mutually beneficial network. It should also develop a symbiosis with higher education, relying on local universities as a source of talent,
research and potential partnerships. These connection points and this concentration of assets should create a multiplier effect.
If we're keeping this exercise grounded in reality, the companies that drive this industry will be mostly small- and mid-sized, as are the vast majority of businesses in Rhode Island. This is important for a number of reasons. First, the state is simply not likely to reel in the next big fish, despite our best efforts, just as it didn't net Amazon's HQ2 or GE's world headquarters. More than that though, economic strength predicated on the presence of one or two industry giants won't grow the local economy so much as prop it up, creating an imbalance of power in which the state, and its taxpayers, are beholden to a disproportionately influential employer whose loyalty to Rhode Island extends only as far as the incentives that brought it here in the first place.
The companies that comprise this industry should be homegrown, which means they are most likely small, with some demonstrating the potential to scale up significantly. (For reference, the Small Business Association defines anything with fewer than 200 employees as "small.") These are companies likely to nurture an ecosystem upon which they depend for survival, rather than simply gobble up all the resources, competition and market share in their path, without regard for the consequences.
Finally, this industry should be one that leverages Rhode Island's existing strengths, rather than trying to impose some outside economic paradigm through sheer force of will and wishful thinking (and taxpayer-funded incentives). It should be an industry in which Rhode Island has competitive advantages, an economic sector capable of leveraging the state's size, location and pool of talent for growth.
True, the economic impact of this industry might be slower and smaller than the kind of drastic game-change brought on by a major company coming to town, but it's also less likely to result in a 38 Studios-style debacle. It would produce growth that is more organic and resilient, in which more of the benefits go to Rhode Islanders.
So what might this industry be? Who are its leading companies? How can we identify a potential match for the sketch we've just drawn?
It's possible that Rhode Island already has the answers.
"You want to see our robot? Check it out," says Gregor Mittersinker, one of the founders and partners of Loft LLC, as I enter the company's office on the West End of Providence.
Something with the rough silhouette of Johnny 5 from the '80s movie Short Circuit, but more sleek and modern, rolls towards me. Gregor proudly shows me his iPad, on which he's navigating the robot around the room using the video feed from its camera. He got it, in part, to provide a link to Loft's satellite office in Seattle, a way for the employees there to feel as if they can be present in the Providence office, looking around the room through its camera and interacting with their coworkers on the opposite coast.
In this way, and many others, Loft has the look and feel of your stereotypical tech startup. It's all there: The office is an edgy, rough-hewn loft space in an old mill building with big windows and lots of exposed brick. There's an open floor plan with no private offices, the entire team working side by side at a row of desks in the center of the room. The space is outfitted with lots of Ikea-style furniture and decorated with airbrushed snowboards, among other pop culture paraphernalia. There are no suits and ties, just lots of black and denim, with the occasional pair of leather pants. The oldest person in the room looks to be early '40s, tops. It's essentially the central casting image of a knowledge economy firm.
What exactly Loft does is — well, it's a little difficult to explain. It can be loosely categorized as a design business, part of a broadly defined sector that can include everything from graphic and apparel design to advertising and web development to architecture and landscape design. Its primary specialty is industrial design (ID), and most of its employees were trained in that field. In essence, they design products that will later be manufactured through mass production. But they also design things that are less tangible. User experience (UX) design, or the process of making a product easier, more intuitive and more enjoyable to use, is another skill in Loft's toolbox. They also offer the research and strategy that brings products to life as well as the packaging and branding that bring them to market.
It sounds like heady stuff, but the reality is that the work Loft does is something we encounter in our lives on a daily basis.
"Industrial design has suffered forever from: What exactly is it? What do you do?" explains Jeanette Numbers, Loft's other principal and co-founder. "We make sure that products are usable and function the way you expect them to. The best industrial design is invisible; it's just a natural evolution of a need."
It's a profession Numbers had been drawn to since high school, when she researched the question, "What kind of degree do car designers have?" She had an aesthetic interest in art, but was more concerned in how to apply those aesthetics to something functional. Car interiors were a particular fascination of hers. "I really liked the styling and touch points," she recalls. "I wanted to know why is that button there? Why is the steering wheel shaped the way it is? People interact with industrial design."
That led her to the University of Cincinnati, one of the top industrial design programs in the country, and then internships with companies like Little Tikes, Fisher Price and Rubbermaid. She took the first job offered to her out of school, with Fisher Price, and worked there for a year before realizing "toys are fun but that's not where I wanted to be." After moving to San Francisco for another job and then being downsized out of it, she worked as a freelance industrial designer for fifteen years.
In 2001, Numbers moved to Rhode Island with her husband because, "Some friends lived here and they were like, 'It's cheap and great.' " With its proximity to New York and Boston, and low cost of living, it was a perfect location for a full-time freelancer. It was also where her path crossed with her future business partner's.
Mittersinker studied mechanical engineering in his native Austria at the Technical University of Vienna, then attended grad school at the University of Applied Arts, also in Vienna. He came to the United States twenty-five years ago to work on the design team at Rollerblade in Minneapolis before moving to Rhode Island three years later to work for Cross Pen's Computing Group. He met Numbers a few years after that through work.
Later he was working for a Boston-based consultancy where he and Numbers collaborated on some projects and inspiration struck. "One day we said, 'Why do we have to go to Boston? Why can't we just freelance from Rhode Island?' " Mittersinker explains. "We both knew that the work was there, we just needed to spin a story that would be competitive with other agencies."
That story became Loft, which launched in 2012. Their first project was for Segway, tweaking the company's signature vehicle to make it more useful for police and first responders. They began working in a sublet in Pawtucket's Hope Artiste Village in January 2013, just Mittersinker, Numbers and three interns from the Rhode Island School of Design (RISD). By June they had hired two designers full-time, one of whom is still with the company.
Since then, they've put up impressive numbers, adding an average of one-and-a-half full-time employees and growing revenue by 40 percent every year since the beginning. In 2016, they opened the Seattle office with two employees to maintain a presence on the West Coast, where many of Loft's clients are located. At its five-year mark, Loft counted about twenty employees and $2 million a year in revenue. They expect to hire two or three more people this year — possibly more if they're able to make some inroads into naval defense contracts, which they're exploring.
"We're about to make a shift," says Numbers. "Up to this point, we've pretty much just been getting work by answering the phone. Now we're going after the things we really care about."
Of course the question remains, what exactly does Loft do?
In an unfinished back room of Loft's top-floor space, where the hip startup atmosphere of the main office gives way to something more closely resembling the building's industrial heyday, Jeanette Numbers huddles with two of her designers, Scott Seunghyuk Noh, a RISD grad, and Rance Pritchard, a University of Cincinnati alum. At twenty-nine and twenty-seven, respectively, they're two of the most senior people in the company. They're prepping for a weekly meeting with one of their clients to brainstorm, check in and offer feedback on work in progress. There are tall rolling boards positioned around the room displaying printouts of design schematics and product renderings. Foam core mockups of various components stand on the floor in front of them. Several other components, both real and 3-D printed models, are placed on the pub-height table at the center. The volume of the conversation goes up and down as the heating system's loud fan occasionally roars to life.
The client is Bose, the multibillion-dollar maker of high-end audio equipment based in Framingham, Massachusetts. Loft is working on a highly secretive project, redesigning one of Bose's top-selling products. The secrecy is important because Bose is getting ready to relaunch its portable loudspeaker system, a product that was on the cutting edge when it debuted a decade ago but has since been copied by competitors. Bose is a premium brand, which means it needs to reengineer the product to maintain its edge. They want to make it smaller, lighter and more portable for musicians and deejays, while giving it a wider acoustic angle.
This is where Loft comes in. The division of labor is basically that Bose engineers and Loft designs. Bose builds the technology that makes the product possible; Loft designs the shell to house that technology, as well as the user interface, all the knobs and buttons that make it work. Bose makes it sound great; Loft makes it easy to transport and use.
Scott Puckett, Bose's lead designer on the project, arrives and what ensues is something like a more modern, techie version of the client meetings on "Mad Men." Instead of sipping martinis and saying things like, "Happiness is the smell of a new car," they drink coffee and make declarations such as, "A button is one way; a knob is a conversation."
They examine and fuss over every detail, from the heft of the corners to the logo treatments to whether a moving handle prototype ("We're getting pretty excited about the moving handle," Numbers enthuses) will rattle when the speaker is in use. Everyone in the room has either a sketchpad or a tablet computer in hand and scribbles notes throughout the process. They throw out terms like "usability story" and "micro-details" and offer feedback including, "It looks nice and resolved — very intentional."
This is the nitty-gritty of what Loft does. If, as Numbers says, the best industrial design is invisible, the same can be said of the company's work as a whole. You'll never pick up a product in a store with their logo on it, but you may find one where Numbers or Mittersinker or another member of their team determined the placement of the buttons. Or they may have designed the logo of the client whose name the product ultimately bears. Or they may have created the packaging in which the product is sold. Or perhaps all of the above.
For example, you can walk into the Apple Store and purchase a Lifeprint augmented reality photo printer. The California-based startup developed the technology to print a photo that allows you to view a video when you hold it up to your phone. Loft helped them bring that technology to market. Lifeprint launched with a Kickstarter campaign using media assets Loft created and hit store shelves with a product, mobile app and packaging Loft designed.
"We're half digital, half analog," says Mittersinker. "We can do an iPhone app and a physical component. We have thirty-seven utility and more than sixty design patents. We get hired to solve problems for our clients."
"People learn about Rhode Island through these businesses. They put us on the map of creative and innovative leaders around design. That helps attract other businesses. Larger companies that have moved to Rhode Island recently: Infosys, GE Digital. They're attracted to this hub of design," says Lisa Carnevale, executive director of DESIGNxRI (DxRI), a nonprofit economic development organization that promotes the local design sector.
DxRI has several initiatives to support Rhode Island design companies and talent. Since 2014, it has hosted Design Week RI, an annual statewide celebration of the full spectrum of design disciplines. It runs a business incubator program called the Providence Design Catalyst, in partnership with the city of Providence, RISD and Real Jobs Rhode Island. Last year, it launched Design is Rhode Island, a campaign to market Rhode Island as a design hub on a national level. Suffice to say, Carnevale is a true believer in the design sector's potential to transform our economy.
The numbers back her up. According to research shared by DxRI, 500 new design businesses launched in Rhode Island between 2007 and 2012, and there have been more since. These upstarts reflect an expansive idea of design as an industry, ranging from leather goods (Lotuff Leather) to metal fabrication (Whetstone Workshop) to furniture and lighting (Studio Endo) to "experiential marketing" and "interactive experiences" (Ambo Studios).
Of course, the vast majority of these firms are very small, with five employees or less, but their potential reach is huge. In the same study, DxRI found that more than 75 percent of Rhode Island designers export their talent throughout the United States; 35 percent are working with international clients. Rhode Island boasts the third largest percentage of creative sector jobs per capita after New York and California, and as this sector grows, we have the talent pipeline to fill the jobs: the state's universities collectively offer more than fifty design degree programs, churning out roughly 1,100 graduates each year.
There are small companies making big waves, such as Studio Dunn, a homewares company founded by RISD grad Asher Rodriquez-Dunn, who made Forbes Magazine's influential "30 Under 30" list in 2014, and Studio AMD, a firm that produces architectural renderings for major institutional development projects around the world. There are also a few bigger fish in this small pond, like DiLeonardo International, a family-owned business that designs swanky hotels from India to China to Qatar, or Ximedica, a medical device company founded by RISD grads that now employs more than 200 people.
Companies like Loft exist somewhere in between. From their relatively small office upstairs from a yoga studio and next door to the restaurant Ogie's Trailer Park, this homegrown Rhode Island company is working with clients in Boston, on the West Coast and all over the world. Loft will probably never be a household name, but they've worked with many of them: Bose, Adidas, Mattel, Samsonite and Disney, to name a few.
"Local companies like Loft are innovating for larger companies," explains Carnevale. "Innovation for larger worldwide entities is happening through small companies. The root of the innovation and product design happens here; it's kind of our sweet spot as a state."
This is where Rhode Island has the talent and opportunity to compete on a national and international level. As the tech and biotech sectors in Boston continue to boom and Rhode Island's universities produce research and entrepreneurship, the design sector can provide the human touch that turns great ideas into great products — and then sells them. Rhode Island companies can design the products and user experiences, brand and market the companies, create logos and ad campaigns, and they can do these things for big name clients all over the world.
"The skills gap for Rhode Island is in the communication of ideas," explains Numbers. "There are a lot of people developing cool technology, but they're not able to communicate how that can become a product that's useful outside of a lab or academia. That's our specialty."
Ironically, Loft has built its business on regional and national clients, and is only now looking in its own backyard for growth opportunities. "This is the first year we will tap into anything Rhode Island," Numbers says. "We never counted on Rhode Island for our client base. Now we're realizing there are 100 different companies with intellectual property around here that we haven't tapped into. I don't see any limit to our growth."
Perhaps the best design remains invisible, but its potential to transform Rhode Island's economy is getting easier to see all the time.