Rhode Island's 99 Percent
The Occupy movement brought attention to income inequality across the United States, and studies show the gap between rich and poor in Rhode Island has been widening for decades.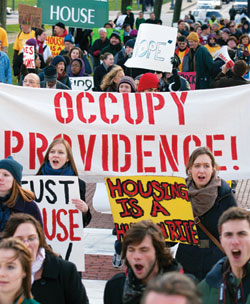 It was Dale Sherman's narrow escape that led to the arrest and conviction of Michael Woodmansee for the murder of five-year-old Jason Foreman in 1975. But Sherman never really got away. He was only fourteen when Woodmansee tried to strangle him on an April afternoon in 1982. And all the years his assailant was away in a Massachusetts prison, serving a forty-year sentence for Foreman's murder, Michael Woodmansee stayed with Dale Sherman.
"It's something I never stop thinking about," Sherman says, now forty-three and the owner of an auto body repair shop in Charlestown. "I've had nightmares for years. My dad's always wondering where I am. Worried. I say, 'Dad, don't you know how old I am?' You meet a bunch of new friends, and someone will say, 'Aren't you the one who almost got killed?' It's definitely had an effect on my life."
Part of Sherman thought that there was a good chance that Woodmansee might die in prison. But he also entertained the possibility that Woodmansee might survive the limits of his sentence. Still, he didn't think that the past would catch up to the present so soon. In March, the news broke that Woodmansee would be returning to Rhode Island in preparation for his release this month, after earning twelve years off his sentence for good behavior.
"When that happened I was in shock. I thought, that's impos-sible. You can't let someone like this out."
That was a universal reaction, expressed on talk radio, at a rally in a South Kingstown park several blocks away from where Woodmansee's crimes occurred, in the General Assembly and behind the scenes at the Department of Corrections. Ten weeks after the panic erupted, the drama was over. Michael Woodmansee agreed to voluntarily commit himself to the Eleanor Slater Hospital this month, in the face of two independent psychiatric evaluations determining that he remained a threat to society.
Rhode Island's civil commitment law protects the patient's privacy, so Woodmansee's diagnosis was not made public. But we presume that someone who kills a little boy because he thought it might be "fun," as Woodmansee once confessed, or makes a trophy from his victim's bones, suffers from a profound mental illness. Imposing order on the chaos of mental illness and the law, public protection and punishment, compassion for the sick and for the victims trailing in the wake continues to challenge the system. Woodmansee and other notorious criminals — Craig Price, who stabbed four neighbors to death, Jeffrey Mailhot, who confessed to killing three prostitutes, and serial rapist Todd McElroy — were all sentenced to finite terms of imprisonment, even though most don't believe that the danger passes once prison is done. What should we do with, as Sherman says, "someone like this?"
"There are some cases that for understandable reasons generate fear and anger in the public," says A.T. Wall, director of the state Department of Corrections. "It's precisely because the atmosphere becomes so volatile that we need to take a deep breath and pause to make sure we get it right. The stakes in public safety are too high to make policy without a deliberate, thoughtful, inclusive process."
Lawyers like to say this in five words: Hard cases make bad law. The prospect of Woodmansee's homecoming inspired Attorney General Peter Kilmartin to propose amendments to the prison good time statute that would have eliminated earned time off for many violent and sex offenders.
"The situation brought to light a shortcoming in the system. This was a statute that needed to be updated," Kilmartin says. "From the criminal perspective, if we get a sentence that is less than life without parole, we need to adopt the changes I proposed so that we have more truth in sentencing."
After the Department of Corrections determined that the proposal would lengthen the sentences of 650 inmates and add $12.2 million to the budget, a Senate committee crafted a revision that would narrow the exceptions, affecting forty-three inmates at a $540,000 price tag. Not everyone finds comfort in this bargain.
"We should be decreasing the number of people in prison and be increasing the incentives," says prominent criminal defense lawyer Robert B. Mann, who once represented Craig Price. "We're fighting yesterday's battle. This will hurt a lot of people and make the problem worse. It's not going to address the problem everyone's upset about."
At any given time, 16 percent of the prisoners in the Adult Correctional Institutions suffer from a diagnosed mental illness and are in treatment. But their psychiatric conditions don't always figure into their adjudications.
"When the courts are confronted with evidence of mental illness and you have a non-violent offender, you get sympathy," says criminal defense lawyer Thomas Briody. "But when you get someone who has really harmed other people, the sympathy goes out the door."
Insanity has been rarely employed as a defense, even in the most heinous crimes, says Charles Fischette, a Virginia lawyer who has written about psychopathy and the law. After John Hinckley was acquitted in 1983 of the attempted assassination of President Ronald Reagan by reason of insanity, Congress and a number of states made the standard much tougher. Some states abolished the insanity plea altogether.
"The defense is a difficult one — the test of legal insanity is too nebulous and too strict," Fischette says. "Each jury has to decide for the community what it thinks are the borders of criminal behavior."
Science isn't even sure where they are. While there is a growing consensus that some mental illnesses such as schizophrenia or bipolar disorder, which may lead to criminal behavior, have a genetic, biochemical or neurological basis, researchers are still teasing out the influence of environmental factors. Other disorders, such as sociopathy, describe a cluster of antisocial personality traits without ascribing their origin. Neuroscientists now theorize that psychopaths — individuals who appear normal and even charming but lack what might be described as a moral center — may have brains with abnormalities in the areas related to rewards and punishments, complex decision-making, impulse control and emotional processing. Psychopaths account for an estimated 15 to 35 percent of United States prisoners; they offend earlier, more frequently and violently, but the legal system does not treat them as mentally ill.
Dr. Joshua Buckholtz, an assistant professor of psychology at Harvard University and director of its Systems Neuroscience of Psychopathology laboratory, says that science can educate the law but not write it.
"As scientists, we can describe the neurocircuitry, we can understand the genetic underpinnings, but the relevance of that information to the law is decided by the law," he says. "We have to proceed carefully. The law might integrate scientific information based on results that may later be shown to be wrong. Science is perpetually self-correcting. Changes to the legal canon are less amenable to that process."
Reed Cosper, the state's mental health advocate since 1991, believes that current mental health law is already adequate. It allows a relative or the state to confine to a psychiatric facility an individual who is likely to commit "serious harm by reason of mental disability." Each week, he says, the law is used to treat people, usually for short-term stays to stabilize their conditions.
"In my opinion, I have never seen the government fail to use the law when necessary, and I continue to believe that the government will use it wisely," he says. "Only a very tiny population merits preventative detention."
Not everyone was happy with Woodmansee's voluntary surrender. Attorney General Kilmartin vowed to pursue involuntary commitment, to give the state control over his release. The Foreman family said that they intended to fight for stricter good time laws.
But Dale Sherman says that he is satisfied. "He should have never gotten out of jail, but that's not the fault of the people running things today."
It wasn't a perfect solution, but it was better than the alternative.
"He has no family," says Sherman. "He's certainly not wanted in this community. All of the other states called Rhode Island and told them, 'He's your problem.' Where else is he going to go? You can't have him living under a bridge."
Ellen Liberman is an award-winning journalist who has commented on politics and reported on government affairs for more than two decades.