Rhode Islanders of the Year
Meet the women, men and kids who have done the Ocean State proud this year.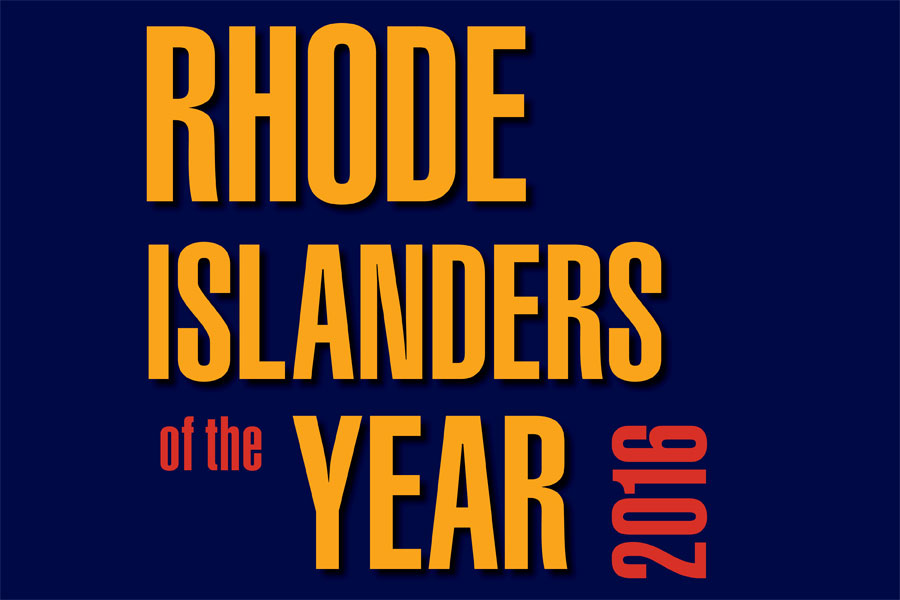 There are plans for a pedestrian bridge, and a much-publicized proposal to build a baseball stadium was scuttled after many residents cried foul. The parcels of vacant land made available by the relocation of Interstate 195 in Providence are some of the highest profile potential developments in Rhode Island.
But to Adam E. Anderson, a practicing landscape architect who teaches at Rhode Island School of Design and often walks past them, it seemed like developers were dueling over the land. "Everything was going too fast, and there was a rush to put something on that land," Anderson says. "So I was a different kind of developer. I developed just a very simple idea of a way to turn the channel of people's minds for a minute and just think of another possibility for that place."
His very simple idea? Plant sunflower seeds in a series of circles on the nearly acre parcel between South Main and South Water streets, creating what he describes as a "botanical performance" called 10,000 Suns.
Earlier this year, Anderson composed some drawings and got permission to plant from the 195 Commission. He and a crew of about twenty volunteers started planting on June 4.
"I quickly realized the scale of the project," Anderson says. "Either me or a couple of volunteers, we were pretty much there every night. A couple of nights my girlfriend and I were there until 2:30 a.m. with headlamps on and watering by the moonlight."
Anderson also had some additional help making the botanical performance a reality. Smithfield Peat donated compost and the city forester contributed mulch. Anderson wasn't sure how well the seeds would grow, because of the uneven quality of the soil of the original highway land, but they added several inches of compost.
From the beginning of the planting, water was a major concern with the drought. At first, Anderson ran back and forth to his house on Sheldon Street. "It was like putting out a fire trying to save these little sprouts, because all of them came up. We had about 40 percent die off because we couldn't keep up with the watering," he says. "Then I just went up to a neighbor's door looking desperate and asked if I could use their spigot."
The neighbor was former Providence Fire Chief Rick Susi. "They told me to turn it off before 11, so I bought 400 feet of hose and ran it across the road and watered it that way and replanted about 40 percent of the seeds," Anderson says.
But watering took about eight hours a night after a full day of work for Anderson, and buses kept running over the hoses and breaking them. "I was like, I'm done, I can't keep up with this," Anderson says. Meanwhile, a fire hydrant was right there on the corner and he knew the pressure was strong enough to hook up four or five hoses.
One day, a student showed him the most recent broken hose. Then Anderson "turned around and Rick was holding up a key" to the hydrant. "That was kind of amazing."
After July 4, the project proceeded more smoothly with a dependable source of water. People would come by and ask what Anderson was doing, and sometimes help weed for a night. There were wildlife considerations as well. Anderson says he made a deal with the birds to leave the seeds alone. And he had to herd out the flock of geese that trampled a few of the sunflowers. "But it hasn't been so bad. Most of the seeds came up. The first sunflower that came up, there were two bees on it already," he says.
By late August, the sunflowers were blooming "like a slow fireworks show," Anderson says. They grew to different heights, depending on the quality of the soil. And the sunflowers weren't just a pretty splash of yellow in the midst of the city; they also removed toxins from the soil.
In full flower, the vacant parcel attracted picnickers and yogis and changed people's perception of the possibility of the landscape. Despite this summer's challenges — or maybe because of them — Anderson hopes to have a repeat performance in 2017.
"With what we learned from this year, hopefully we will make this a yearly event," he says. "And improve it, so that they will eventually be ten feet tall."
---
As six-year-olds go, Michael Finch is pretty awesome. he was home in Tiverton with his mom, Rebecca Cottle, on April 22 when she felt like she was going to pass out because of low blood sugar. The daughter of EMTs, she'd drilled into her son the importance of remaining calm in an emergency. Cottle tossed Michael her cellphone and asked him to call 911. He gave her name, address and told them what was going on. "He even let them know I had a dog that barked at everybody, so they'd be safe," Cottle says. When the paramedics and firefighters arrived, Michael let them in, put the dog in a crate and showed them where his mom and her medication were. She made a full recovery and the first grader at Pocasset Elementary School now wants to be either a state trooper or a weatherman.
---
For most of us adults, snow days aren't as fun as when we were kids. Navigating blinding precipitation followed by some serious shoveling or blowing can make us long for the years when our biggest concern was making a snow angel. Fortunately, we've got Matt Glendinning and his merry band of collaborators at the Moses Brown School in Providence. It was January of 2015 when the school's director of communications and community engagement, Adam Olenn, walked into Head of School Glendinning's office with a crazy idea. Did Glendinning know the movie Frozen? Nope. With no kids himself, Glendinning had never heard of "Let It Go." Not a problem, Olenn informed him: "Trust me, every child in America knows this song." And he had a plan: Spoof it for the next snow day. He'd already rewritten the words and was able to recruit choral director Justin Peters and videographer Ryan Vemmer. And at the time, they had no idea that the weather event that would paralyze the Northeast was brewing. With everybody stuck at home after the storm struck, the video went viral. Glendinning found himself fielding calls from the BBC, TV stations in Japan and South Korea; Whoopi Goldberg talked about it on "The View." The next winter, they wondered if they should try to replicate their success. "We decided the whole idea is to do something funny and goofy, so if we do something embarrassing, we don't care," Glendinning says. In the winter of 2016, the team created yet another international phenom with a rewrite of Adele's "Hello." And as for this snowy season? Plans are top secret, of course, but "we have an idea, and if we can do it well, it's going to be a smash."
---
It was just after midnight on September 5 when Middletown police officer Brendan Behan was driving north on East Main Road and saw smoke.
The two-and-a-half-year member of the force thought it might have been Dunkin' Donuts cleaning its vents. But as Behan got closer, he smelled fire. Then he saw a house engulfed in smoke, with flames shooting out of the rear second-floor window and knew it wasn't good.
Behan called the fire in to dispatch and barged through the front door. He came across fourteen-year-old Leilaney Arroyo, who was lying on the floor, barely conscious. He asked her if there was anyone else home and took her outside to safety.
Fighting the darkness and the smoke, Behan went back inside and found sixteen-year-old Cheyanne Arroyo asleep in a first-floor bedroom. He told her to go outside and asked her if anyone else was in the house. She told him her younger brother, Ramon, was upstairs.
Behan tried to get to the second floor, but was overwhelmed by heat and smoke. Meanwhile, Officer Brett McKinnon arrived and Behan told him there was a child upstairs. He dragged Behan out of the house and tried to go up the stairs. Around back, two other police officers, sergeant Andrew Barth and officer Michael Foody, had found a ladder and smashed a window. Both tried several times to get inside but were deterred by smoke. By that time, family members and the fire department had arrived.
The firefighters were able to get Ramon, seven, out and do CPR on him. They got a pulse, and he was taken to Newport Hospital, where he was later pronounced dead.
The police officers were taken to the hospital for smoke inhalation and released. The sisters were also treated and are back with their family.
Since the fire, a fundraiser held for the family at Middletown High School generated an overwhelming response.
"It was a team effort," says Middletown Police Chief Anthony Pesare. "The fire department, they did a wonderful job. They had to fight the fire while family members were trying to get in there. They did get the child out. The police officers were remarkably brave in their attempts. Unfortunately, we'll all have to live with the fact that we weren't able as a team to save that young boy, but I think two children are alive today as a result of the actions of Officer Behan."
---
Elise Reynolds was about thirty-two, working as a waitress with three boys at home, when she had her first experience with opiates. Her doctor prescribed oxycodone after back surgery. Reynolds took one, but didn't like the way it felt and put the bottle back in the medicine cabinet.
Over time, she became much more familiar with the damage prescription drugs can wreak in people's lives, both professionally after Reynolds went to school to be a nurse and later with her own sons. In hindsight, she's not sure what ever happened to the painkillers that were in her medicine cabinet.
"I never thought about educating my children about what opiates were," she says.
Now, Reynolds devotes time to educating people about the effects of addiction. She's one of many parents in the state who have lost children to overdoses and are speaking out about it in an effort to let other families know they are not alone.
Governor Gina Raimondo mentioned Reynolds's work in a State of the State address and invited her to the State House in June when she signed legislation to help reduce the number of fatal overdoses in Rhode Island. In 2015, there were 258 overdose deaths in Rhode Island, according to the state Department of Health.
Looking back, Reynolds can't say when her two younger sons, Paul and Teddy, started using. She'd only ever smoked marijuana and didn't see drugs in her home. When a friend told Reynolds he thought her sons were dabbling with opiates, she didn't want to believe him.
Reynolds speaks about it publicly today because she says many people don't know the potential of some of the prescriptions health care providers are writing for them. When a teen breaks an ankle playing sports, does the doctor who prescribes painkillers tell the patient and his or her parents that it's an addictive drug? Reynolds wonders.
Her youngest son, Paul, was twenty-two when he died of an overdose on June 11, 2004. About six years later, her middle son, Teddy, returned from the two happiest weeks of his life in Florida only to overdose on May 21, 2010.
"You look back and you just think: would have, should have, could have," Reynolds says. "I don't want anybody to have to go through what I did. That's why I'm not ashamed to put it out there because it's not something to be ashamed of. It's just sad that all these people are losing their children to this disease."
But she always looks for the positive. Her oldest son, David, is married with four boys. And the deaths of her two younger sons brought family members back into her life.
Reynolds began sharing her story publicly with encouragement from the late Jim Gillen, who founded Rhode Island's first recovery center.
"He's another big loss. He's the one who actually called me and got me out there speaking. Just don't be ashamed. It's a disease and finally they're recognizing it as a disease."
Earlier this year, she testified at the State House to help get the Good Samaritan bill passed again.
"People should not have to worry about any past records or what's going to happen if emergency has to come in," she says. "Usually when emergency comes in it's the police and people are frightened. So with this Good Samaritan bill, they're there to save a life. They're not there to make an arrest."
And Reynolds is encouraged by legislation championed by Raimondo to make doctors and pharmacies more accountable for their prescriptions, plus efforts to cut the amount of painkillers dispensed by emergency departments and to make naxolone, which helps counter the effects of overdoses, more widely available. She still holds on to the pen the governor gave her when she was invited to the State House for the signing of the bills.
"She's been very compassionate," Reynolds says. "She listens. Some people are upset with some of the things she's done, but I always say, look what she was handed."
Reynolds also appreciates the recent practice of making recovery coaches available in hospitals to people who overdose. But addicts have to be willing to get help.
Her voice still breaks when she talks about her sons. No one gets a book on how to parent, she says. But Reynolds takes comfort in the fact that her son Teddy used to tell her that his addiction had nothing to do with the way she and his father raised him.
Reynolds is still in touch with many of her sons' friends and sees their presence in her life. A few months ago, the dog lover thought about getting a puppy, and a few weeks later, one of her son Teddy's friends texted her to see if she was interested in a four-month-old miniature pinscher. The woman who reached out to her about it turned out to be someone Teddy had once dated.
"I really believe it's through Teddy that I have her," Reynolds says of the puppy, Nina. "And she's just the sweetest."
When someone has been sexually assaulted, the last thing they need is to wait for months, or perhaps even forever, for forensic evidence in the case to be analyzed. Richard Park and Bella Okiddy are working to change that. The Brown University-trained biomedical engineers are developing the next generation of evidence collection kits to encourage people to seek medical attention after an assault and report it. Their venture, Technologies Against Assault, has already raised more than $60,000 to develop a prototype. Park, who was assaulted himself when he was eighteen, also wants to increase education about it in K-through-twelve schools. And Okiddy hopes to bring the technology back to her native Kenya, where the stigma of reporting sexual assault cases in high. They're hoping their kits will be in hospitals some time in 2017.
---
Lots of families do fun things over April vacation, but most of them don't involve making aviation history.
But Ross McCurdy has always set his sights high. The science teacher at Ponaganset High School in Glocester grew up aspiring to be a fighter pilot. At the same time, he always wanted to do good things for the environment.
Fascinated by a friend who was working on developing a fuel-cell powered, two-passenger airplane at Worcester Polytech more than a decade ago, McCurdy decided he wanted to combine his interests in aviation and renewable energy.
In 2008, the former Russian linguist for the United States Air Force got his pilot's license. Then, inspired by early aviators like Charles Lindbergh and his 1927 flight from New York to Paris, McCurdy and three students drove to California and back in a biodiesel-powered pickup truck.
"Our goal was to make it on pure biodiesel, without refueling along the way," McCurdy says. They made it with forty gallons to spare. The trip inspired him to make the journey again — this time, in a biofueled plane.
But first, McCurdy had to line up a plane and some biofuel. Most small planes have piston engines that run on leaded fuel, which is bad for the environment.
"To do this project, I either needed a jet or I needed a diesel airplane, which is very rare," McCurdy says. "But I was able to find one."
He joined the Paramus Flying Club in New Jersey, which has a small plane with an SMA aviation diesel engine. That model is 30 to 40 percent more efficient and designed to run on jet fuel. In 2013, he practiced flying the plane from Rhode Island to Kitty Hawk, North Carolina, where the Wright Brothers made their historic flight.
But the hardest thing about an aviation biofuel project is that there's very little of the fuel out there. "It's tricky for a regular guy getting aviation biofuel," McCurdy says. "Hopefully that will change in the future, which is what I'm working on."
Only a handful of companies make biofuel. More are developing it, but they're typically working with the airlines and the military, "big guys buying millions of gallons of fuel." (United Airlines and Alaska Airlines are among the commercial airlines using biofuel.)
Though he was flying a small plane, McCurdy got some major assistance from the big guys. The Air Force supplied the biofuel in exchange for McCurdy keeping 5,000 miles worth of operational data on biodiesel performance in a diesel engine. The biofuel for the trip was made from the tiny, oil-rich seeds of the camolina, a three-foot-tall grassy plant that grows in northern climates. McCurdy also organized a GoFundMe campaign and received sponsorships from Rhode Island businesses and help from his students, who navigated regulations and lifted heavy drums of biofuel.
"We had to go through a bunch of hoops, and then we poured it in and hit the skies," McCurdy says.
On April 16 — aviator Wilbur Wright's birthday — McCurdy and his then-twelve-year-old son, Aeden, took off in the single-engine Cessna 182 from North Central State Airport in Smithfield. Aeden helped with the fuel and the flight plan, and also flew the plane at times. Other pilot friends joined the duo for different legs of the journey.
McCurdy had planned out the airports ahead of time, where biofuel and aviation enthusiasts awaited them. They typically traveled during the day, and their second stop was Moraine Air Park, which is outside of Dayton, Ohio, and houses vintage airplanes.
Another highlight was flying over the Hollywood Hills sign into Santa Monica airport. They encountered some rough weather outside Dallas, which "made it exciting," McCurdy says.
After ten days, father and son landed back in Smithfield, having used less than 600 gallons of fuel and completing the first transcontinental flight using aviation biofuel.
This fall, Aeden started eighth grade at Gallagher Middle School in Smithfield. His dad is already planning the next big adventure: an around-the-world bioflight. But McCurdy is waiting for the FAA paperwork for an enhanced version of a biodiesel engine to be completed, so the trip won't likely happen for about another year.
It's an exciting time for renewable energy, he says. But you don't have to fly your own plane to use it. You can use biodiesel to heat your house if you've got oil heat, or in your car as long as you have a biodiesel engine.
"They're even taking trash and converting that into fuel," McCurdy says. "There's going to be a lot more options on the horizon for aviation biofuel."
---
The shop and restaurant owners of Hope Street have long spearheaded projects to make the Providence shopping and dining destination more appealing. Off-Grid on Hope is the most ambitious effort yet. For more than two years, the Hope Street Merchants Association has campaigned to bring solar lights to the street to make it safer at night and more pedestrian-friendly. Thanks to a grant from the Miriam Hospital, the first lamp prototype was created by Johnson and Wales University professor and designer Jonathan Harris and installed in front of Kreatelier at 804 Hope Street. They're raising money for the next phase of the project, to bring ten more of the modern, off-grid lampposts to Hope Street. Now that's a bright idea.
---
When a child drowns, it doesn't happen like the movies. There's typically no flailing in the water, no screams for help. A child can go under in an instant. Nobody knows that better than Karla Sherman. On July 3, 2014, her eighteen-month-old son, Jayce, snuck out the back door and drowned in the backyard pool. She wasn't home at the time, and rushed back from work when she got the call. "You think you've got everything covered, and you don't realize how fast it happens," Sherman says. Now she's doing her best to prevent similar tragedies. In her son's honor, she started the Jayce the Healer Foundation to teach people about water safety. Each year at community events, she passes out door and window alarms and life jackets — about 500 this year. And since 2014, the foundation has provided scholarships to help teach more than 300 kids how to swim. Sherman's next ideas? Working to introduce a water safety curriculum at the elementary school level and advocating to change the law in Rhode Island to allow for life jacket loaner stations at the beaches. jaycethehealer.org
Often when someone forgets their wallet at a store, there's some type of identification that staff will use to contact the person. But when David Annotti found a red wallet in a cart in the parking lot of the Ocean State Job Lot on Warwick Avenue last July, he didn't even know at first it was a wallet. The assistant manager brought it inside and put it in a safe. A few days later, a co-worker brought it to Annotti's attention again and they realized it was a wallet with $800 in cash inside. His only clues to the owner's identity? A DSW Warehouse card and a Job Lot receipt. Annotti put his detective hat on and checked out security footage to see if the costumer was a regular. She wasn't. He tried to find her on Facebook, to no avail. Then someone suggested he Google the name on the DSW card. Annotti did, and several names came up in Warwick. He found the customer and the woman "was thrilled to get it back," Annotti says. In general, he thinks it's a good idea for people to keep a note in their wallets with a contact number in case they misplace it. "I put one in my wallet, just in case," he says with a laugh.
---
Maternova is known around the world for tracking threats to pregnant women and supplying innovative products to help improve medical outcomes.
The Providence-based startup typically works with NGOs, government ministries and private hospitals and clinics around the globe. So when the Zika virus emerged in Latin America, was linked to newborn microcephaly and became a public health emergency, Maternova co-founders Meg Wirth and Allyson Cote were watching closely.
They decided to partner with Alessandra Gold, a designer who grew up in Brazil and launched her company with Cote in Pawtucket. Now based in Miami, the heart of where the Zika virus has spread in the United States, Gold designed a line of clothing for women that would both protect them from insects and be fashionable.
"We wanted to create something that women would be happy to wear," Cote says. "We wanted it to look like regular clothing, and not like a beekeeper's outfit."
The idea grew out of a Zika innovation hackathon at Mass General Hospital and won $19,000 in startup funding from Grand Challenges Canada to launch the project. The project was also chosen by Republic, a crowd investing platform that allows anyone to be an angel investor in the wake of changes to rules by the United States Securities and Exchange Commission.
They've raised more than $39,000 and are testing 200 insect-repellent T-shirts with pregnant women in El Salvador.
Gold has designed four pieces for the collection: a dress that can be let out to accommodate a growing belly, two scarves that can be worn by a woman or draped over a baby's crib, a pair of leggings and a cardigan/jacket. Each is imbued with nanotechnology that contains insect repellent approved by the United States Environmental Protection Agency, is made out of soft jersey material and is washable.
And while Wirth and Cote say the clothing is effective in warding off the mosquitos that carry the Zika virus, it also repels more than forty other types of insects. That expands the range of possibility of its use to people who want to protect themselves against other insect-borne illnesses, such as Lyme disease and malaria.
Wirth and Cote want to make sure that not just NGOs and hospitals have access to the protective clothing, but private citizens as well. They're starting manufacturing in the coming months. Wirth says they've gotten positive reactions from Latin America to South Africa to a mother-in-law wanting to buy something for her pregnant daughter-in-law to "can you please sell these at Walmart in Puerto Rico?"
"Which we would love to do, if we can do it," Cote says. maternova.com
---
Vets in Rhode Island gets calls weekly — if not daily — about a family pet with a medical issue that its owner can't pay to have treated. That's why the Rhode Island Companion Animal Foundation, the charitable arm of the state Veterinary Medical Association, and the Rhode Island Society for the Prevention of Cruelty to Animals (RISPCA) joined forces to form the Pets in Need Veterinary Clinic.
"Most of these people love their pets just like people of means, and it's very sad because in a lot of situations, there can be a disease or an injury that carries a very good prognosis, but the cost of treatment is something the owner cannot take on," says Dr. Hank Wietsma, one of the lead organizers with Dr. E. Finocchio from RISPCA.
Many of the pet owners are elderly and disabled, Wietsma says. In the past, the animal would sometimes get euthanized, or the owner would sign it over to the vet hospital, which would treat the pet and adopt it out. "So the pets are basically taken away from the family that loves them, and that's not good for the animal or good for the owner," Wietsma adds. "So we're trying to keep these pets in their homes, where they are loved."
What Wietsma wasn't expecting was the scale of the demand for Pets in Need's services. Within forty-eight hours of opening on June 15, Pets in Need got 106 calls. "Initially, we had staffing to be open three days a week, and within the first ten days, we realized that wasn't going to be enough," he says.
Now Pets in Need is open four days a week. Located close to the RISPCA on Amaral Street in East Providence, the hospital is staffed by a full-time veterinarian, Dr. Alison Alias, and three other employees. Thirty vets from around Rhode Island and beyond — including several board-certified surgeons and a board-certified radiologist — are volunteering their time. And five student vet techs from New England Institute of Technology are also getting experience working in a small animal clinic several days a week.
To qualify for the services, which are typically at a 70 percent discount, clients have to prove that they are getting assistance from a state or federal program.
Each day brings a different cool story, Wietsma says. A couple of months ago, they saw a four-month-old kitten with a fractured humerus, a difficult bone to repair. "So I was able to call and send the images to a board-certified surgeon and he said, 'I'll come and do it.' He came and he was able to surgically repair it with pin implants. Some of these orthopedic surgeries are not the typical things that the average vet does," he says.
Wietsma has also completed several complex surgeries for the clinic, including removing bladder stones from a dog.
But most importantly, Pets in Need is helping return animals to the people who love them.
---
Rhode Island's a diverse place, and Raymond Two Hawks Watson believes it's one of the state's biggest strengths, unrealized opportunities and greatest natural resources. The Providence native has long been a community advocate, serving as executive director of the Mount Hope Neighborhood Association and standing up for the city's marginalized communities.
By highlighting the contributions of cultures that are sometimes overlooked, the longtime organizer of the Big Drum Powwow at the Roger Williams National Memorial is working to build on Rhode Island's heritage and diversity to make it the cultural capital of the Northeast. Earlier this year, the Rhode Island Foundation recognized his vision with a $300,000 Innovation grant for his think tank and consulting firm, the Providence Cultural Equity Initiative. Plans include the revival of Sound Session festival, several conferences celebrating Native American culture, a new web magazine and supporting the development of sister city relationships with Guatemala City and other international locales. We can't wait to see what Watson comes up with.
---
Much of the loveliness you see in Pawtuxet Village is thanks to the efforts of Carole Panos and other volunteers from the Pawtuxet Village Association Garden Group. Like clockwork, they meet on Wednesdays at 4 p.m., getting their hands dirty to make the village a more beautiful place. Encouraged seventeen years ago by the late Ed Greer and other residents, Panos and her neighbors transformed Pawtuxet Village Park by clearing it out to restore a view of Pawtuxet Cove, securing an underground sprinkler system and planting garden after garden. Panos had to step down in 2015, but she continues to make the area beautiful, tending to the six boxes on the bridge that splits Cranston and Warwick.
---
Richard Gingras has distinguished himself in the ring as a professional boxer, winning seven amateur and two professional titles over the year and starring in the reality TV series, "The Contender." But when a man came to his Pawtucket gym, Fight2Fitness, three years ago and asked him what the boxer could do to help someone with Parkinson's, it changed Gingras's life. Now several times a week, the people throwing punches at the bags in his gym have some form of Parkinson's, Alzheimer's or may have suffered a stroke. Once a month, Gingras hosts a support group for clients and their families, then leads them through an intense workout. As "We will, we will, rock you!" echoes off the gym walls on a Saturday morning, class members wait their turn to pummel away at the boxing bags. Some pound with all their might, while others touch the bag gingerly. One man rises from his walker for his turn. But Gingras doesn't want to stop with boxing. He's converted the floor above his gym into a space called Parkinson's Place, a community rehabilitation and fitness center where people can also come and get physical therapy, massage or take a yoga class if boxing isn't their thing. "The social and emotional aspect is probably the most important thing," Gingras says. "People who are typically withdrawn are coming together and laughing."