Rhode Islander Launches Bikes and Beers Across America
Hank Whitin, owner of Pour Judgement in Newport, will bike across the United States to raise money for multiple sclerosis.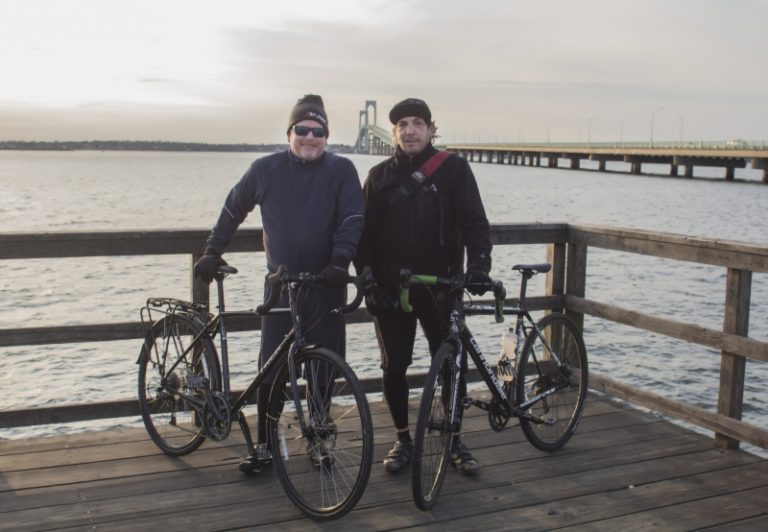 Many of us wish we could get a do over on something we've done in the past. Whether it's traveling to an exotic location, running a marathon or going through high school all over again (actually, we'll skip that one). Hank Whitin, owner of Pour Judgement in Newport, will be doing some good during his do over. In May, he'll bike across America again, just like he did when he was in his twenties. But this time it's for a great cause.
Whitin's journey, billed Bikes and Beers Across America, will raise money for Multiple Sclerosis as he pedals across the United States. He's approaching his fiftieth birthday, and wanted to do something more active to celebrate the occasion. "I realized I didn't want to turn fifty, twenty-five pounds overweight and drunk in my own bar," he says.
In the past, he completed charity rides for MS in honor of his grandmother, Libby, who lived with MS from age thirty to her death at eighty-six. In 1990, Whitin rode from Seattle, Washington, to Westport, Massachusetts. This time, he's bringing along a team from Pour Judgement, including Joe Sweetland.
They'll pedal off from Astoria, Oregon, on May 21 and vow to pick up participants as they visit craft breweries and brew pubs along the way (or at least, try a lot of different brews during rest stops). "BBAM is all about inclusion," says Whitin, "so cyclists and craft brew lovers are welcome to join for various legs of the ride."
You can help them raise money for their trip by attending the Bikes and Beers Across America fundraiser on April 6 from 6−9 p.m. at Ocean Cliff Hotel and Resort in Newport. The evening includes live music from Los Duderinos, a chance to win cool auction items, delicious snacks and a cash bar. Whitin will be there to chat about his adventure, joined by Lauren Bardsley of the National Multiple Sclerosis Society. Tickets are $40 at the door or on their website at bbam.info. The night's proceeds will go toward funding the basic necessities of the team's trek across the country.
Follow along on their journey on Facebook and Instagram.