Rhode Island Will Miss You, Jim Gillen
The late, great face of recovery inspired thousands of people, many of whom will carry his legacy forward.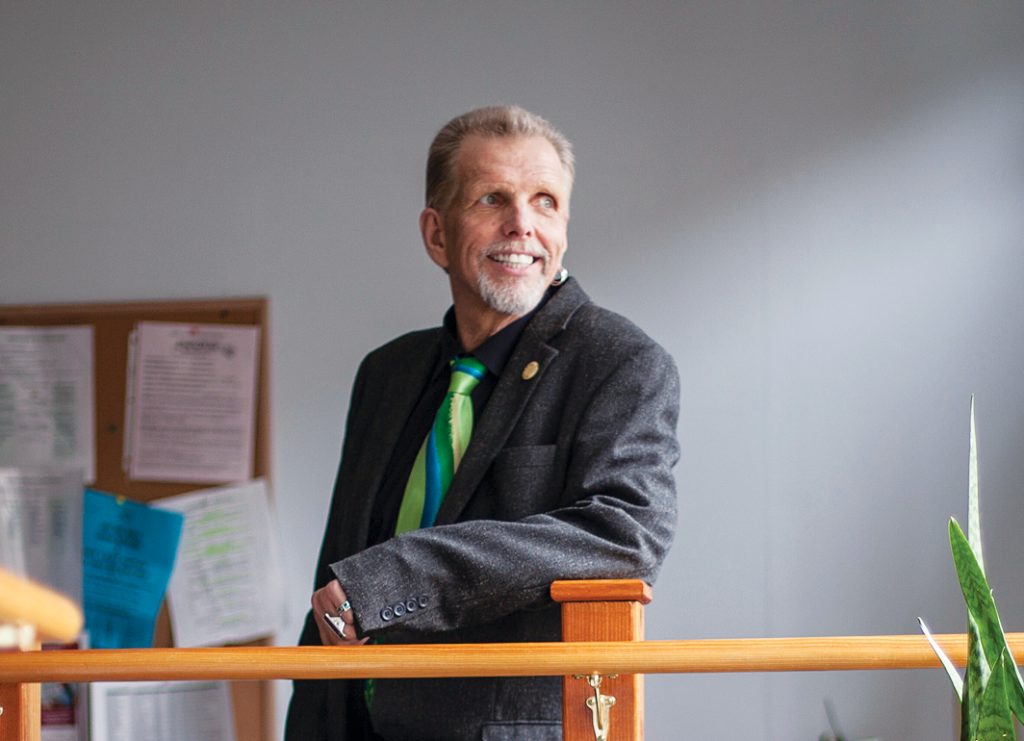 Jim Gillen is a hard person to forget: Big toothy smile, bigger personality, a set of sparkly, conspiratorial eyes that only beamed brighter when he shaved his head earlier this year after his lymphoma relapsed. The swankiest fedora couldn't shade that man's shine. He described his look as "Beastie Boy grandfather," and he rocked it.
Jim died on Saturday.
That's a hard sentence to write, never mind believe. Jim was larger than life, even through his long illness. The last time I touched base, in April, I got an automated message saying he was out on medical leave. Right. He responded in nine minutes. His work was his life, and if there's any solace to be found in the wake of Jim's death, it's that his work will live on.
Jim built a robust legacy over the course of two decades in Rhode Island. He changed the language of alcohol and drug addiction, shifting to a more positive, holistic image of a life in recovery — something he proved was possible with the right community supports. He made connections. He rallied hard. He built people up so they would thrive, against the odds, in a world that could forget all about them. He wanted members of his community to say, " 'I'm a person in recovery and, goddamn it, I count!' Well, maybe they wouldn't say goddamn it," he told me. He saved lives.
I first saw Jim in action in 2013. He was speaking on a panel for Everett Company's The Freedom Project, a multimedia theater piece about mass incarceration. (Read more about The Freedom Project here.) Jim discussed his life's work at Anchor Recovery Community Center, a place where people recovering from substance abuse can rebuild their lives with meetings, karaoke, yoga, family events and movie nights. Here's a video of his talk:
Jim founded Anchor in the living room of one of the Providence Center's temporary housing units. In 2010 and under Jim's leadership, the Providence Center opened the first bricks-and-mortar Anchor space on Main Street in Pawtucket. Anchor has since expanded to two other locations: the Kent County YMCA and DryDOC, a popup recovery center in the women's minimum-security facility at the ACI.
I got to know Jim when I was reporting for a story on DryDOC last year, one bitter February day in particular. His office at Anchor was a total sanctuary: a balmy 90 degrees and chockfull of photos, Native American memorabilia and notes from those he helped along the way.
During our talk, Jim, who was born and raised in Brooklyn, shared his own story first. "I woke up one morning and I was in Woonsocket and didn't know how I got there," he told me. "I met skydivers from Rhode Island at an educational event. There was a whole crew of them and they were always inviting me to come stay with them. I guess I called collect and asked, 'Are you ready to do more skydiving?' They picked me up in Brooklyn."
Jim weaved in and out of recovery for much of his adult life, losing dream jobs to drugs and alcohol. Irish and Native American in heritage, Jim came from a family of alcoholics. They never talked about addiction. His aunt, he said, was "a hard-drinking half-Irish half-Native nun."
He has two daughters, two sons and three grandchildren, and he told me his kids saw a lot of unpleasant things over the years. "I'd say I'm going out for milk and not come home for two days," he said. He told me a story about how his daughter, Kelly, nine at the time, answered the phone and, cupping the receiver, proudly asked him, "Daddy's not here, right?"
He found recovery in 1998, and he stayed there. Charismatic and smart, Jim was built to lead the recovery movement in Rhode Island — one that is celebratory and fun and full of life's richness. Earlier this year, he earned the award for Individual Achievement in Advocacy from the National Council for Behavioral Health. Jim may have brought recovery to Rhode Island — "out of the basement and onto Main Street," he said — but he also inspired thousands along the way, and they'll keep the movement rambling forward. Some, too, will make it their life's work.
He told me once that his mother always said, "Show me your company and I'll tell you what you are." Thanks to Jim, we all get to be good.
Calling hours for Jim Gillen will be held today, July 21, from 3 to 7 p.m., with services at 7 p.m., at Carpenter-Jenks Funeral Home, 649 East Greenwich Ave., West Warwick. In lieu of flowers, memorial donations may be sent to Anchor Recovery Community Centers C/O The Providence Center, 528 North Main St., Providence, RI 02904.