Rhode Island Veterans Visit National Memorial
Local veterans visit the National World War II Memorial.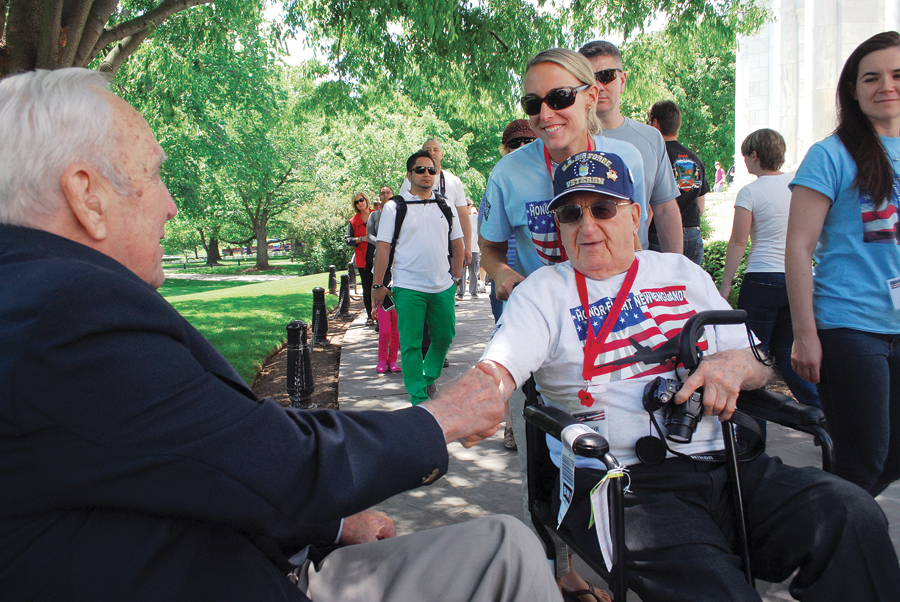 Oliver "Olly" Moreau of New Bedford watched a kamikaze bearing down on him as he stood on the bridge of the USS DuPage in World War II, figuring he was a dead man. But the plane's wing clipped a support wire and spun to slam into the ship just behind him, killing thirty-six men and wounding hundreds of others. Moreau, now ninety-one, wasn't one of them.
"I'm lucky to be alive," says the Navy vet as he sat at the National World War II Memorial in Washington, D.C., where scores of people thanked him and other vets for their service.
That's the point of national nonprofit Honor Flight; a Rhode Island chapter started in 2012 by the Rhode Island Association of Firefighters. It brings vets of the Greatest Generation — who are dying by about 1,000 a day — free of charge to Washington, as thanks for coming home from war and rebuilding a country they did nothing less than save.
Two years ago, I took my late dad on a flight. This year, I took my son, an infantry vet of Afghanistan, both of us volunteering to wheel aging vets around. I'm not sure which trip brought more satisfaction — or tears, plenty of which are shed as vets recount horrific stories they've long kept to themselves. And people finally offer thanks.
"I had a good career in the fire service," says George Farrell, a retired Providence fire chief who, with the help of Honor Flight New England founder Joe Byron, started Rhode Island's chapter. "But this — this is the best thing I've done."
Honor Flight is funded by donations, including Ocean State Job Lot, which raises money and sponsors flights. More proud Rhody connections: Former RISD Dean of Architectural Studies Friedrich St. Florian designed the WWII memorial, Gilbane Building Company of Providence managed construction and Nicholas Benson from the John Stevens Shop in Newport designed the typeface and carved inscriptions. honorflight.org