Rhode Island Red Awards
All the weird, bizarre and just plain dim-witted moments that have added a psychedelic glow to life in our fair state in 2008.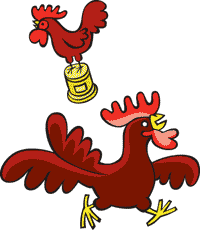 This year's Reds are dedicated to that poor, pathetic, unloved, unwanted and generally disrespected mess of tortured numbers…the state budget. Of course, no one would love you either, if you were in the hole by hundreds of millions of dollars and crashing to earth like an out of control spy satellite. While we ponder that harsh reality, however, it gives us time to think about all the other weird, bizarre and just plain dim-witted moments that have added a psychedelic glow to life in our fair state in 2008. So many examples, so little space—we hardly know where to start. All we can say is thanks Rhode Island; once again it's been another memorable year!

True Crime Log
'Cause sometimes truth is stranger than, ya know, that other thing…
TRUE! Rescuers freed a woman who got her head stuck in a jail door at the Garrahy Judicial Complex. The woman, who was being moved to the ACI, apparently inserted her head in the space where prisoners normally put out their hands to be handcuffed. She didn't suffer any serious head injuries, according to authorities, but did complain of chest pains.
TRUE! Part of T.F. Green Airport was evacuated after two hand grenades were spotted in screened luggage belonging to a Nevada passenger. Although the passenger told an airport official he had "two toy hand grenades" in his bags, he neglected to tell the airport screeners.
TRUE! Cheryl Ann Church, of East Providence, was arrested after police say she stole checks from a neighbor and then used them to withdraw $427 from a Citizens Bank branch in Barrington. Officials tracked down Church because she had cashed the checks using her Rhode Island identification card and video surveillance at the bank showed her using the drive-up window at the bank.
TRUE! A twenty-two-year-old man from East Providence was charged with driving southbound on the East Bay Bike Path at 1 a.m. in his blue Honda. When police asked Nicholas H. Heath how much he'd had to drink, Heath replied, "Not enough." Following a breathalyzer, police disagreed, and also charged him with driving under the influence.
TRUE! North Providence resident Stanley Kobierowski set a state record for being the drunkest driver ever arrested after police gave him a breathalyzer in which he blew .489 and .491, among the highest levels ever for someone who didn't wind up dead.
[Quotable]
"My salary is not a big salary to me."
Steve Kass responding to questions regarding his new job as R.I. Emergency Management spokesman despite his lack of experience in emergency management. The salary of $126,541 was $50,000 more than the executive director's and nearly three times what Kass's predecessor made, making him the highest paid employee in the agency.
"After reviewing the scope of his responsibilities at EMA, Steve Kass offered to take a pay reduction."
Governor Carcieri spokesman Jeff Neal shortly after Kass's salary was cut from $126,541 to $66,919.
We feel safer already.
The R.I. Emergency Management Agency sent out detailed plans to state towns and local hazmat groups, urging them to prepare in the event that a U.S. spy satellite crashed to earth in Rhode Island. "While it is premature to think anything will land here in Rhode Island, it is not premature to plan for the possibility," said Diana Arcand, the agency's deputy director. Two days later, the spy satellite was obliterated by a Navy missile and a Pentagon official said the space junk, which had not survived entering the atmosphere, was unlikely to pose a problem.
Heads of State
Keeping tabs on our not-so-civil servants.
How can we miss you if you won't go away?
Longtime Woonsocket Mayor Susan Menard announced in March that she would leave office June 15, eighteen months before her term expired. In May, she told a radio audience she'd decided to stay on until July 1. On October 7, the Rhode Island Ethics Commission decided there was probable cause to believe Mayor Menard had broken the state's ethics code by leasing four motorcycles from her son-in-law's business to the Woonsocket police department.
'Cause he was only corrupt part of the time.
The Providence Retirement Board voted seven to five to award former Mayor Buddy Cianci's top lieutenant, Frank Corrente, $22,231 of his $70K city pension despite his four years in prison for racketeering. "A couple of those years [at the end] were bad years," Corrente's lawyer John Harwood said of his client's period of city employment, but, "twenty-six out of twenty-nine is a good record."
He needs the royal flush.
The state Ethics Commission filed a seven-count complaint against Warren Sewer Commission chairman Brian Remy, alleging he had failed to disclose thousands of dollars of income he had received for doing plumbing for the town since 2000. One of the jobs: installation of a new $1,312 hot water heater at Fire Station 5, a conflict since he is also the assistant fire chief!
How can we vote for it?
We can't even pronounce it.
Republican state rep Nicholas Gorham proposed rolling Exeter, West Greenwich, part of Coventry, Foster, Glocester and Scituate into one super-sized community called…the Town of Westconnaug. "I don't want to dwell on the name too much," Gorham responded after people mocked his idea. "I'm up for suggestions."
Police Blotter
Beach Blanket edition
[PART 1] Narragansett officials suspended Councilman George Lenihan Jr.'s liquor license for three days after police found three people, including Lenihan, drinking after hours at his restaurant, Pancho O'Malley's. Police said it was the fourth time they'd found after-hours drinking there and that when they shone their flashlights in the window, Lenihan and the others tried to hide.
[PART 2] Police investigated a complaint that Narragansett Councilwoman Krista Garrett had threatened to kill a man if he looked at her twenty-something-year-old daughter. Police chief Joseph Little said there was no indication that the person threatened actually feared for his life or that Garrett had the ability to carry out her threat.
[PART 3] Narragansett Councilman James Durkin and Michael Handrigan, the son of the town council president, got into a scuffle outside a Cumberland Farms on Point Judith Road. Police said Handrigan claimed Durkin tried to punch him and accused him of spray-painting his car, while Durkin claimed Handrigan approached him, looking angry, swearing, and telling him he was "all done."
[Quotable]
"They've completely taken over my room. There's barely walking space. If my wife doesn't like My Little Pony, she gets out of the house."
Juecong Chai, an attendee at the fifth annual My Little Pony Fair, which attracted 300 people from around the world to downtown Providence for the twenty-fifth anniversary of the Hasbro toy.
[Quotable]
"Most of the people who are going to come from probation and parole that you'd really be concerned with, they're already at our building. That's been going on for two years. We'd be happy to have just burglars and car thieves and drug dealers; that's a nicer crowd."
An Urban League of Rhode Island official responding to the news story that a daycare center was sharing an Urban League building with a sex offender rehab program and homeless shelter, one of the few in the state to accept known rapists and pedophiles.
[Quotable]
"Apparently the Town of North Providence is convinced that we are raking in massive amounts of money from our shows, and that is absolutely ludicrous. The Renegade Wrestling Alliance is a group of close friends and family that come together for training and private shows only."
Lisa and Anthony DiIorio, responding to the hubbub that ensued following their request for an entertainment license for a wrestling ring in their backyard. Neighbors complained to town officials that in the previous year, up to 100 wrestlers had descended on their otherwise quiet street from noon until late at night, nearly every weekend. The town later ordered a stop to the wrestling.
6 Reasons to Love Your Government Workers!
1) They're conscientious…
Florida officials said they had received Governor Carcieri's $12,000 payment for two years of overdue taxes on a condominium he owns with his wife in Stuart. Carcieri, who said he was unaware of the unpaid bill, suggested the delinquent notice must have been sent to a previous address. Stuart officials said otherwise.
2) They're clean…
Government officials abruptly fired TriState Enterprises and Falcon Maintenance after thirty-one of the companies' employees were arrested as illegal immigrants. The two businesses, which had at least forty-five janitorial contracts with the state, had provided cleaning services to six courthouses, the attorney-general's office, the main state office building, two DMV offices, the board of elections, the state's command readiness facility and its 911 emergency system.
3) They're diligent…
DOT director Jerome Williams confirmed that he had reassigned two top department officials after it was learned that the state had failed to test the concrete on the new $610 million Providence section of I-195, resulting in the loss of almost $4 million in federal money.
4) They're generous…
Several departments, including the governor's office, overspent their budgets in the previous year, expanding the state's deficit by $27 million. The governor suggested making up the shortfall by taking money out of the rainy day fund.
5) They're optimistic…
Officials who initially estimated a law banning cell phone use behind the wheel could generate $6.2 million in fines to help the state deficit lowered that projection to $437,000. The initial figure was based on the assumption that police would issue more than 270 tickets a day to cell-phone scofflaws.
6) They plan ahead…
The state is still paying more than $2,000 a month for a Washington, D.C., office, which has been vacant for more than three years. The governor's spokesman said the state was keeping the lease so future Rhode Island governors could use the space, which is conveniently located near the Capitol.
Uh, don't be looking for a nice gift this Father's Day.
A would-be groom, feuding with his friends and future father-in-law the day before his wedding, took a flying leap from a third story motel room in Middletown and struck the fender of a 2007 Toyota before being carted off to Newport Hospital. A friend had put the groom in a headlock, but his prospective father-in-law said he could handle the situation. The two continued yelling at each other, when the groom told his fiancee's dad, "I hate you. I'm out of here," then jumped off the balcony. The wedding was postponed.
Another business opportunity lost overseas.
According to Nir Madar, president of Ra-chel's Pleasures, a pioneer in soft, stretchy bedroom constraints, sales of adult toys have plummeted 50 percent in the last five years, in the face of competition from China. Madar, a vendor at the New England Leather Alliance's Fetish Flair Fleamarket, held at the R.I. Convention Center, said he has slapped "Made in the USA," labels on his products in the hope of striking a patriotic chord among shoppers.
But WAIT, there's more!
State reps introduced legislation to change the name of a street off Bald Hill Road in Warwick to "Ginsu Way," after the Ginsu knife, manufactured three decades ago by the Warwick company Dial Media.
Sounds like a sting operation.
Thousands of honey bees swarmed through downtown Providence before descending on and covering a yellow National Grid truck near the Turk's Head building. The bees were eventually rounded up by two women from the Providence Animal Rescue League.
Charity begins at the landfill!
According to auditors, the Rhode Island Resource Recovery Corporation donated more than $401,800 to favorite causes including $300 to "Denise's Dance Company," $660 to the Rhode Island College Anchor Fund for its "Golf Day," $1,500 to the Barrington Youth Soccer Association, $16,500 to the PawSox, and $1,750 to St. Joseph Health Services for its "Thirty-second Annual Bishop's Ball."
Talk about waking the dead.
The City of Providence cancelled its $25,000 Fourth of July fireworks after state fire officials said the debris from previous fireworks had left burns on the roofs of nearby buildings, including the medical examiner's office. City officials rejected the only other possible location for the display, North Burial Ground, as inappropriate.
Oh, just flip a coin and get it over with.
After an intractable months-long dispute between Charlestown on one side and Governor Carcieri and the attorney general on the other, the U.S. Supreme Court refused to decide who should appear before it to argue Rhode Island's case over control of Indian land in Charlestown. At the last minute, Charlestown lawyer Joe Larisa threw in the towel.
Can you hear me now?
A Portsmouth woman who had broken up with her boyfriend had a disconcerting feeling he hadn't left the house after all. When she called his cell phone to check, it sounded really close. Police found her ex under her bed, and charged him with breaking and entering and domestic trespass.