Rhode Island Red Awards
The Dumbest moments in 2011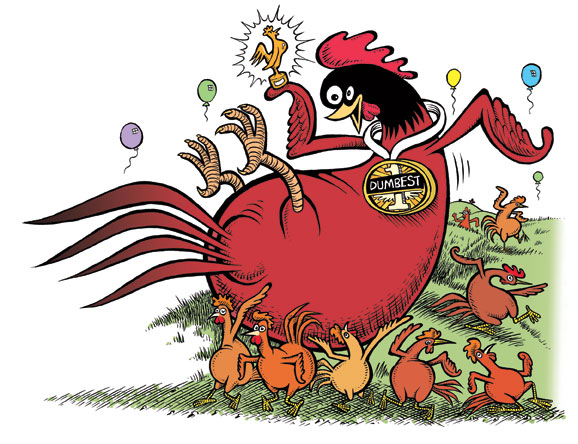 Some years there are so many worthy candidates, it's hard to decide who is most deserving of our Rhode Island Red Awards dedication. Not this time, no siree — this year's recipient stands head and shoulders above the others. Let's hear it for that big, bloated, nonsensical fiasco of sweetheart deals, creative accounting and taxpayer agita that was decades in the making: the $7 billion hole in our state pension system. And since untangling this mess promises to take forever (we're looking at you, cities and towns), we here at Reds HQ are confident we'll have a wealth of material to work with for decades to come!
Traffic's a bitch, ain't it?
A Providence couple was arrested after robbing a Citizens Bank in Warwick and then trying to make their getaway in a taxi. Police nabbed the two in their cab as they sat in heavy traffic.
That's some bad s*** going down.
The DOT has decided to save money by reducing the number of times they wash the state's bridges to remove bird droppings.
Animal House: birdbrain edition.
An escaped emu was caught by two local residents and a Richmond official, who dropped a sack over its head to capture the five-foot-tall runaway. Control officer Anne Fisher corralled the feathered fugitive running rampant through the woods and returned it to its West Greenwich owner, along with a $25 citation.
Another reason to hate Facebook.
A Rhode Island woman became suspicious after her husband, Michigan native Richard Barton, deleted her from his Facebook page. According to the Grand Rapids Press, a few months later, she discovered wedding photos of her husband with a woman in Grand Rapids. Barton has been charged with polygamy.
Because no one wants to go to the beach in the summer!
The DEM closed several hundred parking spaces, from Memorial Day to Labor Day, along with changing facilities and snack bar, at East Matunuck State Beach to begin construction of a new pavilion. It coincided with a statewide doubling of beach fees.
To read more of this story please visit your nearest newsstand or click the link below.