Rhode Island Needs More Housing
The state lacks affordable options for needy residents.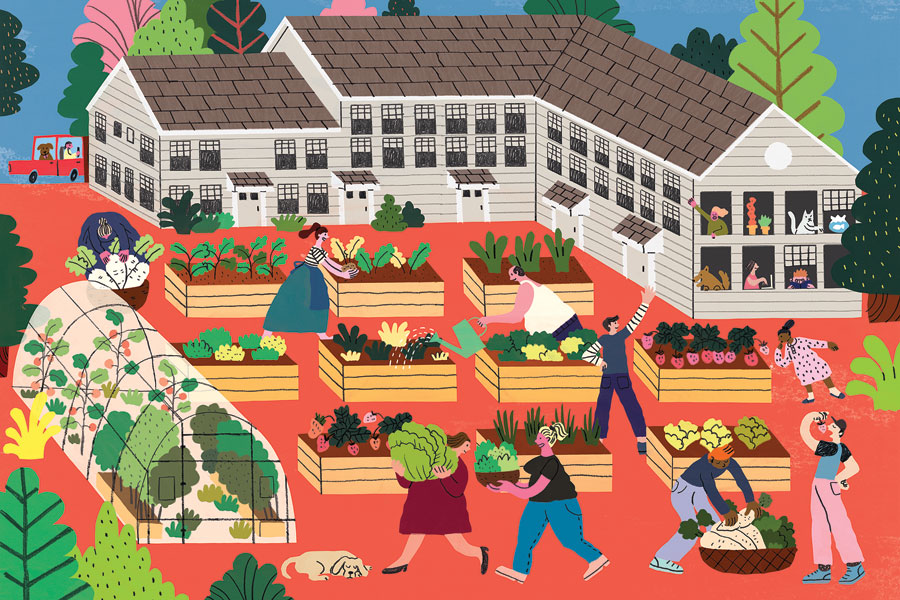 The odds weren't Powerball-crazy and the prize wouldn't make her rich, but V. Raffini was very lucky last August to be one of fifty — out of more than 1,000 people who applied — to snag an affordable rental at the Sankofa Apartments.
"It was by the grace of God that I got on the list at the right time," she says, sitting at her kitchen table. "I was finding horrible places for the rent I could afford."
Her new, two-bedroom, $685-a-month apartment in Providence's West End is clean and modern. For seventeen years before, her home was an old house on Tanner Street, where the rooms were spacious. But the pipes smelled foul, there was mold under the sink and the mice were abundant and fearless. Raffini, a fifty-nine-year-old theater arts educator, stayed because the rent was comparable — and because there was no place else to go.
"I'd been looking for a year," she says. "But trying to find something for your income — it's almost an insult for the landlord to take you into such a shabby place and ask you to pay rent to stay."
In November, Rhode Island voters passed Question 7, a $50 million affordable housing bond. The majority — $40 million — will be used to create 800 affordable housing units; $10 million will be dispersed to cities and towns to address urban blight. It is the third such bond referendum the voters have supported since 2006, raising a total of $125 million to produce 2,744 affordable homes statewide. This year, the state Housing Resources Commission will issue a request for proposals, looking to fund shovel-ready projects that already have other financing, says Barbara Fields, executive director of Rhode Island Housing, the privately financed, public-purpose corporation.
"Housing is a critical component of a healthy economy. Having enough housing supply is necessary to attract and retain businesses," Fields says. "As we grow, we need to grow housing and the bond is a great step forward, allowing us to leverage that money into $160 million in housing projects and 1,700 good-paying jobs."
These advances, however, will do little to slacken the demand; market rents have risen, incomes have fallen and the supply is tight. Average rents rose about 6 percent from 2014 to 2015, the biggest single-year jump since 2004. In the last decade, Rhode Island has been dead last or second to last in per-capita housing production. Only five cities and towns achieved their 10 percent affordable housing targets. And Rhode Island's rental vacancy rate is 2.7 percent, the lowest in the nation.
November's gold rush for Section 8 housing vouchers tells the story better. For one week, Rhode Island Housing and the Providence Housing Authority jointly opened their waiting lists, which had been closed for eighteen years. More than 13,000 people applied to enter a lottery of 5,000 to be added to each list, for another chance of getting one of 300 vouchers distributed each month. It will take at least another decade to get through the new list.
The cost of housing constricts other consumer spending. According to HousingWorks RI, an estimated 164,740 households — 40 percent of all households — are cost burdened, meaning they spend more than 30 percent of their income on housing; 19 percent are severely cost burdened, spending more than 50 percent on housing.
Nationally, their ranks are growing and spreading across income levels. A study by the Joint Center for Housing Studies at Harvard University shows that from 2008 to 2014, the number of cost burdened households jumped by 3.6 million to 21.3 million, and the number of severely burdened renters rose by 2.1 million to a "record 11.4 million."
"The last decade has been challenging for the rental market," says Jonathan Spader, a senior researcher at the Center. "If you look back ten years, there was a triple whammy. The tightened rental market started with the foreclosure crisis. People lost homes at the same time that millennials started forming households. The recession lowered incomes. So people were seeing their incomes decrease at the same time there is increased competition in the rental market. But the largest surprise is that the most burdened households are growing the fastest at the middle-income range."
Nationwide, 21 percent of renters earning $45,000 to $74,999 were cost burdened. In Rhode Island, the number of cost burdened households with annual incomes exceeding $59,500 increased by 140 percent from 2000 to 2012. Housing experts agree that without significant government intervention, these gaps will never be closed.
The first public housing was established in 1937. By the 1970s, most of the projects were built, and the government started issuing housing vouchers that followed the tenant. The Low Income Housing Tax Credit, a subsidy for private developers, debuted in the 1980s. But under President Ronald Reagan, the federal government largely departed the low-income housing business. In 2008, Congress established the National Housing Trust Fund, a permanent federal fund to grant states money to address affordable housing, but it is severely underfunded.
Although there have been other programs, and growth in the number of vouchers, the United States has lost affordable units faster than they are being replaced. Some of what remains is deteriorating, especially in poor urban neighborhoods, and only one in four who are eligible for housing assistance receives any.
Eric Hirsch, a Providence College sociologist and housing advocate, says that little has changed in ten years.
"I don't see any prospect of addressing this problem without funding of the National Housing Trust Fund," he adds. "What kind of society are we, when nearly half of households can't afford a place to live? It's market failure, not personal failure."
States have found voters to be amenable to affordable housing measures, says Michael Anderson, director of the Housing Trust Fund Project. Last November, thirty-one of thirty-nine state and municipal measures designed to tackle homelessness or raise funds for affordable housing passed.
"The voters are ahead of elected officials," he says. "Unfortunately, the prevalence of anti-tax rhetoric has cowed many elected officials, such that they are unwilling to bring forward proposals to raise revenue because they are afraid of realtor associations and developers."
Forty-nine states have housing trusts. Rhode Island's, established in 1990 and modelled after Vermont's successful housing trust, is one of the oldest. But it exists in name only, because the state has never funded it nor activated the Housing and Conservation Board established to oversee it.
In 2006, a legislative study commission explored funding mechanisms, recommending a one-time bond issue to jumpstart the fund, and a revenue stream from increasing the real estate conveyance tax.
"There wasn't much reaction to it," recalls Scott Wolf, Grow Smart Rhode Island's executive director and commission chairman. "Maybe because of the realtors on the commission — they issued a minority report opposing any increase in the real estate conveyance tax. They have a lot of clout."
It's another reason why Rhode Island's per-capita investment in affordable housing production is very low at $8.46, compared to Connecticut at $76.98 or Massachusetts at $99.72.
"The bond is better than nothing, but it's really only a down payment on the investment we need to make," says Brenda Clement, director of HousingWorks RI.
That's because another tsunami of need is coming. In April, HousingWorks projected that in the next ten years, the state's population will grow 3 to 5 percent, while households will grow by 12 to 13 percent. Three-quarters of that growth will be among the low-income and elderly, who will need multi-family housing.
Today's affordable housing developments bear little resemblance to the high-crime, high-rise, high-density dumps that gave public housing a bad reputation. Rhode Island has spent its bond issues on projects like the Sankofa Apartments. With $1.7 million in funding from the 2012 housing bond, the $15 million development includes a community center, a community garden and a small farmers market, where tenants can sell what they grow.
For Raffini, there were a few trade-offs. She misses her friends from the old neighborhood and she had to downsize to fit her stuff in a smaller space. But there's the garden, where Raffini is planning to plant greens, cabbages and maybe cantaloupes and watermelons. By winter, the maze of raised beds were filled with dirt, and Raffini was looking forward to their future, and hers.