Rhode Island Monthly's 2015 Design Awards Winners
From modern elegance on College Hill to a surf-inspired hotel, the winning work will turn your head.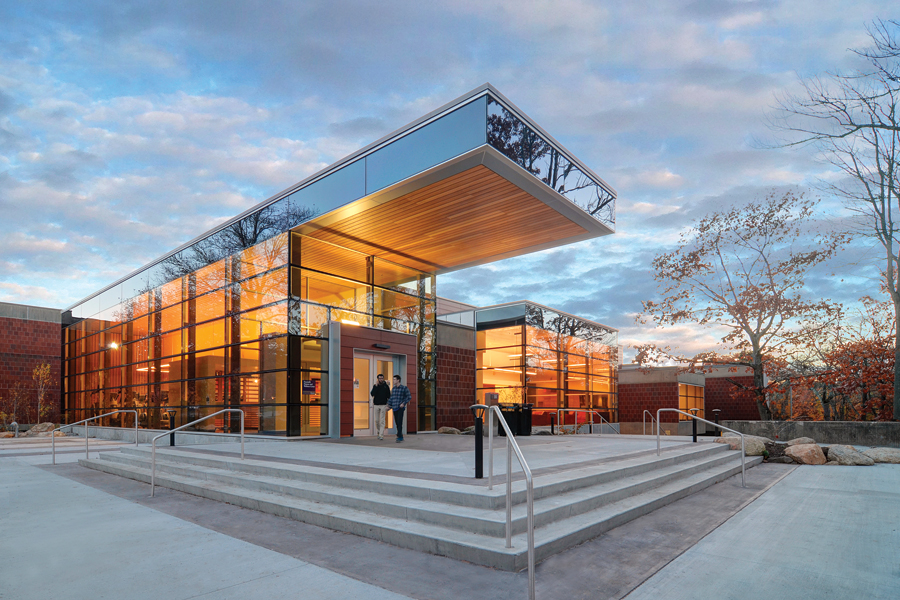 Not only do we get to peer behind closed doors, we're also privy to scores of passionate, challenge-filled stories. Architects, designers, contractors and masons; there's an army and a narrative behind each and every entry that comes our way. And just when we swear it can't get any better, it always does. This year a colorful hotel rolled in, for instance, and a cool College Hill renovation that left us all yearning to live in the city. Our judges — Massachusetts architects Carl Oldenburg, who heads an eponymous firm in Lexington, and Anne-Snelling Lee, whose company a+sl Studios is headquartered in Newton — had their work cut out. A huge thanks to them for their dedication, a big congrats to our winners and high fives to everyone else who helped make our twenty-first the best go-round yet.

Residential New Construction
Gold
The Life Aquatic
There were challenges: In addition to the usual coastal construction restrictions, the neighboring tidal pond floods. Solution? Set the Charlestown retreat on raised piers to allow water to pass below. Of course, at the same time, the house also had to be accessible and aesthetically pleasing. Two barn-like buildings (one an 800-square-foot great room, the other a 2,000-square-foot bedroom wing) sporting a base of wide boards with deep shadow lines grounds the design, Estes explains, "and visually supports the lighter spaces above." The entry, which frames postcard views, is a glazed bridge linking the structures. Our jury couldn't say enough about the design's stellar composition and take-notice "vertical/horizontal spirit."
Architecture: Jim Estes, Estes/Twombly Architects, Newport
Contractor: Dan Kinsella, Kinsella Building, Portsmouth
Interiors: Anne Hardy, Anne Hardy Design, Westport, Conn.
Landscape Architecture: Anne Penniman Associates, Essex, Conn.
Photographer: Warren Jagger
---
Silver
Pride of Place
A rock plateau! According to our jury, the incredible siting alone warrants celebration. There were ocean views but there were also ledges, wetlands and Historic District constraints. Never mind; the owners, a retired couple with an expanding family, envisioned a large-enough-to-accommodate-everyone house and here it is. "The home is a composition of three simple gable forms organized around a central axis," the architect wrote. But that's a modest synopsis downplaying the skillful creation of an elegant compound. The center gable with its cathedral great room, elevated five feet above the plateau to maximize vistas, sits at the heart. There's a sunset porch stepping down to a rocky outcropping on one side; bedroom suites in the opposite gable wing. And, zoning variances successfully obtained, low roof eaves cleverly create the image of a one-story house on the welcoming entry side.
Architecture: Burgin Lambert Architects, Newport; Rob Lambert, project architect
Contractor: Steve Ray Construction, West Greenwich
Landscape Architecture: Katherine Field and Associates, Newport
Photographer: Warren Jagger
---
Bronze
Life Enhancing
Kudos straight off to the architect and his environmentally minded clients, Claudia and Levin Kelly, for a home that embraces the future (the house has achieved LEED silver certification) but also respects the Weekapaug neighborhood's Shingle style flavor. When their existing 1911 summer abode finally wore out, the owners recruited Penniman to devise a waterside retreat that would function as a comfortable base not only for them but for future generations. Our pros admired the airy design from the inviting entry — placed along the side to reserve the home's water and street fronts for communal spaces — to the heavenly screened porch. The manner in which "ocean views were exploited and the attention to details throughout" left no doubt this high-performance, sustainable beauty was a winner.
Architecture: George Penniman Architects LLC, Essex, Conn.; Team: George Penniman, AIA, LEED AP; Peggy Velsor Sullivan, AIA, LEED Green Associate
Landscape Architecture: Anne Penniman Associates LLC, Essex, Conn.
Contractor: Evergreen Building Systems LLC, Stonington, Conn.
Interior Designer: Susan Haynes Interior Design, Basking Ridge, New Jersey
Photographer: Warren Jagger
Residential Renovation
Gold
Déjà View
When the original architect is reenlisted, it underscores a level of trust. Goff designed the Jamestown home but new owners, with plans on summering by the pool, wanted a greater focus on outdoor living. A number of existing features — a long sweeping roof and an inconvenient chimney among them — made it tricky to say the least. Goff began with a dormered balcony on the second floor, which then allowed expansion of the first level. Today, a generous kitchen and adjoining glass-walled family room seep out to a covered porch happily situated between the pool, the main house and a new, fully equipped pool house (built on an old greenhouse wall). In the end, the assured reworking makes yesterday's abode twice as good.
Architecture: Gale Goff Architect, Little Compton
Original Architect: Gale Goff, Estes/Twombly, Newport
Renovation Builder: Newport Housewrights, Middletown
Interior Decorator: Andrew Paraskos, Boston, Mass.
Custom Kitchen Cabinetry: Joseph Yoffa Custom Woodworking, Newport
Poolhouse Builder: K and R Construction, Middletown
Original Builder: Highland Builders, Tiverton
Landscape Architecture: Hali Beckman, Wickford
Photographer: Anthony Crisafulli
---
Silver
Top Drawer
Goff balks at taking credit. "…I was merely trying to channel the brilliance of the original architect Mr. Peter Jackson," she told the judges. The 1916 gentlemen's farm exudes refinement. So when new owners requested a portion (from entry hall north) be redesigned, Goff moved thoughtfully, relocating the kitchen but using the butler's pantry and larder. The antique stove was refurbished and aging oak counters refinished and reinstalled, interspersed with stone. Along the way, a sunroom with river views was developed and a small, efficient office space. Goff's "well-done resolution" won applause together with the project's "seamless teamwork." Case in point? "The interior designer's appropriate and understated input helps complete the rooms," declared our gurus.
Architecture: Gale Goff Architect, Little Compton
Original 1916 Architect: Peter Jackson, Providence
Interior Designer: Kate Jackson, Kate Jackson Design, Providence
Builder: Ed Lacross, Foster
Metalworking: Newport Forging and Welding, Newport
Masonry: Olympian Construction, Fall River, Mass.
Custom doors and cabinet doors: Mark Vinbury, North Kingstown
Photographer: Anthony Crisafulli
---
Bronze
Bright Idea
Built in the '70s (the era of disco and pet rocks) this College Hill dwelling was disappearing under overgrown trees and vegetation. The goal, stated the entry, "was to visually and spatially transform the formerly reclusive building and landscape into a modern, progressive residence…." To that end, a host of improvements were launched, from structural modifications and new light-gathering windows to exterior materials (horizontal sapele wood siding; stucco on the minor volume where the garage is lodged). Today's cunningly organized floor plan helps showcase the owner's art and books, while traffic paths pull in views of the surroundings. In the end, it's a night and day makeover, one that improves daily living without annihilating the charm of the past.
Architecture: Kite Architects, Providence; Team: Albert Garcia, AIA, principal; Kyle Bamrick, AIA
Contractor: Case Construction Company, East Providence; Team: Frank Gustafson, Kurt Gustafson
Structural Consultant: Wilbur E. Yoder, AIA, PE
Photographer: Albert Garcia, AIA
Residential Interior Design
Gold
Summer Style
Behold a worthy makeover that gave a young Boston family exactly the kind of Little Compton getaway they envisioned. When Watson scrapped the wall sequestering the kitchen and a number of bulky built-ins, replaced the yellowy maple floor with reclaimed oak that references the color of driftwood and improved the kitchen, it was like a change of season. New functionality and a fresh sense of openness complement the small home's near-to-the-beach location. A host of modern improvements like stainless balusters and walnut rails instead of the previously dated stairway give it high style. The colors are serene, the furnishings causal and comfortable. In just months, the getaway went from humdrum to happy-ending.
Renovation Planning and Interior Design: Taste Design, Jamestown; Team: Patti Watson, principal; Wendi Dicely Scalora, interior designer
General Contractor: Gibson Building Company, Portsmouth
Photographer: Kyle Caldwell
---
Silver
Sea Change
Once again, summer loomed, but the Shingle style beach house wasn't having it. Some serious design intervention was needed to heighten the tempo. Jackson's juxtapositions of color (turquoise and navy are her client's favorites), old and new furnishings and personality-filled accessories all but shout sand and surf. It's a large house and Jackson moved like a tsunami, energizing every corner and filling shelves in her wake. Even the kids' rooms got redone (each in accordance with their owner's likes). Still, all the changes aside, the house retains a remarkable clean-lined demeanor. That kind of don't-overdo-it magic isn't easy to pull off. Jackson proves it's possible.
Interior design: Kate Jackson Design, Providence; Kate Jackson, principal
Photographer: Nat Rea
---
Bronze
Walking the Line
"I feel there needs to be a reasonable relationship between the architecture, interior design and lifestyle to produce a coherent and successful project," the talented designer told us. Her beauty treatment for this good-boned Newport Victorian included painting the trim, a bold move that zoomed the house into the present century. To foster communication between the rooms, Goff drew colors from the stained glass windows — chartreuse, pink and green — and then to keep it grounded, shrewdly threw in what she dubs "a healthy dose of neutrals." Fabrics and materials allude to New England. And antiques cohabit with modern pieces to punch up interest but not disrupt the classic undertones.
Interior Decoration: Kirby Goff ID, Providence
Renovation Architecture: Gale Goff Architect, Little Compton
Builder: Ed Lacross, Foster
Photographer: Anthony Crisafulli
Commercial Renovation/New Construction
Gold
Sleeping Beauty
Back in the 1960s, the concrete and terra cotta URI building designed by Pietro Belluschi functioned as a dining hall and the centerpiece of a residence quad. With passing years, though, its usefulness declined. By the time Kite Architects arrived, the structure was in desperate need. But why look back? Kite's rescue has resulted in the stunning, state-of-the-art Anna Fascitelli Fitness and Wellness Center — a modernist structure that highlights the building's original craftsmanship. From the east entry's spectacular canopy to the bonanza of light-giving windows, no one passes by without wanting to go in. The variety of activities — think everything from, say, cycling studios and cardio equipment to a wellness education and consultation suite — pretty much guarantees droves of incentivized students (fabulous surroundings will do it) looking to keep healthy.
Architect: Kite Architects, Inc., Providence; Project Team: Albert Garcia, AIA, principal-in-charge; Christine M. West, AIA, principal; William Kite, FAIA; Jonathan Bell, AIA; Cody Campanie; Phil Derby
General Contractor: Iron Construction Group Inc., Warwick
Fitness Center Design Consultants: S3 Design, Braintree, Mass.
Landscape Architecture: L+A Landscape Architecture, Newport
Photographer: Albert Garcia, AIA
---
Silver
Reserved Parking
Tourists cruising Newport's Bellevue Avenue always stop to admire the brick 1903 Audrain commercial building designed by Bruce Price. There was a time, however, when the Golden Age lions and balustrade, due to a hurricane, were removed. The first floor shops had morphed into lackluster medical offices with commercial tenants crowded above. The savvy new owner enlisted the architects to halt time's ravages and reclaim the building's integrity, turning the second floor into his company's headquarters. The theme was to be a twentieth century club. A year later, another plan was conceived to add a razzle-dazzle auto museum. We haven't the space to explain the extensive reconfiguring and structural choreography this glorious project entailed. The finished product is proof enough.
Architecture: Northeast Collaborative Architects; Team: John K. Grosvenor, AIA, principal; Daniel Herchenroether, AIA, LEED AP, principal
Owners/Client: Nicholas Schorsch, American Realty Capitol, co-founder; William Kahane, American Realty Capitol, co-founder; David DeMuzio, Audrain Auto Museum, executive director
Contractor: Parker Construction, East Providence
Structural Engineer: Camera/O'Neill, Portsmouth
Lighting Designer: Light Insight Design Studio, Boston
Photographer: Ben Jacobsen Photo
---
Bronze
Curb Appeal
No ordinary project, the University of Rhode Island's 4,300-square-foot Gender and Sexuality Center is the country's first freestanding campus center dedicated to the LGBTQ community.
The sunny residential-style building incorporates all the correct components — multipurpose rooms for classes and meetings, a student lounge, a kitchen, administrative spaces and much more — for providing students a base and support. At the same time, the admirable design deftly complements the surrounding houses. The center is welcoming and unpretentious, "stating its role in a sophisticated manner," our judges noted, "through form and materials."
Architecture and Interior Design: Lerner Ladds Bartels, Pawtucket
Contractor: Nadeau Corporation, South Attleboro, Mass.
Mechanical, Electrical and Plumbing Engineer: Creative Environment Corporation, East Providence
Structural Engineer: Odeh Engineers, North Providence
Landscape Architecture: Birchwood Design Group, Providence
Civil Engineer: VHB, Providence
Commercial Interior Design
Gold
Fun, Fun, Fun
The Break, Narragansett's freshly opened boutique hotel, swept into our office like a wave of color and light and that's no accident. A hang ten vibe and an infusion of late '60s surfer nostalgia, Chiappone explained, was the motivation for the hotel's scheme. And, really, what better tone for a place of relaxation? Chiappone credits everyone involved, from the owners to the architect, for the winning outcome. But her unwavering focus — bold colors, nifty patterns, hip furnishings and what she labels coastal-inspired textures and materials (even down to the baths and wait till you see the restaurant) — ties the hotel together. Never crossing the line into cutesy, the designer has cleverly condensed summer on the shore, then and now, into one fantastic package.
Interior Design: Digs Design Company, Newport; Jocelyn Chiappone, principal
Architecture: Frank Karpowicz, Wakefield
Owners: Jim and Becky Durkin
Hotel Management: Lark Hotels
Contractor: RA Poulin Builders, Cranston
Landscape Architecture: Magma Design Group, Rehoboth, Mass.
Photographer: Rare Brick
---
Silver
Dining Out
The posh Garde de la Mer restaurant is located in the expanded first floor of the Teste Block, part of downtown's ProvidenceG complex. The ingenious architect added a two-story addition in the alley where a dumpster once roosted, opened up the ground floor and created a mezzanine space. Each of the zones is treated differently: booth seating in the addition, for instance, banquettes in the original building and tables and chairs for the more private mezzanine. A sharp palette — Dijon yellow, black and white — unifies them, while a full menu of materials, some luxe, some industrial flavored, adds interest and depth. Bravo for the innovative reuse of an old structure and a contemporary design that won't age. Years from now, Garde de la Mer will still look sensational.
Architecture and Interior Design: Studio MEJA Architects, Providence; Eric Army, AIA, principal
Client Representative: Brendan Moran, general manager, ProvidenceG
---
Bronze
Drama Queen
The 1925 gymnasium, reinvented as a state-of-the-art space, on St. Raphael Academy's campus opened to rave reviews. Vision 3's ingenious repurposing has given the Pawtucket school a stadium-style 300-seat performance space and a spacious art gallery along with all the necessities such facilities require and, take our word, it's a long list. But there's history as well. Original entrance archways maintained in the new two-story lobby are reminders. Certainly the school more than appreciates the top-quality design. That it was done on budget and on time makes it perfect.
Saint Raphael Academy Team: Daniel Richard, principal; Richard Cipolla, finance director; Terrance Murray, theater director
Architecture and Interior Design: Vision 3 Architects, Providence; David R. Prengaman, principal-in-charge; Joseph Caldeira, project manager and lead designer
Contractor: E. Turgeon Construction Corporation, Cranston; Chris Ducharme, principal
Structural Engineer: C.A. Pretzer Associates, Cranston; Thomas Grafe, principal
MEP/FP Engineers: Creative Environment Corporation, East Providence; the late Jason Sousa, principal
Acoustic Design: Acentech, Boston, Mass.
Photographer: Aaron Usher III