Review: Revival Craft Kitchen and Bar
This neighborhood favorite focuses on elegant comfort food, designed to satisfy on a chilly evening.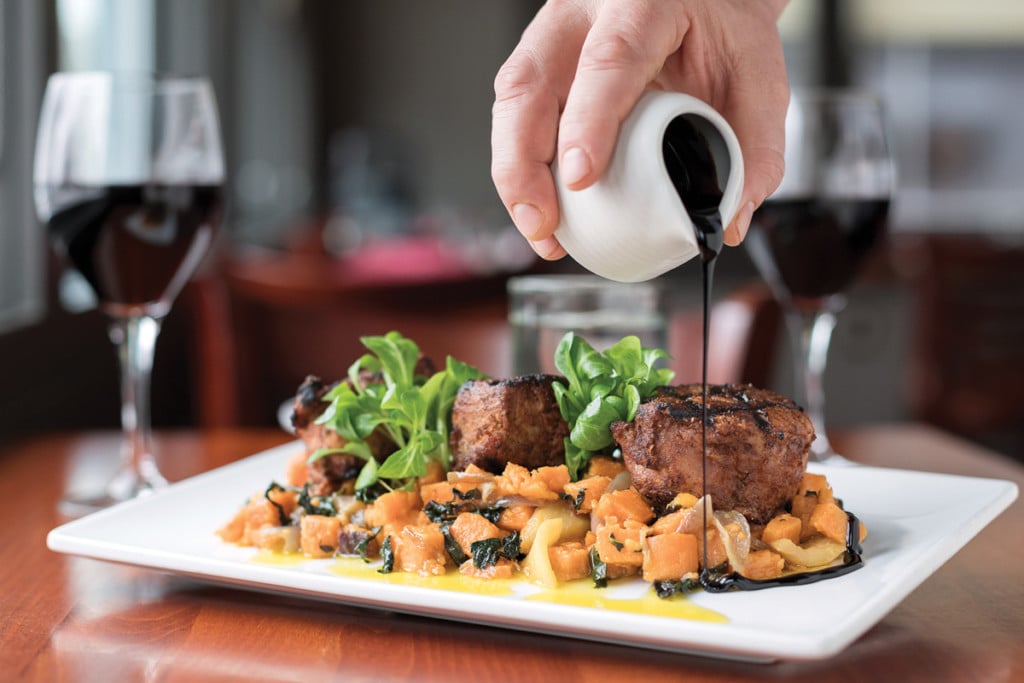 "Craft" continues to thrive in the culinary limelight, as both an adjective and noun. The former connotes something artisanal, a small-batch something honed at the hands of a local, mad genius. It's the conceptual engine that drives retail sales and differentiates a new product — beer, spirits, cheese — from the big box generics. But use it as a noun and "craft" takes on something grand: It goes past the domain of the pragmatic and into the elusive realm of art.
There are myriad ways of capturing the dynamic in a restaurant other than food, the most malleable element being interior design. It was clearly at the forefront of the plan conceived by GM Peter Lowre, chef Keegan Dunson and two other partners, when Revival Craft Kitchen and Bar debuted last year. Housed on a corner lot in Warren, Revival pays reverence to New England in its infancy — simple and rustic with flourishes where possible: carved wood and bullseye glass that bends the light of the blue-gray walls. Cooler weather manifests a tavern feel, a sense that everyone is seeking shelter from outside elements with some hearty dish cooked over an open flame.
Of course, the Revival kitchen is a modern one that loves a pretty plate. But the menu is grounded more in what comforts than what surprises. Fritters, grits, chops and bread puddings dominate but always with a refined approach and always ready to pair up with a hearty red or cocktail. In fact, it's hard to figure out whether drinks complement the food or the other way around. Locals tend to congregate around the bar in search of conversation and libation but get lured into a meal as the dishes parade into the dining room. "I just want a bite," says a woman trying to leave her job behind for the evening. "Like some fries or an app…
or whatever that is," she says suddenly, as a titanic pork osso bucco is put down in front of her neighbor.
If you squint, you might be able to envision the more populous version of Revival's menu. After all, potstickers, burgers and roasted chicken are offerings for the masses. But the restaurant isn't willing to dumb down its articulation. Drinking may be a big part of Revival, but the dining room has a solid PG-13 rating: This is a neighborhood haunt even if kids are scarce. Part of the reason the post-college crowd prevails is the kitchen's ability to push familiar dishes past their familiar incarnations. Blue crab fritters with red curry aioli ($10.95) are addictive but reject any reference to fried snack shack food. Like many dishes here, the flourishes lie in sauces. Prosciutto-wrapped chicken skewers ($9.95) may be a simple salty nugget but the black garlic aioli that escorts them could be slathered on toast and called a meal. Even the restaurant's best offering — crispy Statler chicken ($22.50) — is a homage to grandma's gravy if she had been trained in a formal kitchen. It's true that the chicken itself is an archetype; it's delivered with a shield of crunchy skin that duck eaters dream about. But the lemon rosemary pan jus, unassuming though it may be, is the very manifestation of comfort food. (Note that there's no secret here. A man shouting out stories about his parents, his exes and his colleagues, all by name, pauses momentarily to tell the man on his right that he could not stop himself from ordering the chicken but, if he could get two Revival meals in a day, he'd acquiesce to the monkfish.)
But if the kitchen has perfected chicken, it also succeeds in surprising diners in other unassuming ways. Osso bucco ($24.95) is made with pork rather than veal and, bathed in Marsala sauce, it's a behemoth that hints at both Italy and the American South (by way of cheddar grits). Same goes for pork tenderloin with smoky bourbon molasses glaze ($22.95) that evokes Kentucky-style barbecue dressed up in its Sunday clothes.
The definition of craft here is firmly rooted in communal congeniality and the staff is all in. Regulars (anyone who shows up a second time) are greeted like Norm Peterson and specials are announced like gifts waiting to be opened. Nearby residents clearly show up even when they're not hungry, just to soak up the camaraderie. So while dinners can be formal, they're just as likely an exercise in grazing. "Slates" are put together like a buffet: grilled breads paired with pyramids of prosciutto, fig jams and bulbs of Vermont burrata ($18.95). Even sandwiches are shocking to behold, served on bread so thick and spilling so much cheese that they go right to Instagram. There are a few standard salads — beet, Caesar, spinach — but the lightest meal you can make is a molded circle of lump crab and avocado studded with cashews and served with bright peppadew relish.
While restaurants around the state use other vendors to champion the craft movement, Revival is intent on promoting a homegrown approach. It's no coincidence the restaurant found its home in Warren, which has constructed its own culinary niche in the past several years without forsaking its pre-Revolutionary heritage. If there's an all American town in an off-shoot of England, Warren can certainly lay claim to it, and Revival is determined to bring back the town watering hole. The only difference is that no one ends the night falling off a barstool or starting a fist fight; this tavern is more kumbaya than chaos, and everything is made better with a side of some sort of gravy.
A few people might forsake the last call, but they're still game for dessert, which is the family friendliest course, a blend of retro modernity. Fruit crostatas are buried in ice cream, bread puddings in caramel and creme brulee loaded with slightly bitter espresso. Lowre keeps an understated but persistent presence in the dining room and he's adamant that no one goes unnoticed. Appreciation might be offered in a glass or on a plate but it's always offered and it's inevitably well-crafted.
✱✱✱
50 Miller St., Warren, 245-4500, therevivalwarren.com.
Open daily for dinner, Sundays for lunch. Wheelchair accessible. Some lot parking.
Cuisine Comfort food with panache.
Capacity Sixty plus fourteen on an outdoor heated patio.
Vibe Modern New England tavern.
Prices Appetizers $8.50–$15.50; entrees $12.95–$29.95; dessert $8.
Karen's picks Crispy chicken is mandatory. After that, blue crab fritters, slates, pork tenderloin.
Key
✱ Fair ✱✱Good ✱✱✱Very Good ✱✱✱✱Excellent +Half-star