Review: The Vanderbilt Grill
It's easy to imagine being part of the 1 percent here, even if it's only for dinner.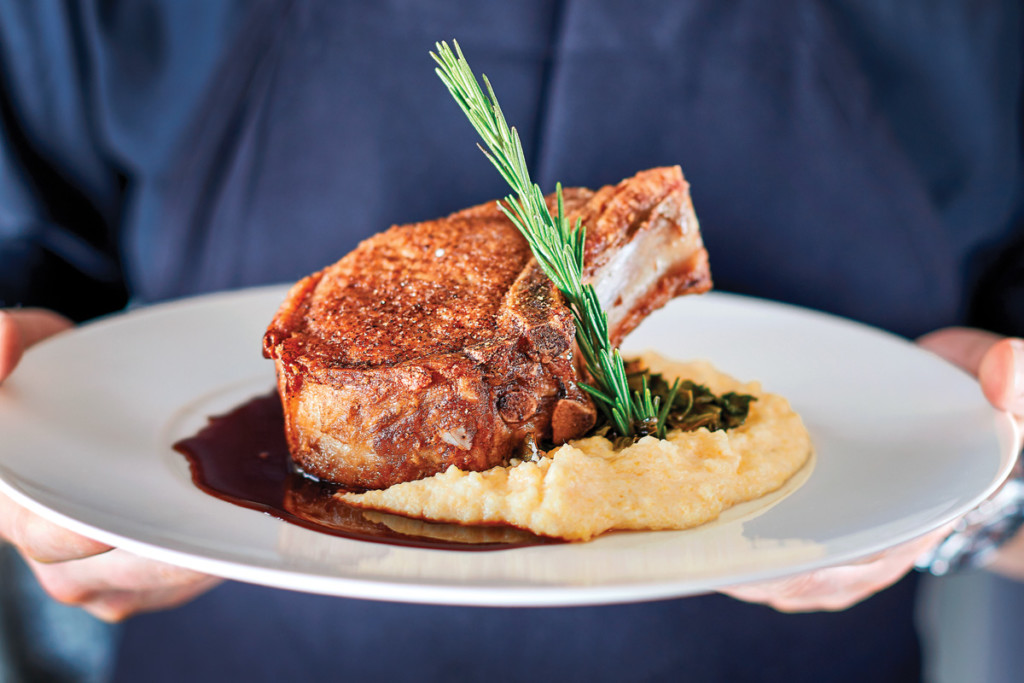 Nothing in Rhode Island feels quite like Newport and nothing in Newport evokes the city's spirit quite like the Grace Vanderbilt hotel. Tucked away on Mary Street, it doesn't announce itself the way the Chanler — perched over the ocean — does. Nor does it offer the sprawling Gatsby-like lawns of Castle Hill. Instead, it insinuates secrets behind its brick façade, its small corners protecting murmured whispers and illicit relationships.
The edifice has an unremarkable story: Built in 1909 by Alfred Gwynne Vanderbilt, it was given to the city in honor of his father, Cornelius, and operated as a YMCA for seventy-five years. But, refashioned as a hotel, it has come to embody the legacy of Alfred Vanderbilt's enduring scandal — an affair that ended his marriage as well as his lover's. References to both his paramour and his wife punctuate the hotel's design (see the gold-stenciled names above the fireplace), but in a manner demure enough to present as romantic rather than ruinous. Proletariat details ought never seep into the fantasy of Newport and the Grace Vanderbilt manages an effortless suspension of reality. Everything in sight is plush but snug, the very manifestation of a Newport goal that one could spend their days reading books and meandering one's own home looking at art. Each alcove offers something slightly gilded, enhancing the appearance of everything from simply lovely to full-on luxury. Even the dining room, painted in robin's egg blue, looks like a Tiffany box — refined but relaxing enough to sit in front of the fire and contemplate tomorrow's sojourns through the conservatory. It's an intimate room for a hotel with a small bar and enough tufted banquettes to languidly drink a cocktail. The fireplace centers the dining room and, as with every vignette at Grace Vanderbilt, suggests subliminally that you're at home. (One of the many.) Even the waitstaff pretends (convincingly) to know you, calling everyone by surnames gleaned from reservations or introductions.
But as ceremonial as the setting is, the Grill has a more predictable approach to food than the hotel's initial restaurant, Muse, which enjoyed the showmanship of a culinary endeavor, carrying plates to the table under cloches that emitted plumes of smoke. The Grill is perhaps the most conventional corner of the hotel, focusing on familiar dishes that might appeal to weekday dining as much as a fête.
It is fundamentally surf and turf — the easier way to please a disparate crowd. Caesar salad ($15) makes an appearance as does a delicate lobster and shrimp salad with diminutive slices of mango and haricot vert. The latter embodies the Vanderbilt approach: subtle in flavor but decadent at its core and in its price ($21). Even a charcuterie plate ($19) avoids assertiveness, offering small shavings of prosciutto and salami with just a swirl of mustard and a few cornichons. If there's an exception to the rule, it's in the octopus appetizer ($18), one large tentacle marinated in soy and mirin and cooked until it resembles steak in taste and texture. It's an aggressive dish that looks as if it's mocking or babysitting the minute potatoes and slivers of avocado served on the arm's perimeter. But this is where the fun lies, with the brazen uncle who overturns every demure family dinner.
Entrees revert back to safe territory: a filet served with rich potato puree and bone marrow demi glace ($44); salmon with Brussels sprouts and enough bacon to call it a meat dish; guinea hen with tart tomato confit. Among the more interesting dishes is a pork chop ($32) that reads as reserved on the menu but eats more as if it came from a Texas ranch: oversized and overtly masculine. Sides fall to the background in the shadow of the mammoth meat but that, in its own way, is a uniquely American enterprise.
Given how fastidious the aesthetic is, the menu comes across as casual. A $17 burger is worthy of its price tag but the fries might be more at home presented in a silver cup rather than being strewn across the plate. Pastas are equally mainstream — linguini with clams and lobster mac and cheese — but the pappardelle with short rib ($26) gets its allure from a heady, rustic mixture of dried cherries and briny olives.
There's an opportunity for heavily ornamented desserts but most follow suit in that they are sculpted versions of a recognizable image. Creme brulee changes flavors from chocolate mint to key lime while sorbets rotate from rhubarb to raspberry, bright with the promise of summer. Even golfball-sized beignets ($12) take on an air of elegance when served with housemade ice cream and candied walnuts. But whimsy is a persona left to others as the Grill maintains an attitude concerned with graciousness and gentility. Historically, however, drinking is still allowed under the umbrella of decorum and there are plenty of ways to do it.
One would expect a wine list affixed to the name Vanderbilt to be gilded and the Grill's options don't disappoint. It's not a long list but it's a good one with glasses running north of $12 and worth it. Cocktails follow a monthly theme (turns out billionaires have a sense of humor) and are marked with ingredients worthy of the pedigree: pear puree, bergamot, lavender syrup and lychee. Dom Perignon is available by the glass for $60 but — honestly — what celebration could be punctuated with just a glass when you've convinced yourself that you've just been gifted a turn-of-the-twentieth-century mansion? The goal at the Grill is to mimic residential life at its grandest stage and though everything is dressed up in ornamental style, it still acknowledges that sometimes we just want a night at home with the foods we know best. Wear an ascot with your robe and you'll settle right into the world of a Vanderbilt in residence.
✱✱+
41 Mary St., Newport, 846-6200, gracehotels.com.
Open for dinner nightly (hours change seasonally). Wheelchair accessible.
Cuisine American staples served in stately style.
Capacity Sixty.
Vibe Residential mansion shared with 100 close friends.
Prices $14–$21; entrees $17–$44; dessert $10–$12.
Karen's picks Octopus, steaks, beignets.
Key
✱ Fair ✱✱Good ✱✱✱Very Good ✱✱✱✱Excellent +Half-star