Review: Two New Italian Restaurants in RI
Benvenuto Restaurant and Vanda Cucina transport you back to mama's kitchen.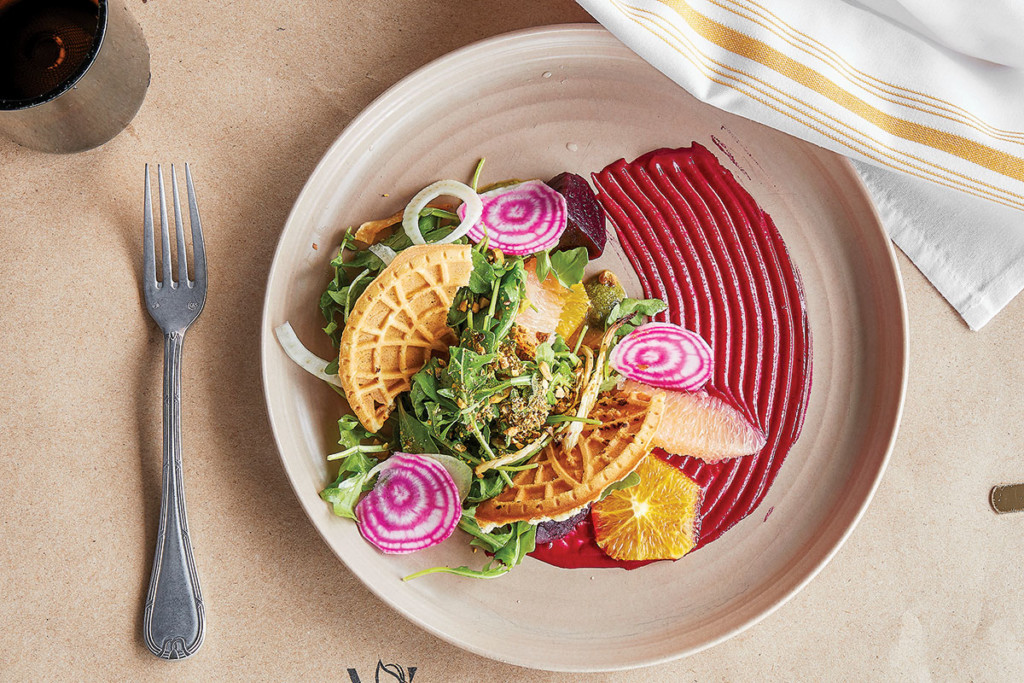 Benvenuto Restaurant
Benvenuto may be across from a liquor store and a Chinese buffet, but the red, white and green center line on Cranston Street is a gateway to Italy. The restaurant's Venetian mural, burgundy tablecloths and fully Italian soundtrack are all-the-way old school. The shock is that it's only been open twelve months but nothing in the course of a meal will convince you of that timeline. "I'm not kidding," says one gregarious waitress, "there used to be a stripper pole right where you're sitting!" The mood has certainly changed in the past year. Tables are filled with people, many of whom look like your grandparents, and the amplified conversation between staff and guests ("let me put on a fresh pot of decaf and you can tell me about your cruise") elicits unexpected tears of nostalgia.
There's a reason Benvenuto feels like lineage on a plate: Everyone connected to the restaurant is family and every table feels like the only table. Portion size (extra-large) is the only deliberately American characteristic as the kitchen is sentimentally tied to ancestral recipes. Arancini ($8) are loaded with rice, ground beef and peas rather than the one-noted cheese bombs that show up in hybrid restaurants. Almost every dish is served with a retro salad of cold, crunchy lettuce coated with a homemade balsamic vinaigrette boiled down to a glaze. "Customers keep telling us to bottle the dressing. One guy told me he wants to eat it with a spoon," a server says with a laugh, only half-aware that every wallet in the place suddenly shifts into the open position.
Pastas are all homemade and every plate of tangled dough asserts itself as an act of love. Pappardelle is toothsome, rigatoni is tender and gnocchi is otherworldly. Think of a martini so dry that vermouth merely hovers over the glass. In this case, flour has almost no role in these nuggets, which are spectral in their weightlessness and make a vegetable-rich Bolognese ($16) the most reassuring manifestation of dinner.
Pasta is viewed as a traditional primi course here, one that sits between antipasti and entree. It sets the stage for a depraved amount of food given that main courses spill out over the sides of their plates. The chicken and eggplant parmesan ($15) is jarring in its enormity but even the largest dishes restrain themselves when it comes to salt and cheese. Benvenuto works toward the unadulterated — hand-pounded veal, a simple, lemon-scented Marsala ($17) — rather than the convoluted. The approach is appreciated and evident even in the seating pattern: People gravitate away from the bar and into the dining room because this is a place that placates with food rather than drink. (Note the wine list that declares "all wines available by the glass; some by the bottle." You can't really enjoy a fresh fettuccini if you're plastered.)
It's possible to overlook the inconspicuous surroundings but it's worth giving your undivided attention to the clout that memory carries. The tiramisu layer cake eats like the childhood layer cake of your dreams and brings back a time when the world was only as good as Sunday dinner. From the food to the affection of the staff, everything about Benvenuto is a slice of the life that we never want to leave behind.
Benvenuto
1785 Cranston St., Cranston
437-6572
facebook.com/benvenutorestaurantandlounge
Open Tues.–Sat. for dinner. Wheelchair accessible. Lot parking.
Capacity: Eighty-five.
Vibe: 1970s Italian: massive portions, major enthusiasm, limitlessly familiar.