Statesman Tavern is Effortlessly Hip
This Bristol newcomer is Sam Malone's "Cheers" for a slightly more refined crowd.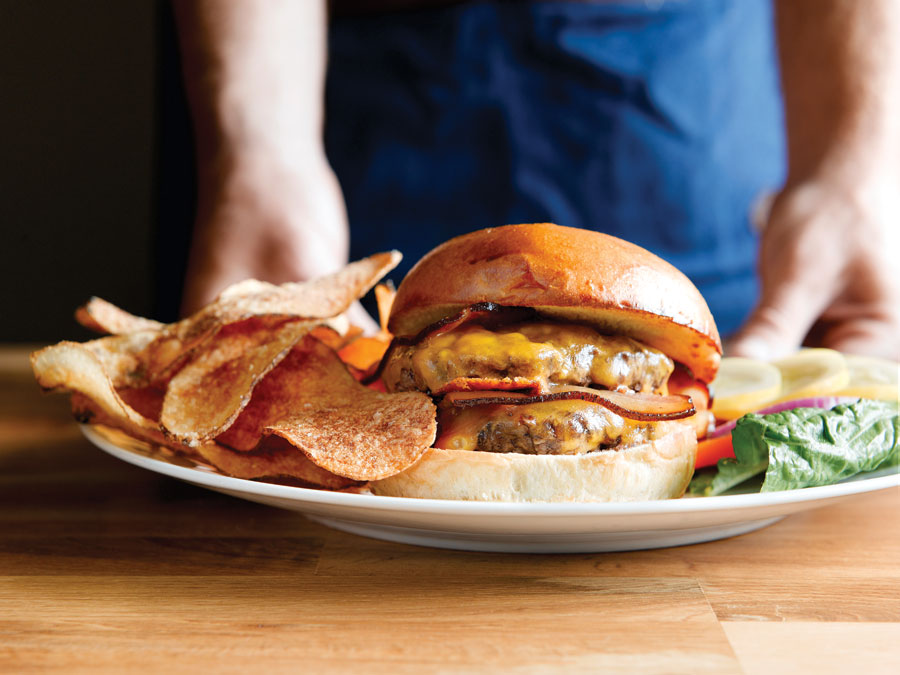 31 State St., Bristol,  396-5115, statesmantavern.com
Open Tues.–Sun. for dinner. Reservations accepted. Wheelchair accessibility is possible, but challenging. Street parking
Cuisine Americana.
Capacity Forty, ten of whom are sitting at the bar.
Vibe Sam Malone's "Cheers" for a slightly more refined crowd.
Prices Appetizers $4–$14; entrees $15–$32; dessert $5–$9.
Karen's picks Pimento cheese, shrimp and grits, burgers.
Key 
 Fair 
 Good 
 Very Good 
 Excellent 
Half-star
The small space at 31 State Street in Bristol may enjoy calling itself a tavern but it relishes living up to that archetype even more. Where its previous occupant, Persimmon, struggled to elevate the aesthetic of the forty-seat restaurant, Statesman Tavern reaps nothing but the benefits of a dark, cozy enclave.
Owner Sam Glynn isn't a stranger to casual dining. His burger and beer joint, Chomp, thrives just one town over in an overtly informal manner and an even more diminutive locale. But Chomp's got televisions perched at the bar and a cool cafeteria feel to it. Statesman Tavern asserts itself in a slightly more demure fashion without losing its edge. Blue-gray walls, an expanded bar and a collection of Americana — weathered flags, model ships, vintage clocks, the occasional set of antlers — settle around the perimeter with worn ease. Diners at Chomp think nothing of sauntering in with sweats and sneakers; Statesman's crowd probably doesn't own them. The dress code asks for nothing more than "as you are" but the crowd prefers to look just like the menu feels: effortlessly hip. Flannel shirts mix with linen, motorcycle boots with wingtips, beards are common but coiffed. And everyone is concerned with what they're drinking.


Charcuterie board (brasola, coppa, country pate, smoked sausage, seasonal pickled vegetables, baguette); pickles (golden beets, green beans, rhubarb); olives (with crushed pepper, coriander seed, lemon zest); popcorn (garlic salt, cayenne, black pepper).
This is a throwback (though dignified) watering hole and what comes out of a tap or bottle sets the stage for everything that comes after. The options rotate regularly though aren't copious — seven designated cocktails, three beers on tap, eight by the bottle — but they are chosen with care and well-known by the staff. "The Six- point pilsner is one of my all-time favorites but the Mosaic pale ale's got a biscuit thing going that's lovable too. You tell me what you're looking for," says a serious server, "and I'll find it." That's no joke. Statesman's energy emanates from the bartenders who not only craft the cocktails but who also man the most polished portion of the restaurant in ties and suit vests. Shakers move rapidly to the alternating tempo of Muddy Waters and the Staple Singers and against the back-drop of Victorian-scrolled wallpaper. The bar doesn't overpower the informal dining experience but it's just enough to turn it toward trendy.
Even at tables, bar food abounds: herbed olives, spiced nuts and peppery popcorn are all available to bide the time while negotiating hops and hard liquor in the same night. But the best things at Statesman have old-school appeal. Several starters spring out of the '70s, including a minute mason jar of pimento cheese ($7) served with baguette slices and pickled radishes as well as a cast-iron dish of broccoli over a puree of potatoes and under the cover of thick cheddar cheese ($8). It's a full-on pub approach and exactly what Statesman is after: a meal that is simultaneously interesting and reassuring.
It's nearly impossible to turn away from a plate of shrimp and grits ($14) that is far more than its parts — smoky, sweet and fully Southern. Cornmeal is flown up from South Carolina's Anson Mills, which is a long commute for something that tastes so homey. But that's Glynn's goal: for each diner to feel as if they ended up on the world's best blind date. What seemed new becomes almost instantly familiar and you're left wondering how the kitchen understood that you secretly hoped for cheese in everything you ate.
They also know that, while we might occasionally go for the dressed up dish, life partners don't need ornamentation.
A lot of $18 burgers draw attention to themselves with embellished girth, but the Statesman burger goes classic. Two thin burgers are enveloped in cheese and bacon, only straying from tradition with a smear of garlic aioli and a brioche bun. Served with a pile of glassine potato chips, and you've just melded fast food with fine dining. Same goes for the massive fried chicken sandwich with slaw and hot sauce that needs only a small crow bar to pry your mouth wide enough to take it in.
Naturally, there are dishes that arrive dolled up but they tend to stray a few steps from the restaurant's "just do you" attitude.
Monkfish ($26) is paired with a sweet apple-celery root puree and acidic Swiss chard — a medley of flavors that asks more questions than it answers. A perfectly roasted chicken ($24) is over-whelmed by a thick basil and lemon sauce where a more traditional version might hold up better in a crowd that wants to spend more time socializing than disseminating what's happening on the plate. But most of chef Chris Kleyla's work walks the fine line that he describes as elevated tavern fare. Plates of pickled rhubarb and beets tear straight down the palate like a good margarita and a simple chicken sausage is upgraded by the addition of crisped shards of chicken skin.

Tomato salad with charred corn, basil, vinaigrette, pine nuts, nasturtiums.
The staff is as laid-back as the vibe, readily aware of the regulars but eager to get everyone under that same moniker. They chat casually with each other and the diners alike as hospitality knows no bounds; a tavern's not fully in alignment if there's a sour face on the premises. It's part of the reason that a tight space, under these circumstances, works well. No one's looking for privacy; rather, they gravitate toward the center of the group where the conversation is quick and drinks are poured carefully over hand-cut chunks of ice. (Just another throwback that suggests technology is the enemy of the quaint.)
Most evenings end on an intimate note, whether that's sipping rye or meandering through what tastes like grandma's bakery. Roughly latticed personal fruit pies ($9) and key lime pies ($8) are not aesthetically pristine but that's part of their charm. More personality goes into the trio of house-made ice creams that run the gamut from a strong mint to a potent rum raisin with allspice-infused angostura ($5). Like everything at Statesman, desserts arrive without pretense and still find a way to commemorate the evening in festive form. Let the rumpus begin.