Swiss-inspired Cuisine Shines at Rosmarin
A juxtaposition of earthiness and intricacy drives this Downcity kitchen.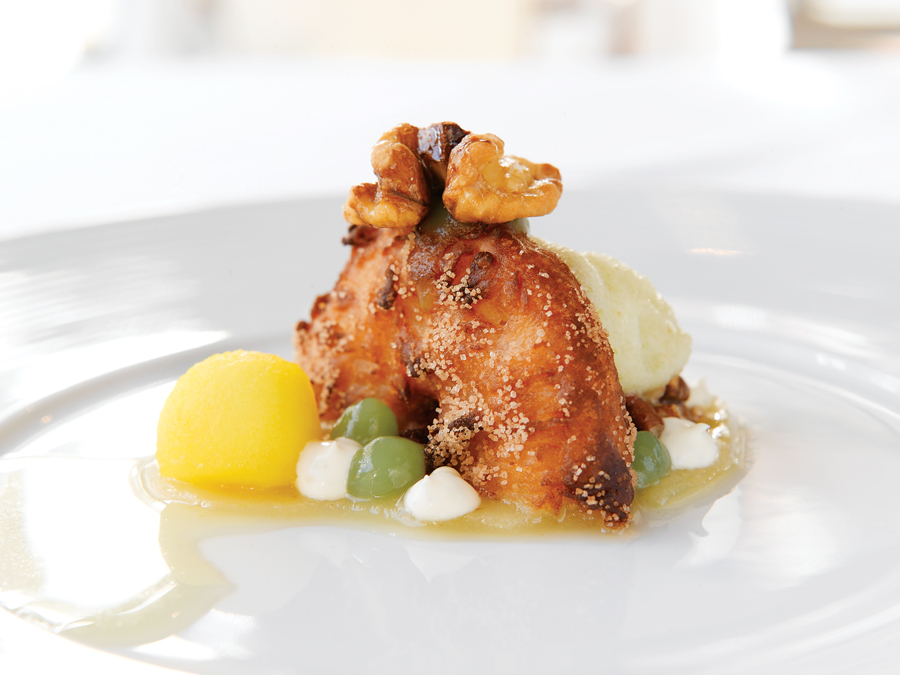 311 Westminster St., Providence, 521-3333, rosmarin-ri.com
Open for dinner Wed.–Mon. Reservations recommended. Wheelchair accessible. Valet parking.
Cuisine Swiss.
Capacity Twenty-six in the dining room.
Vibe The decor is still in flux but the food — part Ursula Andress, part Daniel Humm — is worth the visit.
Prices Savory dishes: $9–$26; dessert: $10; six-course tasting menu: $69
Karen's picks Tasting menus are the way to go.
Key 
 Fair 
 Good 
 Very Good 
 Excellent 
Half-star

Top: Rindstartar (beef tenderloin, poached quail egg, crispy shallots, brioche toast). Left: Duck (pan seared duck breast, sweet potato puree, port fig sauce, plantain chip).
Massimiliano Mariotta's got a perplexing space on his hands. The Hotel Providence may be boutique in size but its trio of dining rooms could hold half the city and, accordingly, Mariotta has performed swift surgery. The central room is now a banquet space, the lounge still caters to a casual crowd, but Rosmarin, a Swiss-inspired restaurant, holds just twenty-six seats.
In its opening months, Rosmarin has been less concerned with decor and obsessively, myopically focused on food. The wine-colored room, slate floor and white leather chairs are slightly tired but they lay the groundwork for any evening's most repeated phrase: "I'm shocked at how good this is." It's a sentiment that Mariotta will grudgingly accept until his reputation is firmly secured. If the city of Providence hasn't yet embraced him as a player on the culinary scene, it hasn't shaken his faith in himself. He's a frenetic presence in the dining room, aware of the spatial limitations — patrons will look in vain for the bar — but intent on articulating a restaurateur's main concern: soul. Rosmarin is Mariotta's twelfth restaurant and he's quick to proclaim that success is entirely reliant on well-defined character.
Part of Rosmarin's character is what servers refer to as a passing-the-torch concept. Mariotta's son, Stefano, is the chef de cuisine, fresh off his Michelin training and intent on filling a niche that has no competition. Rosmarin is thoroughly European and decidedly Swiss — a culture that melds Italian, German and French influences into a flavor all its own. The staff is equal parts old brigade and new crew, with a deep knowledge of everything that's gone into the project as well as a personal investment. "We are a community of artists, painters and musicians," says one server, "and can't help but bring our passions to work." The result is a Relais and Chateaux-inspired dynamic — that is, the ability to bring a global expansiveness to diners in a way that feels personal bordering on intimate.

Beets and seeds (pickled and pureed beets, caraway crisps, poppy seed vinaigrette).
"We wanted to ditch the hotel vibe," says Evan Acquaviva, who oversees the dining room, "and give the restaurant back to the city." True and false. There's no stale industrial hotel air in Rosmarin but it's also fairly easy, as the plates parade out in grand style, to forget that you're in the States at all. High above Westminster Street is the restaurant's rooftop garden, which produces a small forest of produce: seven types of basil, several varieties of mint and short-season vegetables such as Mexican cucumbers that are quickly pickled for future use.
Most dishes are moderately sized and, despite one guest's proclamation that, "This is Rhode Island — we like a big plate of pasta," it's an appropriate approach to a menu that ought to be explored in small bites. Rindstarter ($14) — a German inspired steak tartare — makes a home for the marble-sized Mexican cucumbers that burst open with tart juice, playing against chopped mustard infused tenderloin and rich quail egg. On the side are baskets of house-baked bread that never empty. If you didn't fully appreciate your Continental bearings, you will after you realize that bread is no afterthought; it's evidence that the chefs are worth their weight. While sauce is the mainstay of a European dish, bread is its principal sidekick.
It's this juxtaposition of earthiness and intricacy that drives the kitchen. Pumpkin bisque ($10) is straightforward but when poured over braised, pickled and pureed squashes, it's an adventure in textural surprise. Jamestown oysters meld into a thick cold vichyssoise, specks of dill and pickled celery picking up the briny back-notes. Everything is presented with aesthetic fanfare and, if it's labeled simply on the menu ("duck," for example), the younger Mariotta is just baiting you into amazement. The duck ($12) is marinated for two days, creating a jerky-like intensity. But it's a panoply of capricious pairings — "We call it a condensed Thanksgiving dinner," says the server — that make the dish. Dollops of sweet potato puree, port-fig reduction, whole hazelnuts and vertical posts of plantain chips work together in festive form. It's Cirque du Soleil on a plate; pageantry for the eyes but deft in its technique.
That's not to say that Rosmarin doesn't deal in comfort food; its approach is to do so cleverly. Ravioli Locarno ($12), a dish the elder Mariotta has carried with him to every enterprise, is mushroom-filled handmade pasta, napped with truffle cream sauce. Even servers look longingly and quizzically as diners revel in its richness, as one noted, "It's the single secret the chefs refuse to reveal, despite our protests and desperation." If gravy-covered starch is your niche (head nod to everyone), zurigschnatzelts ($24) is a close second to the pasta. A circle of crisp potato rosti is flanked by tender veal and mushroom cream sauce and, even in its formal incarnation, one can't help but envision small Swiss children begging their mothers for more.
The reach of Rosmarin's culinary voice is certainly sweeping, bridled only by the limitations of a hotel crowd that often pops in for sustenance rather than refinement. Two young women come looking for a bar but end up eating their way through the menu with gusto. A couple from North Carolina loudly declares that the restaurant is lucky to have them, given their appreciation for "the finer things in life." In the corner, a Providence native offers his card to the staff, "in case he could be of legal service." It may take a season or two for the restaurant's reputation to catch up with its work. In the meantime, both Mariottas can decide what to do with some of the property's excess space and how to refine a dining room that's capable of making two dozen people sit up in astonished appreciation.
We may think of the Swiss as discreetly independent; they haven't yet made a mark on the American restaurant world the way the French and Italian have. But on a somewhat gritty street in Providence where a beer bar, bao bao shop and two Korean barbecue joints preside, there's room for more international influence. At long last, Hotel Providence has found its anchor.

Chef Massimiliano Mariotta and his son, Stefano.