Persimmon Delights in New Location
The Bristol favorite has expanded with its move to Providence.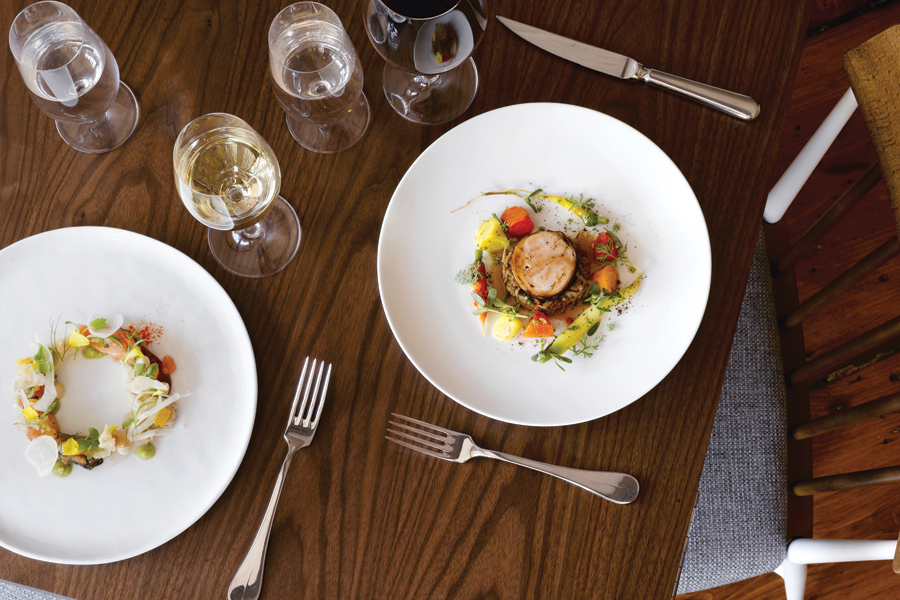 99 Hope St., Providence, 432-7422, persimmonri.com. Open Tues.–Sun. for dinner. Reservations recommended. Wheelchair accessible. Street parking.
Cuisine New American with a subtle nod to the French.
Capacity Eighty.
Vibe New England farmhouse meets NYC loft.
Prices All dishes are the size of a large appetizer: $9–$26; dessert $4–$9.
Karen's picks Anything. Everything.
Key 
 Fair 
 Good 
 Very Good 
 Excellent 
Half-star
Champe Speidel has moved on. Nearly a dozen years after the Johnson and Wales grad made his mark on the culinary landscape and six years after opening his East Bay butcher shop, Speidel has moved Persimmon to Providence and finally secured a space that lives up to his talent. What was once a snug, upholstered eatery (formerly Rue de L'Espoir) has metamorphosed into a bustling and surprisingly expansive restaurant in which aesthetics are front and center.
It's worth noting that the food remains very much the same — euphoric — but his approach to dining has shifted considerably. Persimmon's new space creates a drastically different experience for diners. The Bristol restaurant was modest on all fronts and dinner played out a bit like Pleasantville: Everything remained largely monochromatic until a dish was placed in front of you in full technicolor glory. Food was the sole focus and it eclipsed everything else, including aesthetics and ambience. But Speidel has long established his reputation — he and Persimmon have racked up six James Beard nominations — and it's allowed him to expand his vision past the plate.
The Hope Street incarnation insists that guests lift their heads and interact with the environment. This is a community experience, not a solitary one. Two bars (one flanking the kitchen, another the booze) allow for more small talk, but every seat in the house is touched by the earnest geniality honed by a dedicated staff. It's one thing to work for tips; it's another thing entirely to represent what may be the state's best restaurant. It's in this delegation and community involvement that Speidel's evolution as a business owner is most evident: cocktails are the brainchildren of the bartenders; light fixtures are crafted by Pawtucket artist Tracy Glover; artwork comes from locals Chris Depoto and Mark Freedman; much of the furniture (a cross between mid-century and Scandinavian) is produced by Smithfield's Jutras Woodworking. This is no longer a one-man show.

Salad of greens, vegetables, pickles and flowers.
But the strength of Speidel's food is only magnified by the decorative palette and, not satisfied to impress on taste alone, the chef has re-envisioned the American meal. Gone are delineations between courses — no more appetizers or entrees — replaced by moderate sized plates that allow for a four- or five-course meal without stooping to overindulgence. Like the restaurant's footprint, the menu is partitioned: Vegetables, meats, fish and pasta take separate corners on the page but flow seamlessly as patrons build makeshift meals on whim or desire.
Plates are beautiful: an amalgam of color, shape and texture that equal far more than their parts in dishes that change frequently. Lightly charred asparagus with minute mushrooms and a bevy of microscopic flowers looks like a woodland fairy tale but hits the mouth like an agricultural homage. A kelly-green pea soup ($10) is poured tableside over soft ricotta, fresh peas and flakes of trout that bring a masculine smokiness to a dish that is entirely fragrant.
How any of this comes to fruition is evident at the five bar seats nestled around the open kitchen. There are hot stations that remain tucked away — one can't really see cooking per se — but the plating is what draws the eye. It's a line in which competing principles coexist: extreme focus, hyper-organization, channeled artistry and tranquility in equal measure. Everything works toward balance and, as the dishes parade out, diners tend to fall into a Zen trance just long enough to visually absorb what they are about to devour.
Every plate is, in its own way, an epiphany of sorts. The richness of a largely cubed venison tartare ($15) is matched by tart pickled green almonds, bright enough to evoke a caper and interesting enough to let diners forsake the traditional approach. Crispy chicken wings, deboned and stuffed with duxelles, rest in duck dashi elusive enough in flavor to forget that wings might ever be considered common. Speidel has developed a newfound sense of humor in conjuring his menu, considering what we know well and then reconsidering how to break through that familiarity. Regional shellfish and bread (lobster roll? stuffie? crabcake?) is re-imagined through Nordic eyes: thinly sliced toast is covered in aioli and avocado, presented with a soft shell crab standing upright and at dramatic attention ($11).
But Speidel, along with sous chef Kyle Kerstetter, is still drawn to classic flavors. Striped bass is served ceviche-style ($11), swapping traditional citrus for mango, fingerling lime and yuzu. House-made pastas run the gamut from an earthy Bolognese ($12) to a delicate agnolotti ($11) that burst open with viscous cheese curd. Even scallops ($15), served with apples and curry, downplay their texture — they're served cut in quarters — in favor of the contrast between sweet and savory.
This kind of deftness might be expected in one of the state's most renowned kitchens. But in its more mature and expansive setting, customers continue to negotiate the line between appreciative diners and animated groupies. Patrons vie for a word with the chef on their way out, sometimes gushing and maybe hoping to establish some relationship that will secure a table for the next visit. Others are more restrained, barely, with their adoration, as one woman tells her server, "I am ready to follow Champe and his food to the ends of the Earth. Just tell me where."

Chef Champe Speidel and cooks.
If Speidel himself is influenced by the praise, it doesn't show on his stoic face, and as he hits his stride, there is a playful, celebratory side to his last courses. Even ice creams, panna cottas and semifreddos are served on plates in a jagged topography that holds macerated berries, lumps of white chocolate and salted nuts. Where years ago, the kitchen molded desserts into starched and decorous shape, this evolved approach allows sweets to run in rampant, eager form. Nothing is more unabashed than the dark chocolate semifreddo ($9): molded circles of frozen custard placed among triangles of crunchy chocolate cookies, shards of caramelized puff pastry and a sprinkling of snow-white meringue. It allows for a meal to begin with a very adult version of elation and end with a simple and childlike rapture.
Evidently, the East Side neighborhood has opened its arms to its newly adopted gastronomic darling. It's no secret that people are drawn to Providence for its food-centric identity; the city has always fancied itself a hotbed of culinary creativity. Never has it been more true, now that Persimmon has found its home.