Massimo Updates Old-School Italian
The new restaurant on Federal Hill serves modern Italian cuisine.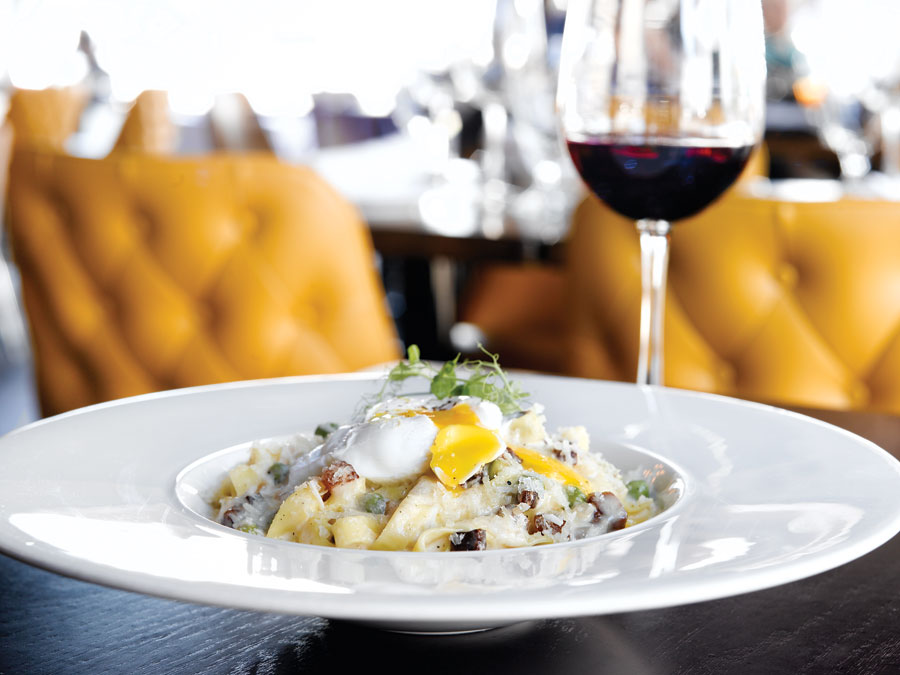 134 Atwells Ave., Providence, 273-0650, massimori.com
Open daily for lunch and dinner, Sundays for brunch. Reservations accepted. Wheelchair accessible. Valet parking.
Cuisine Modern Italian.
Capacity 200
Vibe Federal Hill in its forties: mature but still looking for a good time.
Prices Appetizers $9–$14; entrees $17–$34; dessert $6–$9.
Karen's picks Fried burrata, beef carpaccio, pasta, Massimo steak.
Key 
 Fair 
 Good 
 Very Good 
 Excellent 
Half-star
Walking into Massimo is like arriving at a high school reunion. You've been here before but things have changed and you spend an inordinate amount of time trying to remember what everything looked like back in the day. It's a futile effort given that the restaurant is an entirely different animal from Mediterraneo, the former occupant of one of the area's most expansive spaces. Staff will tell you Massimo holds around 200 people and, though that's full capacity for a standing-room-only event, it remains an expansive building split into two dining rooms and two bars. But while Mediterraneo felt like a cruise ship, Massimo is more like an Italian village — intimate despite the infrastructure.
You can attribute some of the warmth to designer Kyla Coburn, long known for rich, seductive spaces that lure people into corners. The lower bar conjures silk shirts of the 1970s and cigar smoke but the two main dining rooms rarely suggest any mood beyond PG-13. Where Mediterraneo used its upper floor more for dancing than for food, Massimo extends the dining room through two floors, with upstairs for private events. Upholstered in mustard yellows and tiled in a variety of black and white geometric patterns, the restaurant is a modern rendering of the Italian countryside, both earthy and urbane. It's an essential connection for those looking for a traditional Atwells experience, given that owners Esther and Joseph DeQuattro — the latter crafted the menu — have made the decision to build a kitchen that is influenced by Italian culture but not tied to it.
There's not an old, gravel-voiced Sicilian to be found on the waitstaff; servers here are young and animated. Just as the focaccia hits the table, one bubbly twenty-something waxes rhapsodic about the basil butter. "It's far more complex than it looks! I've tried several times to duplicate it at home but no luck, so I'm back to cajoling the kitchen." They are equally enthusiastic about the updated space, which is "a complete gut-job," "so beautiful" and "the most awesome place for a birthday party." As for the diners, they're more demure than the weekend warriors at Mediterraneo, covering several generations and far more interested in admiring their plates than downing shots.

Maplebrook Farms burrata (heirloom tomato, chilled sweet corn minestra, speck).
There's good reason to focus on what's in front of you. The DeQuattros, veterans on Federal Hill, have aligned themselves with old-school Italian at Pane e Vino but have shifted their efforts to a hybrid of city and country. The "peasant" section of the menu — piccata, Milanese, melanzane — is the only opportunity to recite recipes by heart. Other renditions, no matter how reminiscent, work to push past the status quo. It's a menu that changes with the seasons, raised in Rome but styled at Barney's, and as much about redefining Italy as paying homage.
The kitchen clearly zeroes in on updating familiar ingredients that pull at dual citizenship but most of the menu emanates from la campagna. Slices of beef carpaccio (dried long enough to bear some resemblance to the great Italian hams) and grana padano ($12) are served with spicy aioli and dollops of pesto, a deconstructed study of Italy's building blocks. Nothing is more likeable than the fried burrata ($13) though.Fried cheese may best be suited for fast food but this breaded ball of barely contained cream, dotted with salty speck and heirloom tomatoes, is the ultimate cover song.
There are more than a few dishes willing to leave European shores behind. Tuna tartare with avocado and shavings of fried carrot ($14) nods more to Asia and a candied pork belly with basil sauce ($11) — well-balanced between savory and sweet — could hail from anywhere well below the Mason-Dixon line.
Entrees, however, resemble the diners themselves: You can't readily identify all of them as fully indigenous but they look strikingly familiar. Gnocchi are buried under short rib ragu ($22), scallops are complemented by a modern cacao pepe risotto ($26), fettucine carbonara ($18) is served with guanciale rather than the expected pancetta and delicately poached eggs rather than the 1970s raw gamble. Several plates simply want out of the genre altogether. Statler chicken with saffron parsnip puree and lemon jus ($22) isn't quite up to representing roast chickens around the world but it expands the boundaries. The namesake herb-marinated skirt steak with mixed greens ($27) has a slightly more Argentinean attitude, but its deep char and chew is worth every bite.
Massimo's menu may be hard to categorize but its determination to embody the term Italian-American speaks to a more than willing niche in the state. Sections of the Hill will always harken back to the first generation but an evolving approach allows this cultural and culinary strip of land to succeed. And if the servers seem more astonished by than acquainted with Italy's agriculture, the DeQuattros steadfastly refuse to forsake old-world civility. Even with two restaurants operating in sight of each other, the couple is omnipresent, one at Massimo all day and the other at night. (That's with a seven-day lunch and dinner blueprint.) If the effort sounds exhausting, it doesn't show. Where Mediterraneo was brazen, Massimo imparts serenity — even when patrons create an auditory ether that settles over each table with an incessant hum.

Top: Faroe Islands salmon (beets, mustard greens, pistachio gremolata, blood orange vinaigrette). Left: Pappardelle con agnello (lamb ragu, saffron, ci-ci beans, baby carrots, ricotta salata).
It's because of the mood that people linger over drinks and dessert. Cocktails handle the progressive approach — it's a legitimately surprising collection of flavors from cachaça to cherry pepper juice — while sweets stay close to home. Cannolis, blueberry-spiked cheesecake and cranberry bread pudding pave a familiar road without complaints. So, too, does a plate of bombolino, minute doughnuts stuffed with lemoncello cream so delicate that they barely require teeth. At the end of a night, it's these last bites that remind us modern Italian isn't just a moniker; it's a movement that always looks forward without surrendering the past. And if there's one culinary tactic that works on Atwells, it's this one.