Review: Mare Rooftop
This East Side newcomer promises a stunning rooftop view, a youthful vibe and food with an Italian accent.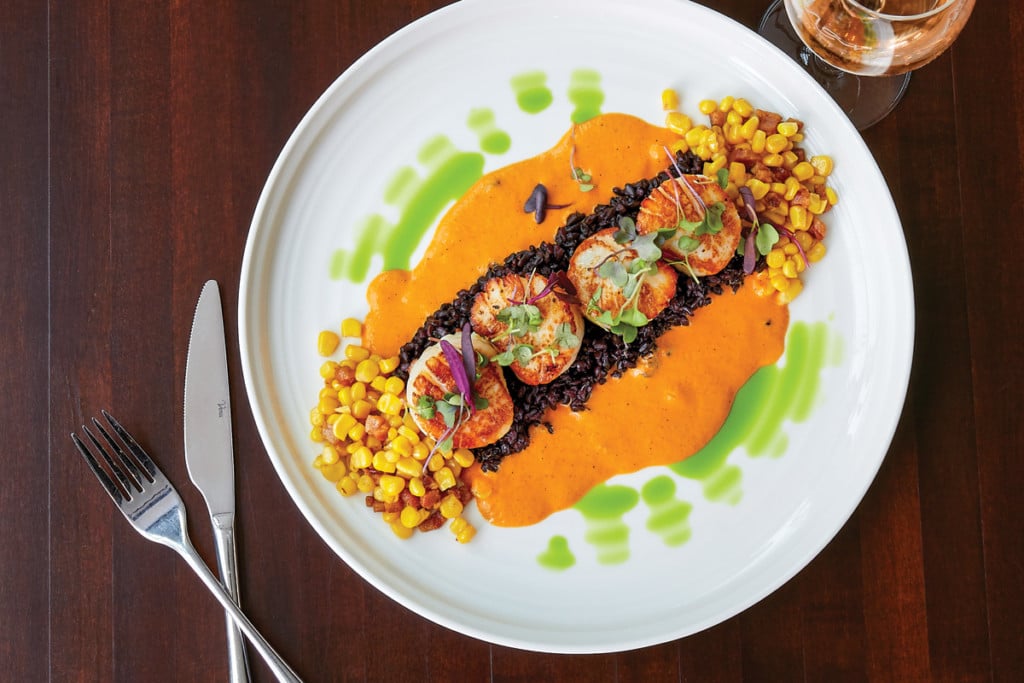 There's always something anticipatory about waiting for an elevator door to open. In the case of Mare, it's tinged with a genuine curiosity about an altered perspective. After all, the East Side is used to eating with a bird's eye view of the pavement but Mare, which sits on top of a remodeled apartment building, is concerned solely with the sky.
When the door does slide open, the view falls to a hostess desk where — on most nights — two attractive women offer greetings and direct you to an industrialized dining room canopied by black steel beams and a glass roof. The allure of staff and setting are worth noting because it's an integral part of Mare's motto: Eating begins with the eyes. The restaurant draws a decidedly younger crowd though beauty knows no age; there are plenty of tables occupied by people discussing retirement instead of first jobs. But most tables look more Kardashian than Kudlow, barely covered in clothing made of leather, spandex, rope and other anatomical design feats.
Everything is designed to be admired at Mare, particularly the view from the outdoor patio, which holds more than a third of the restaurant's seating. Slim wooden tables and streamlined chairs flank the perimeter, which is surrounded by a thick ground cover of grasses and phlox. Sofas round out the space for those who need only a glass to get through the evening, every seat poised in front of a twilight backdrop. Colors inside and out are as neutral as possible — it's the little black dress of restaurant decor — as competing with a sunset is futile. In fact, the only illuminated corner in the dining room is the bar, which is itself a misnomer given that all of Mare is ostensibly a holding place for cocktails. The hazy joie de vivre permeates everything and it's rare to find a diner without a drink in hand, infused with basil, rosemary, lavender or piqued with jalapeno. When a man in a suit tells his server that his goal is to wash away the work day with rounds every fifteen minutes, she offers only the brief reassurance that she'll keep it coming and that she's timing him in case he falls behind on his life goals.
Expectedly, the waitstaff is young and, like their surroundings, clad entirely in black. If the goal is to be aloof — people-watching demands restraint — it's often undermined by their amiability. The minute one diner begins ruminating on the status of a game, a server runs off discreetly to bring back the score and another herb-infused gin. It may be enough to let the view lord over its audience but the staff is eager to keep the party going without any perceptible dip in mood. They're also responsible for parading Mare's cavalcade of food.
Not surprisingly, the menu leads with delicate dishes that present themselves handsomely. Tuna crudo ($13) is served with a brunoise of cucumber, thin slices of ginger and a sprinkling of black salt.
It's an abstract palette of color and texture, more assertive in appearance than flavor. Crab cakes ($14) sit on top of sweet pineapple chutney with orbs of chive oil and paprika remoulade. Even a basic Caesar salad ($11) arrives with a quivering poached egg on top, anxious to release its yolk on the tip of a tine.
The restaurant claims it's rooted in seafood but, at the core, it feels earthier and tastes far more Italian. Scallops with black rice and roasted corn ($28) are easy to admire but the gnochetti with tomato and smoked mozzarella ($16) has a familiar intensity that outplays the more refined dishes. The same holds true for pappardelle Bolognese ($19), which isn't novel but makes the stylized space feel more like home. Even a Barolo-coated short rib ($15), cooked for the better part of a day and eaten in the open air, lends Providence an air of Tuscan rusticity. That's the central charm of this space, whether the weather allows for al fresco dining or the meal takes place under the clear covering. It's designed so that food supports socializing and the dishes that do it best don't demand a lot of analysis. Thin crust pizzas ($13–$17), icy oysters, shrimp and cocktail sauce are all mainstays that allow people to sashay across the roof deck, to watch others do so or simply to stare off into the distance. Fifteen minutes at Mare and even residents realize that they've transcended suburbia for some altered reality. "I work a block and a half away," whispers one woman to her husband, "and, after twelve years, I'm suddenly in love with the area."
Even as the natural light dissipates, Mare remains acutely relevant, shifting from club scene to comforting. Brass light fixtures bathe the room in a warm glow as dessert — and another drink — close out the meal. This time around, the kitchen openly embraces a more casual approach. A thick wedge of tiramisu and flourless torte are solidly European but the Dave's coffee milk panna cotta is decidedly indigenous. It might counter the effect that Mare works so hard to hone — that this space is relentlessly hip. But if the first drink thrives on mystery, the ones that follow taste just as good with a shot of the familiar.
Mare may stun with its scenery but it's got a community feel that extends past the evening. There may be a sizeable section of the room who arrive single and will leave in good company but some slim part of the experience feels as much like a backyard barbecue as it does a bash. You can get a plate of calamari in six dozen places in Providence, but it certainly won't look like this.
✱✱✱
229 Waterman St., Providence, 336-6273, marerooftop.com.
Open daily for dinner. Wheelchair accessible. Valet parking.
Cuisine Coastal Italian.
Capacity 150 with outdoor seating.
Vibe Discreet club whose front-door bouncer eyes everyone carefully.
Prices Appetizers $6–$15; entrees $13–$29; dessert $8.
Karen's picks Short rib, seafood sampler, pasta, tiramisu.
Key
✱ Fair ✱✱Good ✱✱✱Very Good ✱✱✱✱Excellent +Half-star