Experience Southern Italy at Enoteca Umberto
This tiny spot on Federal Hill is like "a seat in mamma's kitchen."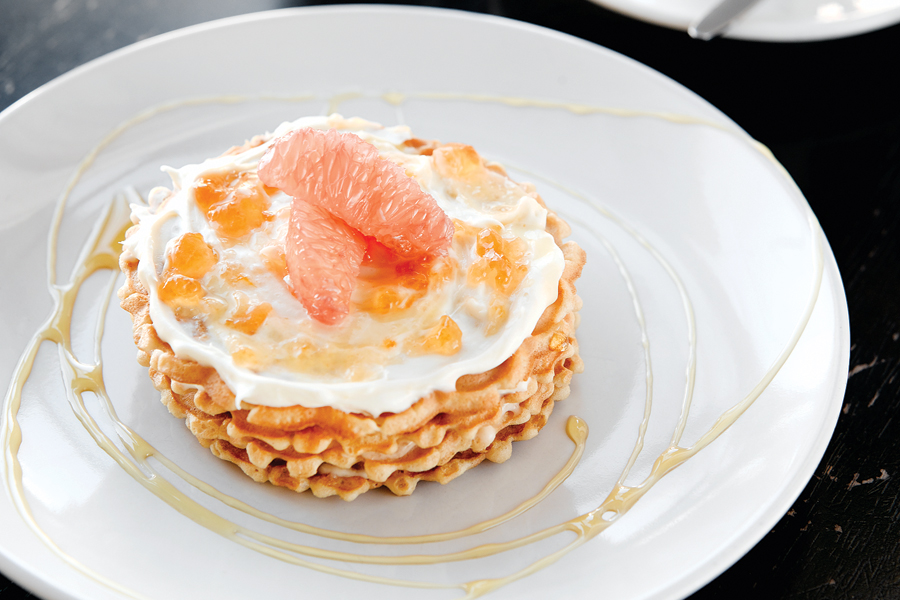 Enoteca Umberto, 256 Atwells Ave., Providence, 272-8466, facebook.com/enotecaumberto.
Open Tues.–Sat. for dinner (summer hours vary). Reservations accepted. Wheelchair accessibility is optimistic; the seats are two-foot stools. Lot parking in back.
Cuisine Southern Italian.
Capacity Eighteen with your elbows in tight.
Vibe A seat in mamma's kitchen.
Prices Appetizers $8–$12; entrees $13–$18; dessert $7–$9.
Karen's picks Everything on the menu and two plates of pasta.
Key 
 Fair 
 Good 
 Very Good 
 Excellent 
Half-star
Part of the human psychology is to gild what we can, elevating the elements in ostentation. But on rare and sweet occasions, we are reminded that life is best when it's unadorned and most rewarding when it's honest. In this case, the message comes from Enoteca Umberto, just about the smallest restaurant in the state but with the most ambitious goal: to bring southern Italy to Federal Hill.
To be fair, opening an Italian restaurant in Rhode Island isn't noteworthy. But getting diners past American-altered expectations of Italian food is. Thirty years ago, George Germon and Johanne Killeen set the course across town, offering renditions of northern Italian dishes born from flame and smoke. Today, the husband and wife team of Umberto and Lia Bellini have designed something far more modest with just as much impact.

Bruschetta fichi with prosciutto, gorgonzola and figs.  Caponata freselle (toast with eggplant). Owner Lia Bellini.
The goal in this eighteen-seater — barely as big as a domestic dining room — is not showmanship as much as intimacy. Reservations are hard to come by but, once secured, you're on a virtual tour of Sicily, Naples and the surrounding areas. Umberto is desperately in love with his homeland and that affection pours through his every recommendation and explanation. Wines come from the same regions as the recipes, each of the two dozen meticulously and colloquially detailed: "Primitivo is a DNA prototype of Zinfandel," Aglianico, the "heavy hitter of Campania, with Barolo tendencies — full of licorice, leather and spice," and Nero d'Avola is "the king of Sicily's grape pack." He's the consummate caretaker — hugging, coddling and encouraging at every turn — but always with the unforgiving familiarity of a favorite brother ("I love you but when the 8 p.m. reservation comes in, I will throw you into the street").
Clad many nights in a Patriots cap, Umberto explains each dish as if he were a matchmaker in search of your better half. "You're gonna thank me for this. You've never eaten cheese until tonight." The object of desire in this case is a mozzarella di bufala shipped twice a week from his family's neighborhood. It's exquisite in its simplicity, as if clouds could be churned out of cream. Barely salted, the cheese is sprinkled with glazed onions and a handful of capers, each bite more archetypal than the one before.
Lia, safely ensconced in the peanut-sized kitchen, barely says a word to diners but her own relationship to the Italian countryside is manifest in every plate. Her food is not so much a study in contrast as harmonious distinction. Sweet plays off sour, spicy pairs with mellow, crunchy contrasts with unctuous — and everything works to reveal the nuances of Italian soil through its agriculture. There's not a lot of meat on the menu, with the exception of the eighteen-month-aged San Daniele prosciutto that's sliced to order, draped over gorgonzola and drizzled with honey ($9). Conversely, the bright caponata ($10) is made earlier in the day and left to mature into the evening, a perfectly balanced mix of acidic eggplant and earthy grapes that's ladled onto freselle, a sort of toasted Italian bagel that softens as it soaks up the native olive oil and balsamic.
But nothing will get you closer to Italy than a hand-rolled pasta ($13) and the nightly trio at Enoteco Umberto does more than any other dish to reveal the heart of its culture. Strozzapreti, twisted ribbons of dough, is served in two variations: pomodoro and ceci. In both cases, the attention falls squarely on the toothsome dough, which is barely touched by sauce. The former, a lightly tossed tomato-based dish, is enriched with a dollop of mascarpone while the latter, a mixture of chickpeas and white wine, throws off the sharp heat of red pepper in a bucolic masterpiece.
There's a nightly special as well, often a lasagna. Layered with ricotta, mozzarella and a smooth artichoke puree, it can only be described as everything American pasta is not: silken, delicate, ethereal. It's as understated as the restaurant itself and impresses in the same intense manner.

Pasta ceci (hand rolled pasta with chickpeas).
As modest as the menu is — little more than a collection of bruschette and antipasti to complement the pasta — Lia never fails to deliver some extraordinarily understated gift. Seasoned ricotta cheese, a spread of porcini mushrooms, a bean and escarole soup that's capable of inverting the entire world in a single bite. "I don't even like escarole," exclaims one diner hovering over his bowl, "but she's making me love it!" It's not an uncommon response from a crowd that represents everything from old school to new world. One table is old enough to grandparent the one next to it but everyone has the same look of sentimental elation on their face. By 8 p.m., the windows have fogged up with the heat of a kitchen that sits ten feet to the back and the rest of the world falls away. You're no longer in Rhode Island, no longer on Federal Hill, no longer in a restaurant at all. It's as close to a perfect domestic kitchen as you'll find, in all its vibrancy, its charm and its deeply rooted regard for authenticity.
Alas, diners at the first seating may not get the chance to order dessert. By 8 p.m., Umberto is already figuring out who needs to be evacuated for the next round of journeymen. But those who keep their extended praise to a minimum may have time for the sweet of the evening: sometimes a pizzelle loaded with freshly whipped cream and marmalade, other nights a chocolate-studded, liquor-soaked panettone.

Pasta calamari.
Whatever you choose, you'll end up with the same rewards: a seat at the table, a place in the family, a hug on the way out. The second you emerge onto the street, the whole experience feels a bit like a dream and, tinged with sorrow that you've been tossed out into the world again, there's little to do but hope you can manage to get back in. There may be plenty of places to get pasta on the block but — as one diner noted as he looked toward heaven and then back at his plate — Enoteca Umberto isn't so much about dining; it's about living.