Deceptively Simple Cuisine at Oberlin
Where "the waters of Japan meet the fields of Tuscany."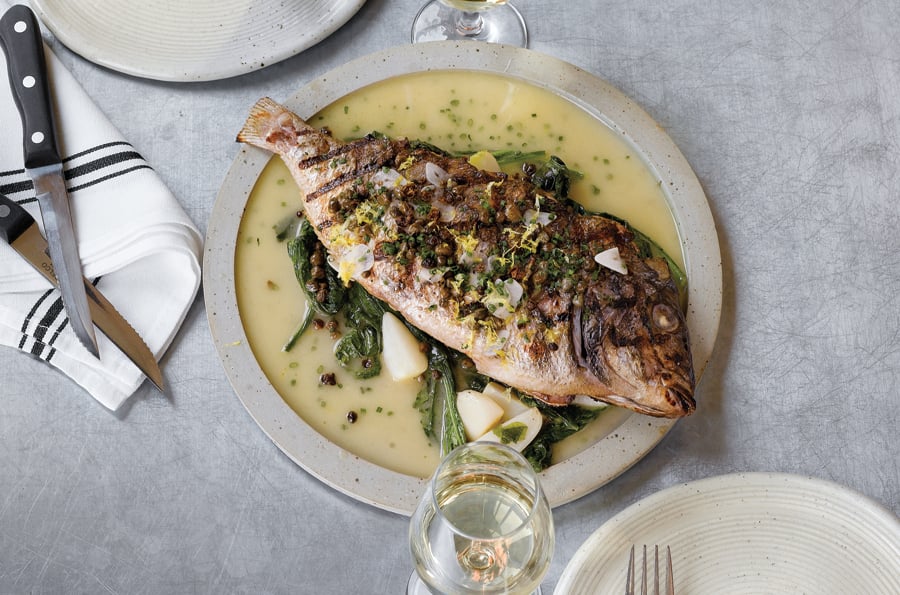 186 Union St., Providence, 588-8755, oberlinrestaurant.com.
Open Thurs.–Mon. for dinner and late night. No reservations. Wheelchair accessibility is negotiable but possible. Street parking.
Cuisine The waters of Japan meet the fields of Tuscany.
Capacity Fifty-five to sixty-five.
Vibe A little bit of Beyonce: effortlessly cool on the surface but obsessively managed at the core.
Prices Smaller plates $4–$14; really large plates $18–$36; dessert $10.
Karen's picks Raw fish platter, gnocchi with shellfish, whole catch of the day, toasted cereals and johnny cake.
Key 
 Fair 
 Good 
 Very Good 
 Excellent 
Half-star
Ben Sukle is a master of disguise. With his wife, Heidi, he now owns two restaurants in Providence, birch and Oberlin, both unassuming in presentation and capacity. But Oberlin, the younger sister, appears the more modest of the two: Despite a larger dining room, the menu suggests a minimalist approach that tempers birch's pattern of surprise. Where the elder offers barbecued chicken hearts and grilled rutabaga with Bloomsday cheese, this newest endeavor sticks to Rhode Island roots with a menu that rarely meanders past seafood and pasta.
Or so you might think.

Chef owner Ben Sukle is on the phone with local fishermen at 7 a.m.
Herein lies the rub: At first glance, Sukle looks as if he's built a second kitchen to prepare a few sundries that couldn't find a home on the refined birch menu. It reads like a staff meal, rustic and unassuming with just a hint of refinement. Whole fish — massive fish — are roasted, head on; gnocchi are served in a broth of fresh clams; house-made sourdough bread is topped with olive oil and roasted garlic. But something happens in the space between articulation and execution, some magical spell that transforms the simple to the sublime and reshapes the restaurant's identity from supporting player to incandescent star.
The space itself does hint at irony. Sukle took over the former tapas and wine bar, Flan, and the footprint remains similar; the door opens into the bar with a casual dining room on the left. Most of the quirkiness put forth by Flan's owner, Diego Perez, has been replaced with a quiet industrial aesthetic. Galvanized steel tables and heavily framed art fill the space rather than dominate it. Where Perez's open kitchen looked like a flea market, Sukle's is more like a laboratory that allows some diners to sit on stools and eat as much with their eyes as with their mouths.
That's not to say Sukle is without humor. A large projector screen is tucked away over the corner window playing Space Jam — with full subtitles — while diners prepare themselves for the plated revolution. Perched above the prep counter is an old deli-style sign with plastic clip-in letters announcing the catch of the day: scup, sea bass, scallops, fluke, kingfish. You can't ask for more than the sea is willing to offer but, again, do not be deceived into thinking Neptune is in charge.

Raw fish combo platter.
If there's a signature plate at Oberlin, it's raw fish. Sukle's love of Japanese culinary culture is manifest in everything he does here — a legitimate surprise given how little Asian influence appears at birch. The full sake menu naturally tips his hat but it's the chef's determined restraint that brings Far Eastern craftsmanship into full bloom. The menu calls the amalgam of sashimi a "combo platter," evoking images of fried fish and negligible talent. It's laughable how understated the description is. The plate's an astounding array of nuanced ingredients that scrambles the brain's notion of flavor. Each variety of seafood soaks in a subtle palate of seasoning: sesame oil and radish, mitsuba and horseradish with minute orange segments, miso-marinated daikon and chive. To taste winter fluke with little more than parsley, salt and heirloom peppers is to understand, truly, what the word savor means.
No doubt the staff understands what they've been chosen to vend. They're young but with an understanding that there's a gift being offered and they do their best to provide little more than sincere enthusiasm. Recommendations are all predicated on personal affinity. "I love," "I'm obsessed with…." "…is the one I would eat every day of my life." It would be hyperbolic if it didn't elicit the same response in customers. "Just the thought of dunking bread in the remnants of this sauce is exciting," breathes a man in the last hours of a Saturday night. "I can't remember the last time I thought that."

Chitarra cacio e pepe.
But if Sukle begins the evening in Asia, he ends in Italy. Wine pushes sake to the background and diners definitively shift from sea to earth. The dishes are deeply earthy, ambassadors of texture and memory. They do, however, maintain delicacy. Small in portion, they, too, demand contemplation as much as they elicit joy. Gnocchi, seared hard on one side and soaked in a broth of clams and parmesan, are a paradox as they hit the tongue; it takes eating in slow motion to fully grasp what's being offered. House-made chitarra cacio e pepe — spaghetti with cheese and pepper — reexamines the power of black pepper. How quickly we have forgotten what it's capable of. Even a small bowlful of cavatelli with pork ragu readily separates itself from traditional Bolognese with the addition of breadcrumbs and fresh oregano leaves. ("Why is this crispy?" asks a frantic diner dissecting his bowl, "and why is it so good?")
There are other highlights at Oberlin, some small (vegetables and breads), others large (whole fish). They demand less cerebral activity though they offer another form of entertainment. A nearly intact fish — scup, John Dory or a behemoth tilefish — is a wonder to behold, particularly piled high with greens and herbs. This is the DIY portion of the menu, in which we marvel more at the anatomy of the animal than the creativity of the chef. (In some sense, it's the very reason chefs get into this business at all.)

The toasted cereals dessert paired with a glass of brandy.
But desserts ensure that the meal ends as it began, with intricacy and evocation. Apple tart is paired with an ice cream infused with woodruff, a herb that bears some resemblance to sweet almonds. The result is two parts old school and one part modernization, a label that works for most of Oberlin's offerings. The bigger draw is a dish that evolved from birch's menu and one that feels firmly at home here. "Toasted cereals" is what you'd expect — a play on breakfast — but more than it promises. A warm johnny cake sits at the bottom of a bowl while a melange of toasted grains covers the top. In between lies a cloud of aerated milk, apple butter and honey that's been pushed through a whipped cream canister. The result is a concoction that's more meringue than pudding and embodies everything that Oberlin is: visionary and accessible in equal measure, both under the guise of simplicity. We may have been misled but are certainly better for it.