Review: Coast at the Ocean House
At this luxury resort dining room, the food lives up to its spectacular waterfront surroundings.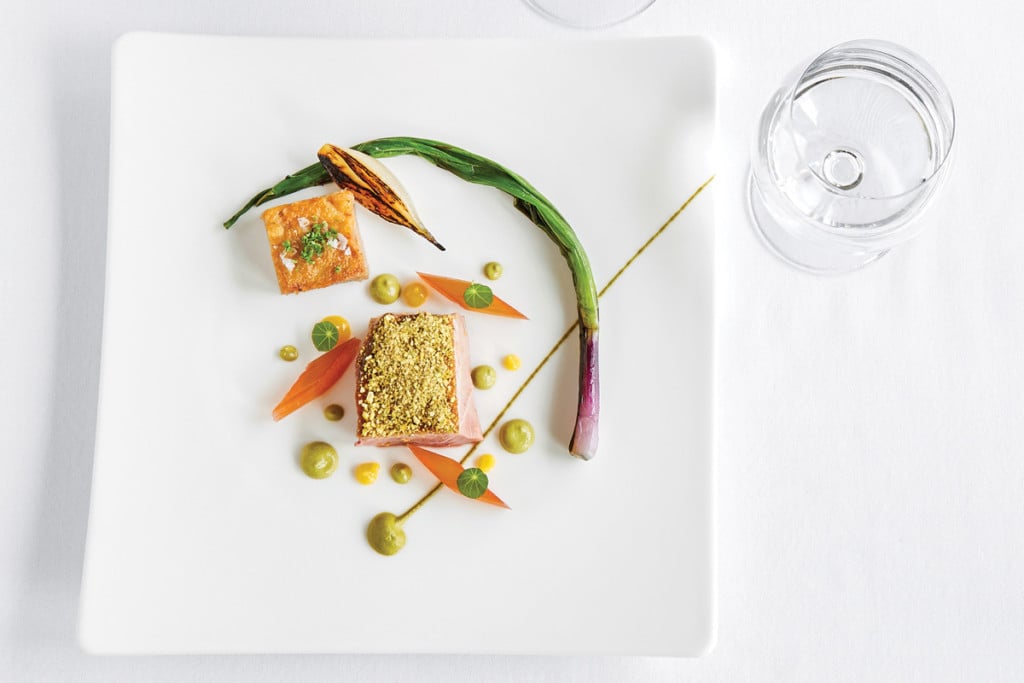 The challenge for Jennifer Backman's Coast is that it's in competition with a formidable and multifaceted backdrop. How do you live up to the vast and sweeping ocean, grand architecture and cultural decadence of Watch Hill — a town at the southernmost tip of the state and in which the Ocean House hotel reigns as a beacon of privilege?
Backman's starting point is surprisingly homespun: Almost every ingredient is sourced from farms no more than 150 miles away. But that domestic inventory goes through several transformations as it's filtered through the creative process, kitchen and dining room. By the time each incarnation is placed in front of a guest, music has been made.
Coast's dining room is set back several steps beyond a humming lobby, raucous bar and bustling open kitchen. It flanks the ocean like a fortressed sunporch, totally undisturbed by life's elements. The refined room is dressed in wicker and wainscoting and the effect is marked. "I've never been to East Egg before," says a young woman dreamily as several suited servers sweep out to deliver a complimentary glass of Cava and canapes.
But if Fitzgerald's world recognized the power of ornamentation to cover up our most egregious flaws, then Coast is something altogether different. It's true that every detail calls attention to itself: the hostess has a whiff of a European accent, dishes are pristine French porcelain, plated food belongs behind glass or a velvet rope. Beneath the aesthetics, though, lie years of technical training and an impeccable palate. The menu is prix fixe and options, which change regularly, are designed to dazzle the diner. Carrot panna cotta, topped with truffle concasse and fresh goat cheese, is a culinary paradox: The texture evokes sweet pudding but the taste is both bright and deep — a manifestation of vegetables in their most vital form.
Backman is a wizard with the local harvest. A good chef can get anyone to embrace vegetables. But a great one can get everyone to commit to vegetarianism, a conversion that takes place (at least temporarily) with every course. Even a humble bowl of soup reaches virtuoso pitch. Mushroom potage is perfectly smooth but, paired with a black trumpet pecorino "soil," it becomes the very essence of foraging, the discovery of a culinary gift harbored in the cool shadow of a tree just waiting to be excavated.
The translation of Backman's supreme confidence is in just this: Dishes look like fine art but they bring food to life in the soulful distillation of its flavor. Nowhere is this more evident than in the jardinière entree, a multihued swirl of native bulbs and leaves — beets, sunchokes, turnips, carrots, cauliflower and kale — that are roasted, glazed and brined. It's a parade of texture and earthy delight, each bite a minute revelation.
The kitchen, however, doesn't rest on its laurels over the course of an evening. Individual loaves of brioche are delivered to each guest well after dinner begins, once there's a better assessment of appetite. There's no mistaking bread for a filler as it's presented with softened butter and a tasting variety of peppers and salts. The extensive staff delights in each surprise and in the kitchen's expertise, ambassadors of an experience that is met with reiterative adulation.
Like diners, they're readily drawn to the menu, which presents itself with insistence. "I'm Italian," says one server, "and I confess that the chef's pasta is the best I've eaten." The handmade tangle of black pepper tagliatelle sits alongside a slow-cooked egg with pork bouillon poured over tableside. Stirred together, it morphs into a modern carbonara, intense with the scent of smoked meat but shockingly delicate in its constitution.
This nod to tradition quickly dissipates with the arrival of a cabbage-wrapped fluke with cauliflower and curry. The plate is a spectacle — all entertainment and wonder. To the eye it is its own galaxy, small planets of molded fish held in orbit by a fragrant aioli and flanked by acidic foam and golden raisins. Such whimsy, presented long before dessert, shows Backman's playful side, but again, it hits the mouth like a finely aged wine. A braised roulade of lamb arrives in similar fashion though, in this universe, the meat sits in the center like a sun, lording over rivulets of pureed leek and celery root. The meat holds its shape by sheer force of will, collapsing softly under the weight of a knife and with an unexpected reference to comfort food.
But in this space, refinement remains the central element. It's no wonder the default wine is sparkling and served in a flute. "What's better than bubbles?" asks one server, fully aware of the significance. There's something slightly magical about the effervescence and that attribute is alive in every corner of this dining room. The setting, the service, the food itself is unequivocally enchanting, an exceedingly difficult standard to bear when one walks in with such lofty expectations.
Eventually though, each meal and its reverie wind down. There is just one final adventure to fulfill and that lies in the land of dessert, a course that conjures fantastical visions. Coast offers a couple of variations, the first of which is light and quirky: a meringue orb holding a single scoop of calamansi lime sorbet, surrounded by troughs of coconut puree and wedges of orange and grapefruit. Another is entirely old school, the only dessert pedigreed enough for this setting. Souffles rotate weekly — from rum raisin to strawberry to a bright green mint served with chocolate ice cream. They all glide out effortlessly in their pristine copper pots, as if perfection were easy to achieve.
And even in the waning hours — long after the ocean recedes from view — fantasy refuses to yield. A tea box arrives at the table like a genie's lamp, overflowing with housemade bonbons. It's a collection that confirms the principles of extravagance: Appetites are meant to be expanded so that aspirations eventually become infinite. If there is a dining room in Rhode Island that lives by this creed, it belongs to Jennifer Backman. A majestic hotel and the illimitable horizon may have set the stage, but the show is entirely hers.
✱✱✱✱
1 Bluff Ave., Watch Hill, 584-7000, oceanhouseri.com
Open Wed.-Sun. for dinner; winter hours vary. Wheelchair accessible. Valet parking.
Cuisine Formal French through an American lens.
Capacity Thirty-four in the main dining room.
Vibe Daisy Buchanan without the drama.
Prices Five-course prix fixe (savory or vegetarian) $105 per person.
Karen's picks Everything. Everything. Everything.
Key
✱ Fair ✱✱Good ✱✱✱Very Good ✱✱✱✱Excellent +Half-star