Capital Grille is a Carnivore's Dream
The Providence institution is serving up red-blooded meals in a new location.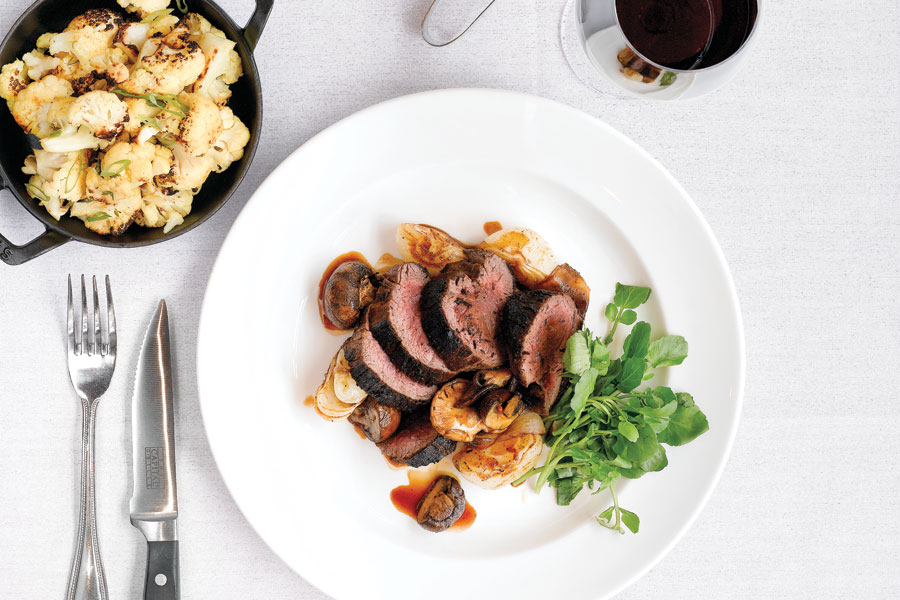 The Capital Grille, 10 Memorial Blvd., Providence, 521-5600, thecapitalgrille.com.
Open Mon.–Fri. for lunch, daily for dinner. Reservations accepted. Wheelchair accessible. Valet parking.
Cuisine Meat, potatoes and red wine.
Capacity The whole state of Rhode Island.
Vibe Capitalism and caveman meet.
Prices Appetizers $8–$18; entrees $29–$52; dessert $9–$11. $18 prix-fixe menu available at lunch.
Karen's picks Obviously: shellfish, steak, an inky cabernet and an Amex black card.
Key 
 Fair 
 Good 
 Very Good 
 Excellent 
Half-star
Is there room in this kale-ridden, flax-infested, acai-enmeshed world for a sacrificial cow? Is there space in an era overrun with quinoa to assert one's dominance over the (rather meek) cattle of the prairies? Is it even acceptable anymore to brandish a steak knife at the dinner table when nearly every meal is fermented and served in some sort of gluten-free wrap?
Not in full sight of the vegetarian army of the new millennium. Granges and Grilles are thriving, working fervently to convince diners that soy and wheat gluten are so similar to meat that, sauteed or stuffed in a taco, you'd never know the difference. Or perhaps you'd actually — gasp! — prefer it.
And maybe you tell them you do. You nod your head and say, "I could easily go vegan if it all tasted like this," as you back out the door with as much nonchalance as deception can stand. And then you make a beeline for some cavernous hole where carnivores devour their prey in clandestine camaraderie. Where meat is cut in smoky slabs and washed down with astringent red wines and scotch that tastes like fire. The kind of place where men grow beards just by walking in the door and women can lift small cars off the backs of strangers just by willing it.
Of course, in a politically correct age, predatory eating is an underground movement. Secret passwords, special locks, furtive glances that indicate just how much damage you could do with 200 bucks and an appetite. Where to hide such a mutinous endeavor? Likely choices: a darkened alley, a delicate Colonial house with secret passageways, in the hull of a boat docked off of Cuba's shores.

The Grand Plateau.
Or, just to throw the culinary authorities for a loop, you could crank out platter after platter of deeply charred beef in a glass house and call it the Capital Grille. Let's just say you did decide to hide your hedonistic hub in plain sight — downtown, on the water and demarcated by two imposing stone lions that meandered across the street from their previous perch. The interior has to be primal: a buffalo head, an eagle in flight, an unidentified skull and antlers. Discreet lockers adorn the entryway, gatekeepers of expensive wine, molten whiskey or an elixir doled out to the appropriate key-master. Servers approach their tables in jackets that fall somewhere between a smock and a medical uniform because, after all, a good steak falls somewhere between an art and a science.
And even if you don't store your own vintage vino, there is still coddling available. The wine list is presented on an iPad, which, in this case, is not so far from a first-generation robot. Meander through varietals or punch in your dinner choice and you'll be coaxed through a number of suggestions that dissipate alcohol anxiety. ("Yes, Cyber Jeeves, the Willamette pinot did pair perfectly with my filet.")
The reward lies not in the opulence of the space — skyward ceilings, light fixtures large enough to illuminate heaven and subway tiles stretching to oblivion — but the majesty of the dinner plate.
It's true that the subversive American steakhouse magnanimously welcomes its plant-eating adversaries. Salads are copious: whole leaves crown the plates, topped with shaved fruit and knuckle-sized wedges of cheese. Icy shrimp the size of small pets are served sunbathing in cocktail sauce. It's the age of decadence — the roaring '20s, the affluent '80s — whatever decade is most proud of its ability to live large and unabashedly.
And, above all, it's a plate of seared meat willing to take on Chris Weidman in a to-the-death fight. Kona coffee crusted strip, porcini rubbed rib eye, a seared tenderloin with butter poached lobster tails riding on its back — everything is indulgent and unapologetic. Whatever you order is served alone because, one, steak refuses to share its plate and, two, everything else looks puny next to it. You can order potatoes or vegetables but, like any other sidekick, they've got to be piled onto a platter to get any attention. Potatoes are fried and doused with truffle oil, mashed with copious amounts of butter or sliced thinly and baked in a bath of cream and cheese. Prehistoric-size blooms of cauliflower in curry oil and brussels sprouts with mustard and bacon all serve as a supportive cast to the cattle drive.

Creme brulee with seasonal berries and flourless chocolate espresso cake.
The true goal here is massive simplicity: a little salt, a lot of pepper and the elusive flavor of life just off the bone. If you feel your plate needs sauce on the side, you're probably the type who puts seat cushions in the car. Only the real players — those willing to drink hard, play rough and eat big — are invited in for blocks of beef that are paraded out like gladiators. One server even delivered a rare steak sliced up for a regular who sacrificed his shoulder to a sports injury (dragon wrestling? Sword fighting?) because, unspoken, everyone agrees that you can't have someone cut your meat at the table. It's unseemly.
The advantage of such a privileged environment is that diners have the freedom of choosing their own uniform. Some come clad formally, with knotted necks and stacked heels. Others want the license to indulge comfortably. Extravagance comes at a price but it doesn't necessarily come wrapped in glitter. (Just ask the desserts, which are big enough to feed a family and need very little ornamentation other than a dusting of sugar and the occasional berry marking the way in.)
Perhaps the herbivores across town have their own way of pampering themselves. Perhaps a heaping hunk of tempeh gets the blood boiling. But locked behind a wall of glass and stone, the carnivores are still, big knives in hand, living it up in capital style.