Review: Back 40
Olivia Culpo's North Kingstown restaurant is all about retro comfort food and family dinners.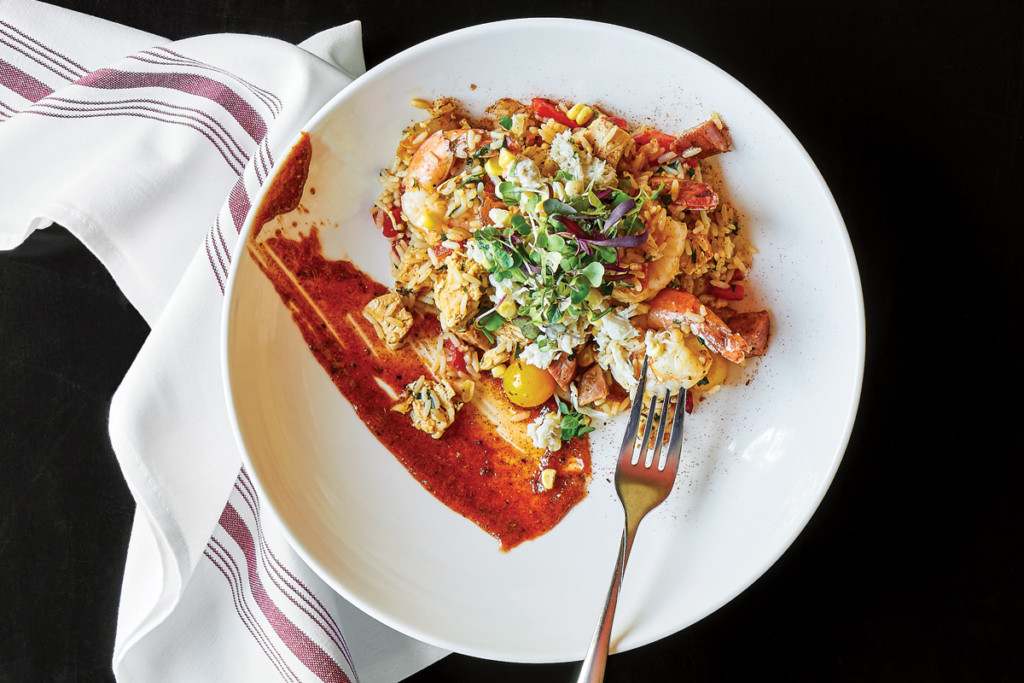 Back 40 came to Rhode Island with a lot of fanfare: Not only did it have Olivia Culpo's name attached to it, it became tangentially connected to the Patriots, catching the attention of anyone who eats. Though Culpo's father, Peter, has substantive restaurant experience, Back 40 had a shaky start dealing with the onslaught of attention and went back to the drawing board in its first month to hone its image and expectations. The building is large and pastoral; it looms like a big red barn on South County Trail, just down the road from Schartner Farms. It's possible that the initial glitch had something to do with a crisis of identity — a restaurant that was told it was famous and should appear so when, in fact, its goal was always a simple life on the range.
Diners may still hope for some sort of celebrity. One college student gazes at an undeniably attractive server and whispers, "She looks just like Olivia Culpo. It's uncanny." But Back 40 itself wants very little to do with a world that operates on trend or whim. The front door sits adjacent to a wide front porch that holds the waitlist or parents with cantankerous babies. That same door opens to an expansive floor plan that looks as if Chip and Joanna Gaines had revamped a garage into a farm-style living room. A stone hearth sits in the center with lounge chair seats and space for singers who settle in on weekends. On one Saturday night, toddlers have gathered around to shake their diapers to an acoustic version of "Crazy Train," which might explain why the shepherding dads seem so content.
The bar is big — lit by a brightly bulbed "Back 40" sign — and there are plenty of sports games illuminated overhead. But you'd never categorize the restaurant as a bar per se because the actual demographic easily spans sixty years. It feels more like Thanksgiving with various members of the family spread out in different rooms, aligning themselves close to those with similar interests. Baseball fanatics are on stools shifting their eyes between screens; small kids use the entryway as their playground; a thirtieth birthday party, with twenty guests, orders cocktails by the dozens; grandma is sitting at a corner table with grandpa who wore his Hawaiian shirt in public again but she's still holding his hand with affection.
The space itself is equally welcoming. Rustic beams reach across the ceilings, offering support to the wine barrel chandeliers that hang above the tables. Fire engine red chairs, cowboy hats on the wall and the occasional American flag work in tandem to manifest something essential about the rural areas of Rhode Island: There's a downhome spirit that residents love, deeply and truly. If Providence is home to college students who never get older and Newport celebrates a golden age encased in marble, so many miles in between thrive on family traditions that, by their very nature, see no need for change. Back 40 is an ardent supporter of those customs and, if the draft list might meander into modern, the menu is tried and true.
Some of the food will speak to anyone: burgers, chili, pulled pork are national treasures, unbound by geography. Other corners of the menu are particular to the New England niche. If people out in Arizona had any real history with fish and chips ($13), it might upset the entire culinary map but it's entirely nostalgic for the natives here. "Oh geez," says a North Smithfielder. "This brings me back to childhood. Except a better childhood because this tastes good." That might have been the end of the trip down Way-Back-When Lane, except that a stuffie shows up in front of him and the poor guy looks as if he'll burst into tears. Everyone in Rhode Island is the state's expert on stuffies until a great one comes along. Then judgment goes out the window in favor of offering effusive homage to our Ocean State.
But the best parts of Back 40's menu lie in decades long gone. Additional owners, Justin Dalton-Ameen and Joshua Culpo, took a retro approach that pays off in articulating memories. It's hard not to love a trio of Parker House rolls served warm in a cast iron pan. They might be the most endearing dough ever produced, the Julie Andrews of the bread world, incapable of offending anyone and, at $1 a roll, it suddenly seems as if things have value again, including the tater tots served with whizzy cheese sauce and a dollop of Old Bay aioli ($5). (Why did the '70s seem so offensive in the '80s but so irresistible now? One of the world's great mysteries.)
For those who need to be rewarded just for finishing their dinner, the holy grail is in sight. Dessert is charming, a dish manufactured with 1950s innocence that comes in various degrees of elicitation. The triple chocolate tastes like a Drake's factory exploded — fondant, pudding, ice cream and Oreo crumble — in a way that conjures happiness far more than guilt. Slightly more restrained is the banana pudding, which eats like a trifle — layers of bananas, pudding and crumbled vanilla wafers wedged between so much whipped cream that you'll have visions of rotating dessert cases in an old-fashioned diner. But again, Back 40 is earnestly interested in its own Rhode Island roots and that shows up in spades in its bread pudding. We may be inundated with modern doughnuts these days but none are as indigenous as Allie's, the simple glazed cake that — without the technicolor sprinkles — makes a mean bread pudding. The state may never give up coffee milk as culinary ambassador to the world but there's another one waiting in the wings.
Whether the restaurant can ever throw off its illustrious roots is up for debate. What's clear is that it's not interested in indulging any connection other than its link to this state and its people.
If there's a paradox between fame and familiarity, it's perched on this country road, its front porch looking out to the farmland beyond, waiting to serve family dinner. It's just as simple as that.
✱✱+
20 South County Trl., North Kingstown, 667-4869, back40ri.com.
Open daily for lunch and dinner. Wheelchair accessible. Lot parking.
Cuisine Old school diner meets pub fare.
Capacity 124.
Vibe Farmhouse with a bar.
Prices Appetizers $7–$12; entrees $8–$25; dessert $8–$12.
Karen's picks Parker House rolls, fish and chips, fried chicken.
Key
✱ Fair ✱✱Good ✱✱✱Very Good ✱✱✱✱Excellent +Half-star