Retro Bowling Alley Opens in Pawtucket
BreakTime Bowl and Bar takes a cue from the past with 1920s duckpin bowling.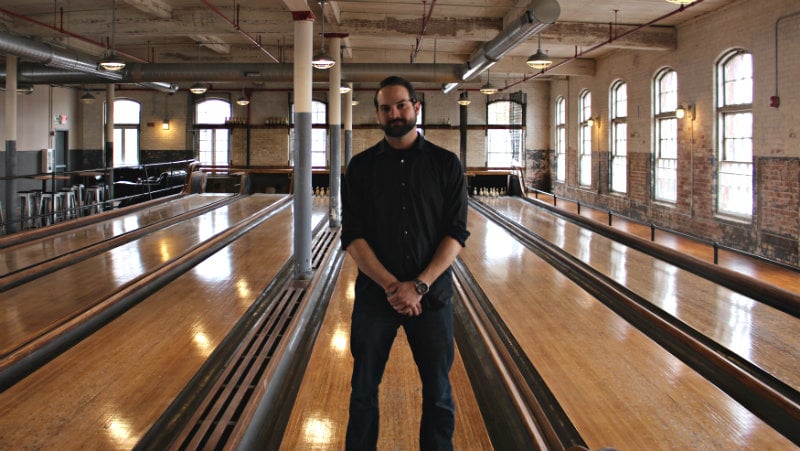 Pawtucket's best-kept secret is open once more.
Last Saturday, I checked out BreakTime Bowl and Bar, a six-lane duckpin bowling alley in Pawtucket's trendy Hope Artiste Village — but not before picking up some veggies from the Wintertime Farmers Market on the ground floor of the complex (see what's new at the market here). BreakTime, which launched with a soft opening on December 26, sits on the third floor and is open Thursdays through Saturdays, with morning and afternoon bowling on market days.
It'd be inaccurate to call it new; the space was constructed in the early twentieth century, explains BreakTime manager Jay Santos. "The bowling alley was built during the Labor Movement for Hope Webbing Mill in the 1920s, maybe as early as 1918, so the workers wouldn't unionize."
Did it work? I ask.
"I guess not," Santos, who has a background in fine dining, says. Many overworked, underpaid Hope Webbing employees joined the Textile Workers Organizing Committee of the C.I.O., Local No. 14, choosing labor strikes over duckpin ones.
Hope Artiste Village's Director of Development and Operations Michael Gazdacko says he was surprised to discover the bowling alley when his company, Urban Smart Growth, purchased the complex in 2005. "We were like, wow, this is really cool. We have to buy this building," Gazdacko says. "It was always the intention to do something like this, and we finally got around to it."
Imagine, for a moment, how a bowling alley registers with the senses. Aside from the ambient crashing of pins, BreakTime feels nothing like the unfortunate, smoky alleys we frequent for birthday parties and date nights.
The interior treatment is simple and beautiful: It's an airy, light-filled space with exposed brick, a sleek bar and comfortable leather sofas. To date, there's nary a TV in sight, however when they are installed they'll play cult classics like The Big Lebowski and Kingpin. It's BYOBS (bring your own bowling shoes, i.e. anything but high heels), so you don't have to slide around in ancient kicks. Forget greasy alley food: Hungry bowlers can order from the downstairs Bread Lab, which staffs a food runner and has a special menu for Breaktime. Reclaimed materials abound.
"The tabletops are made from decking that we took out of a stairwell we opened up in another part of the mill, and the bar is old flooring that we used with the bar top epoxy," Gazdacko says. "We're trying to retain the natural feel of the mill, keep it simple and industrial in the way it was originally constructed."
The restored lanes are hand-set by staff pinsetters, who scramble to arrange the pins and whiz your favorite small ball down the manual return. "I actually jumped back there Friday night because we only had one, and it was our busiest night yet," Santos says. "We had these two kids come in who ranked third and fourth in duckpin in Rhode Island; they were pretty hardcore."
On this Saturday afternoon, a family foursome keeps new pinsetter, Maddy Trudeau, busy. She perches at the end of the alley, waiting for the next strike, spare or gutter ball to come her way.
BreakTime is hosting a grand opening public celebration on Friday, January 9, from 4–7 p.m., with complimentary food and drink. Regular bowling resumes until closing.
BreakTime Bowl and Bar Details: Open Thurs.–Fri. 4 p.m.–1 a.m., Sat. 9 a.m.–1 a.m. $15 per hour, per lane. Reservations recommended. Hope Artiste Village, 1005 Main St., Suite 1330 (third floor; no elevator), Pawtucket, 844-467-3383, breaktimebowlandbar.com.