Restaurant Report: Half Way Tree
Providence's new spot for authentic Jamaican cuisine.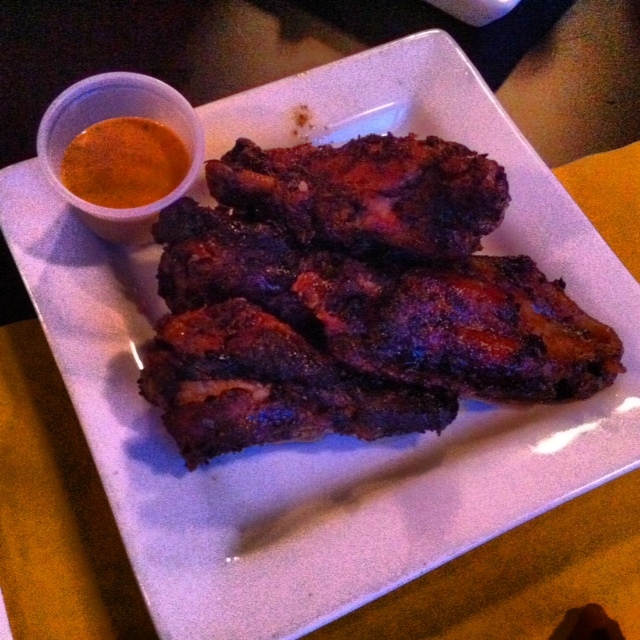 Providence's new spot for authentic Jamaican cuisine.
Menu: Half Way Tree restaurant is a prime place for home-style Jamaican: jerk chicken, curry goat and oxtail. Owner Ted Panagiotis has been connected to the Jamaican community and reggae music scene for years, so he decided to open his own place to fill a void in Providence. "The chef is straight from Portland, Jamaica, the jerk capital of the world," says Panagiotis of head chef, Shatte Max. "The menu is all his family recipes. He doesn't even have them written down. He knows them by heart and cooks them every day."
Don't Miss: For starters, go with the jerk chicken wings, which have a nice grilled char to go with the kick. Dip them into the spicy sauce for an extra jolt of heat. The saltfish fritters are similar to clam cakes; small, crisp balls of fried dough with bits of fish stirred into the batter. Entrees are available in two sizes, small and large, with enough to take home for later. Curry goat involves bone-in chunks of tender, fatty meat stewed in a savory sauce, and sides of rice, pickled cabbage and fried plantains. The jerk chicken is always grilled, the way it's done in Jamaica.
Vibe: The interior may look like a nightclub, but that's because it is. Half Way Tree is a restaurant by day, and reggae bar on weekends from 10 p.m.−1 a.m. Many people come in just for take-out, too.
Why We Like It: 1. Why the name Half Way Tree? It comes from a spot in Kingston, Jamaica, where uptown meets downtown. A huge cotton tree grew there until 1866, and it was a prime meeting spot for travelers and traders. 2. Panagiotis comes from a family of legendary surfers. Ted's father, Peter Pan, has won multiple surfing championships in Newport, and has been featured in Rhode Island Monthly magazine. 3. The rum punch is a customary cocktail, but there are authentic Jamaican juices and sodas for teetotalers, like ginger pineapple juice and Kola Champagne. 4. Red Stripe! 5. "The eclectic mix of customers," says Panagiotis. "I have people from the Jamaican community who have supported me since day one, but we also have a lot of regulars like nurses from Lifespan and people from the Brown alumni offices who always come in."
44 Hospital St., Providence, 419-6358, halfwaytreeri.com.