Restaurant Report: Ebisu
This Providence restaurant is a great place for ramen and shabu shabu.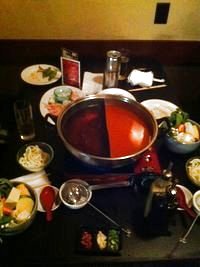 Menu: From New York City to Boston, ramen is all the rage. At Ebisu, you can try several authentic varieties (not your average Maruchan, by the way). These bowls of noodles include fresh vegetables and chunks of seafood, pork or tofu. We also suggest trying shabu shabu, which is a Japanese tradition in which you cook your own food at the table using a hot pot. Shabu shabu means "swish, swish" in Japanese and the name is derived from the swish, swish sound of cooking the meat in the boiling broth. Diners choose protein or vegetarian preferences, select a broth (pork, vegetable, dashi, kimchee or tomyum), as well as udon or bean thread noodles or rice. The server plugs in the hot pot, then delivers a pan of steaming broth with platters of the raw ingredients you selected along with garlic, hot peppers, chives and two sauces. Submerge the meat and vegetables in the pot, let them cook, then fish them out with the provided net and eat with sauce.
Don't Miss: The $8.95 lunch special includes a seaweed or garden salad, a choice of shumai (shrimp dumplings), gyoza (pork dumplings) or edamame, with twelve choices for entrees, including ramen. The dumplings alone are worth the visit. Order them steamed or pan fried. We opted for the fried version, because the crispy exterior is a nice textural contrast to the soft filling.
Vibe: A stylish, no frills interior with an atmosphere that's comfortable for everyone. While we dined, we noticed a variety of parties, including a family with children, a table full of friends sharing shabu shabu, and a possible first date. Keep it calm or crazy over dinner by sipping green tea or downing flights of saki (choose three two-ounce glasses from a list offering more than eight varieties).
Why we like it: 1. The appetizer sizes and prices are small — between $3.50 and $7.95 — so you can sample multiple dishes for a nominal cost and still have room for main courses. 2. Servers voluntarily explain the menu and the shabu shabu concept to newbies. 3. Cooking your own food at the table is a great bonding experience for new friends or for a date. 4. There are multiple choices for most dishes, so you can customize your meal. 5. Shochu, a distilled Japanese liquor similar to vodka, is served on the rocks or with orange or grapefruit juice or plum wine, and there is also a barley or sweet potato variety.

38 Pontiac Ave., Providence, 270-7500, ebisuri.com