Resort Season and a New Local Line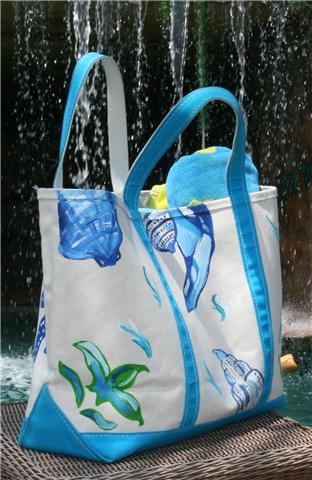 The seemingly endless resort fashion season just ended. It seemed to get a lot more attention than usual, between the press from the Times' Cathy Horyn and other fashion bigwigs denouncing the use of the word "resort" to describe the season (too pretentious-sounding, they say) and just some really solid collections. Probably the top trend to come out of the shows and presentations was the maxi skirt, a super-wearable, comfortable piece that will no doubt be in every department store and local boutique come next spring (even this fall, I'm guessing).
Speaking of resort, I wanted to alert everyone to a new lifestyle line with local ties. Former Rhode Islander Elise Fargnoli launched her line, Francesca Joy in March, and it can already be found at several local stores: The Studio at Barrington Books, Jackie's Loft in Bristol, Sun-up Gallery in Westerly and Island Outfitters in Newport.
The line consists of canvas tote bags, slip dresses and throw pillows (for now; there are plans to expand soon) all hand-painted by Fargnoli herself in bright, Palm Beach-inspired motifs. Her pieces are sure to brighten up any room or trip to the shore. So cute!
For more images of the line, visit francescajoypb.com.