Reporter
State funding is drying up for kids who need intensive therapies. Without it, parents worry, what will help their kids bridge the divide to normal life?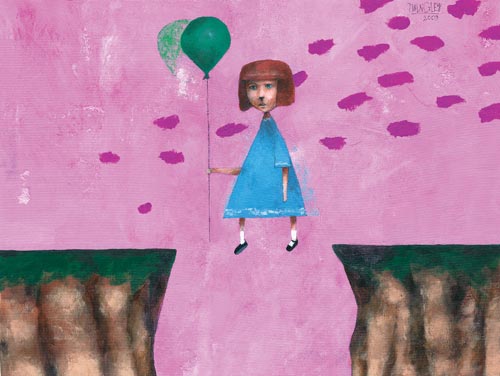 Before she was the proud parent of two girls, Susan Baylis was the mother of a successful graphic arts design business with — at its height — $2 million in annual sales. Today, she takes satisfaction in more quotidian milestones: Julia's reading progress and enthusiasm for drawing; Emily's good behavior during public outings.
"Your world gets really small," she says. "Something miniscule like potty training — if we make it through three days and no accidents — oh my God, what's better than that?"
Children naturally have a way of re-shaping adults' sense of accomplishment and adults naturally have a way of claiming their children's progress as their own.
Not Susan Baylis.
She knows that behind every step were many hands that guided, prodded, encouraged her daughters forward. Julia is thirteen years old. Emily is ten. Both are profoundly autistic and Julia's joy in drawing and Emily's ability to make it through a restaurant meal without a meltdown are the result of years of struggle and intense therapeutic intervention. The latter has made it possible for Baylis, a single mother, to hold a job and keep her daughters in their Narragansett home. Under the state Medicaid program, Home-Based Therapy Services (HBTS), four days a week a behavior specialist works on daily living, social behavior management and academic skills with the girls.
Nonetheless, the Baylis family edifice, as carefully constructed as it is, is a bit ramshackle. Any tremor can shake it to the foundation. And four months ago, Susan Baylis learned that the ground was about to shift. The Adeline LaPlante Memorial Center, the agency that provides Julia and Emily with therapy at home, informed her that due to state budget cuts, they would be closing their children's program on June 30. "HBTS has been huge for my kids. Without it, I'd probably be in Butler and my kids would be in a group home," she says. "I get emotional talking about this. As a parent, you want your kids to be productive, happy and have friends. I want the same things for my kids. I don't want someone wiping my kid's bottom at sixteen years old and I can't do that without HBTS."
The U.S. Department of Health and Human Services estimates that nearly 13 percent of children in this country have a special healthcare need. A smaller subset are loosely defined as medically fragile — usually meaning that they are stable but in need of intensive or chronic care. To parent a medically fragile child is to swim in an alphabet soup of treatment-program and payment-plan acronyms. There are the challenges of finding and maintaining good care and the even greater obstacles of paying for it. Research by the Catalyst Center at the Boston University School of Public Health found that financial hardship — regardless of income — among these families is common, due to higher healthcare costs, higher routine expenses and loss of employment income.
Those who thought they had good private insurance quickly learn that a child's needs can overpower any plan's benefits. The gaps are filled by Medicaid, the federal-state healthcare program for low-income families, or Supplemental Social Security (SSI), federal cash assistance for severely disabled children, or the State Children's Health Insurance Plan (SCHIP), which covers children whose families make too much for Medicaid but cannot get or afford private insurance.
By any other cleverly arranged name, the government is paying the bill. Medicaid functions as the nation's largest single healthcare insurer and its payments comprise every state's largest federal grant. But they are matching funds, with the percentage of federal aid varying by state. In the past, Rhode Island received about fifty-two cents in federal Medicaid money for every dollar it spent. But last year, the state obtained special permission to scrap the traditional arrangement.
Known popularly as the global waiver, it caps the state's total federal Medicaid dollars at $12 billion over the next five years. In exchange, the federal government gave the state sweeping authority to restrict services and expand cost-sharing requirements. The goal is to realize millions in savings by re-distributing health services from costly institutional care to home and community-based services. As the state begins re-shaping the contours of government healthcare under the global waiver, the story of the state's Home Based Therapy Services is either an ironic counterpoint or — in the view of some close observers — a preview of coming attractions.
The state began redesigning services for kids with special healthcare needs in 1998. In consultation with parents, providers and advocates, the state created an array of programs that would offer effective treatment under a family-centered approach. HBTS, offcially launched in 2003, had been a resounding success. From 468 clients in 2005, the program served 633 children in 2008. The costs have gone up even more precipitously from $10 million to $14.4 million over the same period.
In May 2008, the state cut its reimbursements to the providers by 5 percent, followed by a reduction in the mileage reimbursements in March. The Department of Human Services says that the program's rapid growth forced them to nip and tuck the expenditures that didn't affect direct services.
"It's become unsustainable from a budgetary point of view and we had to make some targeted adjustments," says Deborah Florio, DHS's Administrator for Medical Services. "We have to be fiscally responsible, and we are trying to do the most we can with the scarce state dollars that are available to us."
For some of the fourteen private healthcare agencies certified to deliver home-based therapy services, these were more grievous wounds to their ability to find and keep good workers in what is a diffcult job. Perspectives, the state's second largest agency serving people with developmental disabilities, was among those that sent letters to clients informing them that state cuts had forced them to reduce services. Perspectives is keeping the program but shrinking its service area and increasing caseloads.
"It's been very much a cumulative effect," says administrator Sean Cornell. "When these programs were originally designed, they set the rates for professionals, but never adjusted them for the cost of living."
Donna Martin, of the Community Pro-vider Network of Rhode Island, fears that any more state "adjustments" will shutter some agencies.

"We've built a good intervention model, but as the funds for the clinical interventions erode, it becomes a basic-care model," she says. "The organizations provide these services on shoestring budgets and the agency may be losing money providing them."
Some states are cutting back on Medicaid eligibility or services — just at the time many Americans have lost their employer-sponsored health insurance, says Meg Comeau, director of the Catalyst Center.
"Yet, it's really important that policymakers look at these children as investments instead of costs," Comeau says, "because you have the opportunity to stave off more expensive problems down the line."
In May, advocates were girding for battle on Smith Hill. Joanne Quinn of the Autism Project fears that the state's ongoing budget woes will pit groups representing the high-end health users, such as the elderly or disabled children, against one another. For the moment, the Adeline LaPlante Center has reversed its decision and said it will try to find a way to continue. But the Rhode Island Parents Information Network, which provides information and support for families coping with chronic illnesses and disabilities, has been fielding phone calls from angry, panicked or incredulous parents.
"We've made good progress," says Dawn Wardyga, the network's director of health and public policy. "But they are pulling it apart. That's your safety net, and once you start pulling it apart – to build up again, you're talking years."