Reporter – The Big City Tax Rolls
Without the grand institutions — hospitals, universities, the state Capitol — Providence wouldn't be half the capital it is now. But all those nonprofits don't pay taxes, and that puts the city in a bind. As it stares down a yawning budget hole, what's going to give?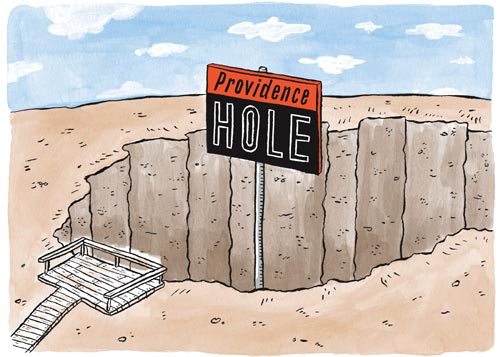 Two years ago, town-gown relations in Providence hit a low. Then-Mayor David Cicilline submitted legislation that would have imposed a $150 impact fee on every student attending the city's four private universities and colleges. A second bill would have permitted any municipality to tax nonprofits with land holdings valued at 
$20 million or more up to 25 percent of the assessed value of its untaxed property.

Peter Kilmartin, then the House majority whip, followed with a bill that would have permitted Johnson and Wales and Brown University to bypass the state bidding process and lay claim to six valuable acres of downtown real estate that would be made available by the highway relocation.
Providence was facing a short-term deficit of $17.1 million when Cicilline, with a bit of marketing flair, announced his Fair Share Assessment Plan. The universities and colleges, which had fiscal challenges of their own, called foul. They were already paying their fair share, they argued. Under a 2003 memorandum of understanding, Brown University, Providence College, Johnson and Wales University and the Rhode Island School of Design would pump $48 million of voluntary payments into the city's coffers over twenty years.

Any new land that the institutions would acquire would ease off the tax rolls over fifteen years. In addition, they paid about $4.5 million annually in property taxes on land not being used for educational purposes. Both measures died.
Two years later, a new Providence mayor pulled the cover off a very deep hole in the city's finances. The Municipal Finances Review Panel commissioned by Mayor Angel Tavares determined that the city was facing a $110 million deficit in a $635 million budget. This fiscal crisis has sparked new discussions about Payment in Lieu of Taxes (PILOT) programs.
"No one likes to be taxed," says Melissa Withers, Tavares' spokesperson. "We are very lucky to have our tax-exempt institutions. They are a huge asset to the city. But they can contribute in ways that align with their mission. We're in very productive conversations to be as creative as we can to come to an agreement that's fair and equitable."
English common law has defined charitable organizations since the sixteenth century. Their tax-exempt status has been enshrined in United States federal law since 1859, under the justification that nonprofits serve a public good. But the meltdown of municipal budgets nationwide is straining this old arrangement.
According to a 2010 report by the Lincoln Institute of Land Policy, 117 municipalities in eighteen states have PILOT programs with nonprofit institutions. These voluntary agreements are individually negotiated and typically net the government far less than the value of the tax-exempt land, but they may compensate the municipality for the value of direct services such as police and fire. The interest is keenest in cities where the property taxes, the demand for social services and the percentage of tax-exempt land are high.
Daphne Kenyon, co-author of the study, says that multiple factors are driving the change. Among them, many nonprofits are blurring the line by complementing their core missions with commercial ventures — such as retail stores, eateries and rental properties.
"Another thing that's contributing to the situation is the strong anti-tax climate," Kenyon says. "And if you don't want to raise taxes or add taxes, then substitutes for taxes go up high on the agenda."
Providence — with 40 percent tax-exempt property — is a perfect storm of these forces, and yet the major nonprofits argue that the city shouldn't look to them for safe harbor. Every potential signatory has an excellent reason why.
"We don't have the money that people purport us to have," says Dan Egan, president of the Association of Independent Colleges and Universities of Rhode Island. "This great recession has affected higher education, too. Our campuses have struggled over the last five years, just as the city has."
Edward Quinlan, president of the Rhode Island Hospital Association, says the hospitals are similarly tapped out. The state and the federal government have cut their payments to hospitals, while uncompensated care costs soared. Last year, they rose 17 percent to more than $160 million.
"We are one of a limited number of states that does not have a public acute care hospital, which means that the private hospitals are the public safety net," Quinlan says. "Now some propose we be harmed further by taxing a historically untaxed industry."
Brown University's Vice President of Public Affairs and University Relations, Marisa Quinn, says that Brown can best contribute to the city's bottom line 
by strengthening its role as a research institution and an incubator for entrepreneurship. Jobs and tax revenue are the natural consequence.

"We saw the 2003 memorandum as a fair agreement, and we are looking forward to conversations where we can build on that. But not through re-opening the agreement," she says.
Camille Vella-Wilkinson, vice-chair of the 2010 Providence Commission to Study Tax-Exempt Institutions, is skeptical. The group's November report adopted a conciliatory tone after the bruising legislative scuffles of 2009. Its top recommendation was that the city and its major nonprofits pursue an economic development partnership that would bring more jobs to the capital city.
Vella-Wilkinson, now a Warwick city councilor, says that the conclusions didn't go far enough.
"The universities do quite a number of projects — community clinics, mentoring — that I found to be uplifting. But I don't believe it is enough to make up the shortfall. Even with the universities doing enrichment, the city still has payroll. Who's going to pick up the slack?"
Warwick, for instance, copes with the revenue slack caused by having 25 percent of its land exempt from city property taxes. It receives an annual $450,000 PILOT from the state to compensate it, mostly for T. F. Green Airport. Rhode Island is one of only two states with such a program. Meanwhile, says Mayor Scott Avedisian, the airport has enlarged its footprint over the last decade, acquiring 300 homes on its borders.
"We've seen a drop-off in property taxes directly attributable to that. I think the state has to come up with a plan to develop a real PILOT program. What we have right now is 75 percent are paying 100 percent of the bill," he says.
The partnership between Bristol and Roger Williams University represents a rebuke to the impoverished relationships between host communities and their resident tax-exempt institutions around the state. In 2007, the Town of Bristol negotiated a $42 million deal over twenty years from just one university. The package featured a $150,000 payment that slowly increases each year, $37 million in scholarships to local residents, $100,000 every five years towards the purchase of a new fire or rescue vehicle and $25,000 in small civic grants dispersed annually to local soup kitchens, volunteer fire departments and historical preservation societies. Last January, the university gave a $1 million water tower to Bristol to serve new campus dormitories while resolving a long-standing water pressure problem for residents in that part of town.
"I do get calls from other towns, asking, 'how did you do it,' " says Diane Mederos, town administrator since 2004. "If we didn't have this agreement with the university, things would be far worse for us. We lose $2.5 million in property tax revenue, but what we get back more than makes up for that."
Mederos chuckles over the memory of a headline that heralded the agreement.
"It said, 'RWU Hugs Bristol.' That says it all."

Ellen Liberman is an award-winning journalist who has commented on politics for more than two decades.