Reporter: Sexual Assault on Rhode Island College Campuses
Colleges and universities have been grappling with how to handle sexual assault for decades and Rhode Island institutions are working to address the problem.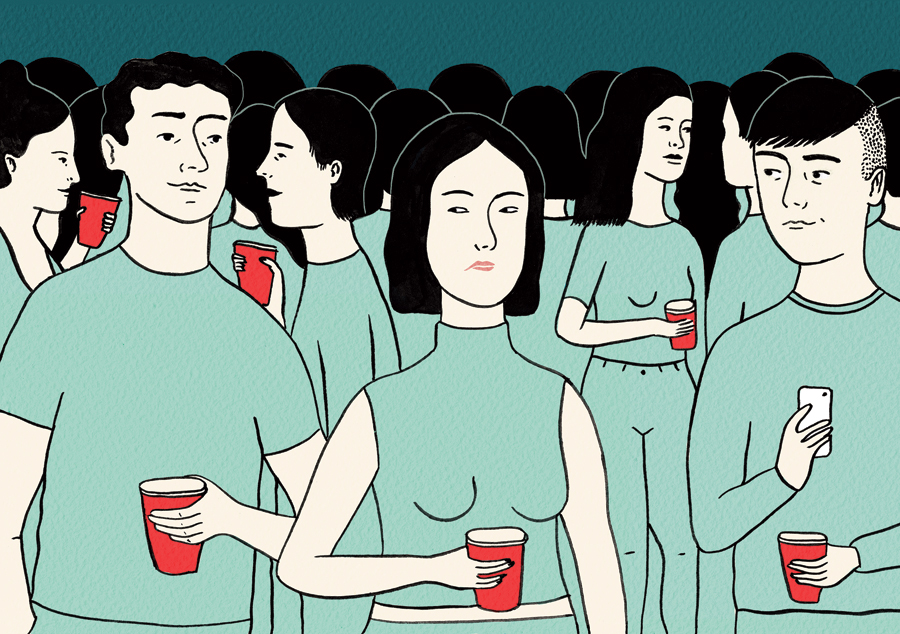 In 1990, the women said "No." Colgate University student Kristen Buxton filed a $10 million negligence suit against the school over its handling of her sexual assault by three men. The 1986 rape and murder of Lehigh co-ed Jeanne Clery led to passage of a law requiring institutions to disclose crimes committed on and near their campuses. And Brown University roiled in a public debate on campus sexual assaults — touched off, in part, by a "rape list" of perpetrators scrawled on the bathroom stalls of the Rockefeller Library.
"It was the only thing women had available to them — warnings to stay away from certain guys," recalls Brown alum Jesselyn Brown Radack, one of four student activists who led the effort to change campus policies and attitudes toward acquaintance rapes and sexual harassment. Now a lawyer for the Government Accountability Project, Radack says: "The campus was very divided. Women were very much supporting other women, and there were some men who very much turned themselves into victims. It was very volatile."
Yet, nearly twenty-five years later, neither the literal nor the metaphorical writing on the wall created the change those women envisioned. A 2007 study found that 20 percent of female college students are victims of sexual assault. Nearly 80 percent of the time, the woman knows her attacker and most incidents involve alcohol or drugs. From 2002 to 2012, Rhode Island institutions reported 513 sexual assaults to the United States Department of Education (DOE).
Campus rape is again making headlines universities would rather avoid. Female students are again agitating for reform. This summer, Brown University was embroiled in another rape controversy and under a federal Title IX investigation.
Sociologist and lawyer Carol Bohmer is not surprised. The coauthor of Sexual Assault on Campus: The Problem and the Solution in 1993 says little has changed. Victims still prefer the university disciplinary system, because they think the criminal justice system is a hostile environment and because they don't think of the offenders — boys they know — as criminals.
"College campuses had their own systems that varied tremendously and that's still true." Colleges were very careful not to keep records, Bohmer says. "And if they did, there was an effort to do some serious sweeping under the rug. Sometimes even the victim didn't know what happened. I don't think campuses were interested in doing anything about it unless they had a problem, or a scandal that became public or someone was suing them. What's different now is the federal government is focusing on it."
The pressure began in 2011, when the DOE sent schools notice of their obligations related to sexual harassment and violence under Title IX, the 1972 law that prohibits gender discrimination in education. This spring, a White House task force issued its first report urging schools to step up their prevention and enforcement efforts. And the DOE, for the first time, revealed the schools under investigation for their handling of sexual assault cases.
This fall, institutions were required under the Campus Sexual Violence Elimination Act to collect more sexual violence data, grant enhanced rights to victims, enact standards for disciplinary proceedings and provide prevention education.
"I'm hearing [administrators'] stress and concerns," says Saundra K. Schuster, a lawyer with the NCHERM Group, consultants for higher education risk management. "Right now, they are terrified. They want to do the right thing but lack the pathways to do that. People ask me: 'Why do you feel schools should be addressing this at all? Let the criminal process handle it.' It's not an either-or. It's a both."
In the post-mortem era of institutions being legally responsible for students, Congress passed the Jeanne Clery Act, designed to increase transparency of campus crime in 1990. That was followed by the Campus Sexual Assault Victims' Bill of Rights, which required institutions to afford sexual assault victims certain basic rights, such as information about the outcome of a disciplinary action, and the law enforcement option.
The campus response to sexual assaults has also been shaped by the courts. In the late 1970s, a group of female students sued Yale University under Title IX, arguing that sexual harassment from professors denied them equal educational opportunities. They lost but, in 2003, another Yale student successfully made that case in a sexual assault civil suit.
In 2013, a group of student survivors founded Know Your IX to educate rape survivors about their rights and advocate for better federal laws and enforcement. For example, currently, the DOE's only penalty for Title IX violations is to remove all federal funding, a weapon so financially devastating it's never been used.
"These complaints almost always terminate in finding of no wrongdoing or a voluntary agreement promising to do better," says cofounder Dana Bolger, who became an activist after an Amherst College dean advised her to leave the campus until her attacker graduated. "In the same way campus administrators are telling victims to be patient, the DOE says wait for this school to do better. We are putting pressure on them to make those rights a reality."
Meanwhile, male students suspended or expelled for sexual misconduct have also sued universities, claiming a lack of due process. One organization representing the rights of the accused estimated that from 2006 to 2010, student accusers and the accused filed 262 claims.
Rhode Island schools are currently assessing the gaps in their practices. In May, Brown University President Christina Paxson announced her intention to make Brown a national leader in prevention, advocacy and response to campus sexual assault, beginning with a task force to review the school's current procedures. RISD is considering a partnership with Day One, the state's rape crisis center, for training and support services.
University of Rhode Island Dean of Students Mary Jo Gonzales acknowledges: "It's a balancing act: understanding the impact on student victims while ensuring the rights of the individual accused. One of the things we are conscious of is supporting all students in the process. The victim needs counseling; so does the individual being accused. We are not a criminal justice system."
Beyond new protocols or nail polish that detects the presence of date-rape drugs in drinks, advocates say a broader societal change is needed. In 2002, psychologist David Lisak coauthored a study on sexual aggression. The survey of nearly 2,000 college men found 120 men who self-reported acts of rape or attempted rape, but were never prosecuted. The majority were repeat offenders, averaging 5.8 rapes each.
"One of the goals is to change the norms around sexual violence, so that the individuals who would commit these kinds of acts are perceived as deviant, instead of fitting in nicely, as they do now," Lisak says.
Women remain the primary targets of prevention efforts, says Day One Executive Director Peg Langhammer. Drink less, party with a buddy, don't accept a drink from a stranger — good advice, she says. "What do the guys have to do? It has to be men calling on men to not tolerate it."
In May, as federal sunlight flooded the issue, female students at Columbia University took their Sharpies to the ladies' room. The names of four undergraduate men, dubbed "sexual assault violators on campus," began appearing on bathroom stalls — dividing the campus and making news.
Jenn David-Lang, another of the four Brown University activists who saw her alma mater take strides and earn praise for the changes it instituted nearly a quarter of a century ago, was shocked to read about it in The New York Times.
"Obviously, there's still so much room for improvement," she says. "It's strange to see the writing on the wall. But sometimes you need something old-school for people to see the power in it. It takes a lot to learn the lessons of history."
Ellen Liberman is an award-winning journalist who has commented on politics and reported on government affairs for more than two decades.