Reporter – Ruffled Feathers
From town councils to rallies, chickens draw crowds and inspire passions — both pro and con. But does the debate go deeper than fowl?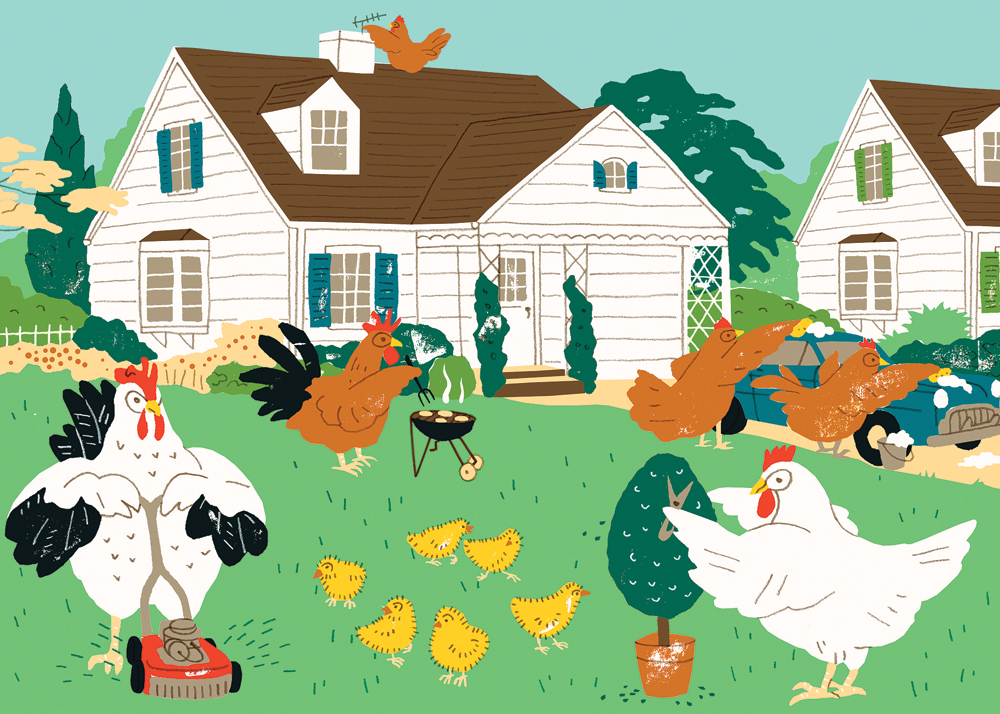 In the dappled shade of a maple tree, David Turcios, a lanky high school senior, and his instructor, Josh Lantzy, pore over a set of construction plans.
The MET school student's career goal is a job in construction management, so the DownCity Design project, which takes students through the entire process — from meeting with clients to designing a structure to studying the zoning ordinances to building and installation — seemed a perfect fit. Then Turcios, a city kid from Chalkstone Avenue, found out in February he would be building a chicken coop.
"I was like, what the hell? I never heard of chicken coops before. What's a chicken coop?" Turcios recalls.
By mid-May, three half-made variations sat in the school's side yard, each bound for a different Providence client: the Davey Lopes Recreation Center, Front Step Farm and backyard farmer Christine Chitnis. DownCity Design, a nonprofit that teaches young people how to design and build community projects, picked chicken coops because it was interested in contributing to Providence's growing urban agriculture movement, says founder Adrienne Gagnon, and building a henhouse added a life-science learning component to the project.
Amid the whine of power tools, Turcios concedes that what at first seemed "far-fetched," is "actually pretty cool."
"Knowing what chickens need, their sunlight requirements — and all of the laws," he says. "I didn't even know they had laws for all of that."
Increasingly, cities and towns have laws for all of that — laws that pack the council chambers, inspire passionate debate and launch protest movements — laws about chickens. In the last two years, six Rhode Island communities have weighed requests to allow chicken-keeping: Providence, West Warwick, Barrington, Woonsocket, North Smithfield and Cranston. Another ten municipalities already had livestock or nuisance ordinances that address domestic fowl.
For Providence, which started the recent clamor for the right to bear eggs, the hen ordinance was part of a strategy. In April, Mayor Angel Taveras released the city's environmental sustainability plan, which included the goal of ensuring that "every resident has access to safe, fresh, affordable, nutritious and culturally appropriate food, regardless of income or race."
"There isn't much fresher food than what comes from your own backyard," says Sheila Dormody, the city's director of sustainability. "The more people can be connected to where their food is coming from, the more awareness they can have in protecting the environment."
Humans began keeping chickens about 8,000 years ago. In the late nineteenth century, some United States cities began to outlaw the practice to improve sanitation. But many city codes were silent on the issue, and urban chickens were hardly remarkable.
About sixty years ago, the spread of refrigeration and advances in industrial egg production chased chickens out of the backyard. People bought their eggs and their leg quarters at grocery stores. Chicken-keeping was more likely to be confined to immigrant communities still tied to the husbandry practices of their countries of origin.
But in the last decade or so, chickens have come back into fashion. The trend has been variously tied to the rise of the slow-food movement, urban agriculture, locavorism — even Martha Stewart, who's been bragging about her exotic flock since the mid-1980s and famously used the hues of their eggs to create paint colors.
"We are in a society that wants more farm-to-table," says Douglas Stuchel, a chef and assistant professor at Johnson and Wales University. In July 2012, Stuchel persuaded the West Warwick Town Council to pass an ordinance allowing residents to keep chickens. "Chickens can grow in a small space, and live on minimal resources. They have a very small carbon footprint."
How many city homesteaders are trying their hand at raising chickens is unknown, because no agency collects the data. Rob Ludlow, owner of backyard chickens.com, an Internet meet-up spot which he describes as "the largest and fastest-growing community of chicken enthusiasts in the world," uses his website's exponential growth as a proxy. In January 2007, its forum had fifty members. Today it boasts almost 200,000 members who post about seven times a day, he says.
"For a lot of people, it's an evolution," says chickendiapers.com owner Ruth Haldeman, who has been selling chicken cloth slings since 2003. "They want fresh eggs, so they get the chickens. And then they find out that chickens are quite loveable and they have lots of personality. They bring them inside and so it begins."
But not everyone marks May 4 — International Respect for Chickens Day — on the calendar. The vast majority of Americans are still buying poultry products at the supermarket. In 2011, United States farmers produced 79 billion table eggs from a laying flock of 282 million birds. And there is a vocal slice of the population that does not relish the prospect of live chickens next door.
Ken Ayars, chief of the Rhode Island Department of Environmental Management's agriculture division, testifies on behalf of chicken-keeping ordinances all over the state.
"The arguments against it, so far, haven't been, to us, scientifically based. We recognize everyone won't approve it right away. But we will continue to support the movement, because we think it is important if we want to have a locally based food system in the future," he says. "It only takes one neighbor to create a lot of friction."
In April, after spirited deliberation, the Woonsocket City Council rejected a proposal to allow chicken-keeping. Alex Kithes, its biggest proponent, was forced to give away his flock.
"I sat there for a few minutes. I apologized to them that this didn't work out. It was very sad," he says. "I was called a criminal, naïve, a bully, a liar. One councilman suggested that we leave the city. It definitely seemed like they didn't listen to any of my arguments."
In Cranston, a similar ordinance passed, only to be wiped out by an executive veto. Mayor Alan Fung swears that he is pro-chicken, but more firmly anti-rat. The city is already battling vermin in some of its denser neighborhoods, and he feared that the availability of chicken feed would only exacerbate the problem. He's hoping that the city's move to automated trash bins in the next couple of years will cut off the rats' food source. Then, he would consider a pilot program, because one thing Fung learned last November, when the chicken ordinance shared the agenda with a proposal to make dramatic cuts to city employees' pension benefits, is that people really care about chickens.
"It floored me that more people got up to speak on the chicken ordinance than on the one that could sink the city," Fung says.
Maybe it's because, says Drake Patten, we weren't really arguing about chickens. Patten found herself in Superior Court after neighbors of Cluck!, a Providence farm supply store which would stock — among other things — chickens, alleged that she had not notified them of the hearing on her zoning variance, that the store would strain parking and devalue the neighborhood. The controversy sparked rallies in support and allowed headline writers to sneak puns into print like: "What the Cluck?" It was resolved in May, with a second zoning approval and an agreement between Patten and her neighbors.
An anthropologist by training, Patten sees human fault lines dividing those who view chicken-keeping as progress from those for whom it is a throwback, between those who want to fully engage in their food and those who prefer an arm's-length relationship.
"The anger, the vehemence, the level of fighting surprised me," she says. "But, as a country of immigrants, we have a mixed relationship with things that are old country. For many people, it's the notion: that's something we used to do, but now we don't. We're sophisticated. When you have chickens you have to be prepared to do things on the food production side, like, what happens when they stop laying eggs? Do you slaughter them? Are chickens pets or are they food? No one wants to think about that."
Ellen Liberman is an award-winning journalist who has commented on politics and reported on government affairs for more than two decades.