Reporter: Revolving-Door Redux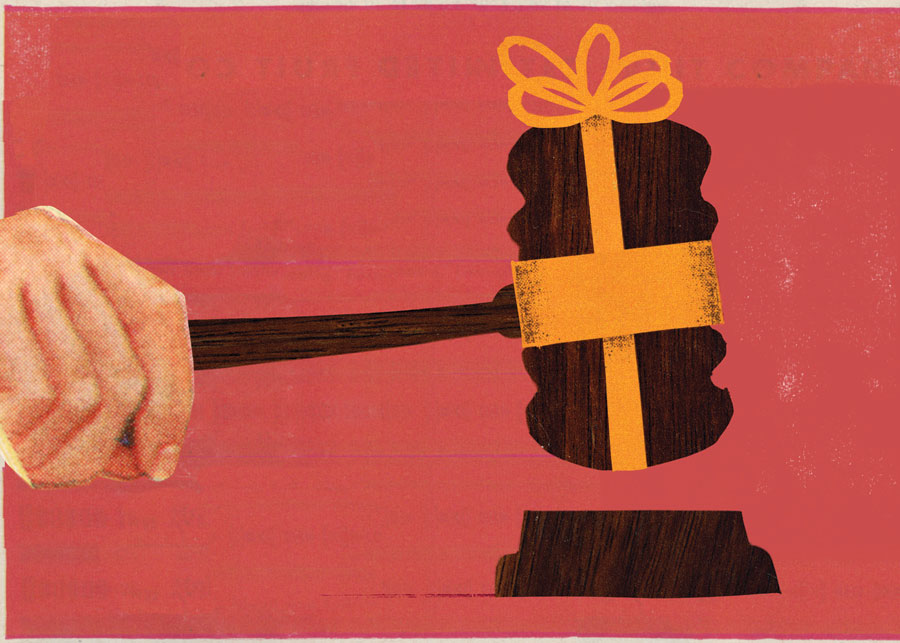 If Rogue's Island ever had a moral center, by 1994 it appeared to have collapsed entirely. From governor to mayor to judge, public officials rolled off the heights of power into the dustbin of disgrace at factory-production speed. In that year, former Governor Edward DiPrete and his son, Dennis, were indicted on bribery, racketeering, extortion and perjury charges for accepting kickbacks in exchange for state contracts. Former Supreme Court Chief Justice Thomas F. Fay teared up on the other side of the bench as he was pronounced guilty of violating ethics laws.
In 1993, he and his administrator, former Rhode Island House Speaker Matthew J. Smith, resigned from the judiciary in an enormous patronage scandal. In 1992, former Pawtucket Mayor Brian Sarault received a five-and-a-half-year prison sentence and retired Superior Court Justice Antonio S. Almeida got six years in separate bribery cases. In 1991, Family Court Judge John E. Fuyat resigned after admitting that he defrauded four banks and accepted loans from lawyers. Meanwhile, a special commission released its report on the collapse of the Rhode Island Share and Deposit Indemnity Corporation (RISDIC) and forty-five banks and credit unions. The report, "Carved in Sand," indicted the entire "system."
In this barrage of bad news, Right Now!, a coalition of good government, religious, business and environmental groups — including Common Cause Rhode Island — saw an opportunity. The General Assembly had already killed revolving-door bills, prompting the Rhode Island Ethics Commission in 1991 to adopt a code of ethics that, in part, banned members of the General Assembly from working for the state until one year after leaving office. But by 1992, the legislature had joined the reform movement — however reluctantly — approving a more comprehensive revolving-door ban.
Breaking the direct pipeline from the legislative to the legal chambers had been a goal of Common Cause since 1970. But judicial selection reforms failed in 1986 as a constitutional amendment and several times as a bill. Now, the public's resolve had hardened.
"The revolving-door process appeared to be about trading loyalty or a particular service for a job. It was not good for the state and it was blocking the way for others who were more qualified," says H. Philip West Jr., executive director of Common Cause at the time, who is now writing a book about the battle to root out governmental rot. "It was an election year. The General Assembly was in a rush to do something. People were still angry about RISDIC."
In 1994, the voters approved an amendment to the state constitution instituting a merit selection system by more than two to one. Under the enabling legislation, a nine-member Judicial Nominating Commission had three months to choose three to five qualified candidates to be presented to the governor for appointment in seven to ten days, depending on the court, with legislative advice and consent.
Twenty years later, the application of Democratic Party stalwart and Director of Administration Richard Licht to fill a vacancy on the Superior Court has some advocates wondering if the revolving door swings as freely as ever and if the fight to extract politics from judicial selection ever really succeeded. In October, the Rhode Island Ethics Commission issued an advisory opinion to Licht that paved his way. Commission Chairman Ross Cheit, a member since 2005, says the commission applied the revolving-door law as it was written: 
Licht is not a member of the governor's staff; he is a department head, who is specifically excluded from the list of officials required to wait a year before reentering government service.
"This is one of the situations where the advisory opinion doesn't tell the whole story," says ethics commission attorney Jason Gramitt. "Advisory opinions are the only visible advice we give. We get phone calls weekly asking us about ethics regulations, including on the revolving-door ban. When you tell them: 'No, you can't,' most people accept it. The only reason to come before the Ethics Commission is if you are fairly certain you are within the law and you want a public record of that."
Governor Chafee's attempt last summer to move state Board of Education Chairwoman Eva-Marie Mancuso into a $200,000 post as interim commissioner of higher education was an example. While the commission has the power to grant waivers in cases where "such exemption would not create an appearance of impropriety," it was clear that in this instance, the commission was not likely to do so. Mancuso withdrew from consideration.
"Revolving door is about people who go in and out of government. How much can we restrict former state employees to advance an [ethics] goal? That involves a tradeoff and whether the balance we have struck is the right one," Cheit says. Merit selection of judges is a different story, he says. "When someone in government helps someone else get a government job or benefit, that's cronyism, and the cronyism problem is way bigger."
The ideal of Rhode Island's merit selection system was to create an independent judiciary. Indeed, the process is more transparent: the nominating commission interviews candidates in public sessions. Letters of support are public documents. A 2010 study, conducted by Roger Williams University School of Law professor Michael Yelnosky, compared the characteristics of judges selected before and after merit selection and found that the courts after 1994 gained a bit more gender and ethnic diversity. Merit selection reduced the number of the judges who came directly from state government from nearly 72 percent to more than 56 percent.
But the original law's backers concede that in practice, it has fallen far short. Retired attorney Alan Flink, a former president of the Rhode Island Bar Association who was active in the Right Now! coalition, says that over the last twenty years, much of the law has been rolled back.
"I was seeking to develop a system where politics would be removed from this process," Flink says. "I have to admit that at this stage, I don't think you could devise a system where you could do that."
The tight deadlines for considering candidates and for the final selection were intended to discourage end-of-the-legislative-session horse-trading. But they have been routinely ignored by the commission and governors alike.
Former Governor Donald Carcieri waited a year to make some appointments. Instead of a rotating body of independent commissioners displacing out-sized General Assembly influence, the commission members have been infrequently replaced as their terms have expired; lobbyists and others with extremely close ties to the political leadership have been appointed.
Instead of a small pool of qualified candidates, in 2007, at Carcieri's request, the General Assembly agreed to allow the governor to pick from names on old lists going back five years.
Perhaps the most egregious end-run is the expansion of court magistrate positions from five in 1995 to about twenty-one. Magistrates perform many court functions, and the post is considered an inside track to a judge's job. But magistrates are not subject to merit selection.
State Representative Donna Walsh of Charlestown has been filing bills to subject magistrates to the judicial nominating process going back to 2002, when she was a state senator. After losing her seat to redistricting, Walsh resumed filing her bill in 2006, when she became a state rep.
"It's a battle I'm willing to continue fighting," she says. "I have a folder. Every session, I say the same things and I get no place."
Back in 1994, one-third of the voters opposed merit selection. Did they know something about the dynamics of political power that the reformers did not? Twenty years later, The Providence Journal ran an online reader poll along with a story about Licht's application: Will Richard Licht be appointed and confirmed for a judgeship? Sixty percent voted "yes." The results had no statistical validity, but they said everything about the citizenry's faith in laws designed to keep the insiders out.
Ellen Liberman is an award-winning journalist who has commented on politics and reported on government affairs for more than two decades.