Reporter – Paper, Plastic or Reusable?
Barrington recently banned plastic bags for two years — the first municipality in Rhode Island to do so. But waste experts say paper and reusable bags have their own issues.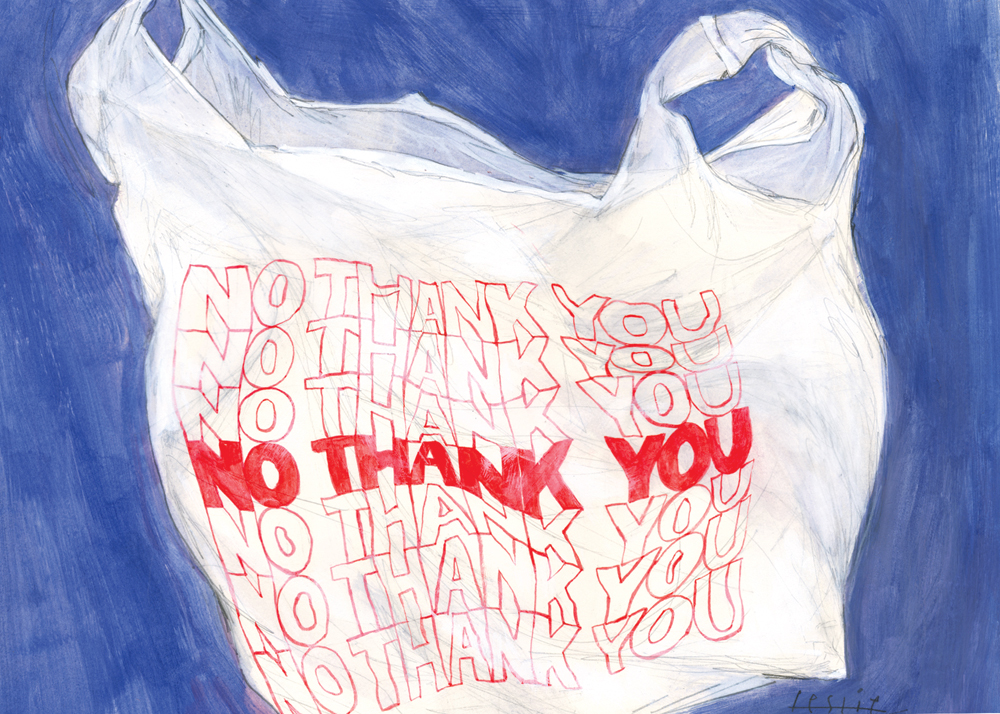 It's early Sunday morning, and Barrington is not yet awake. But Shaw's supermarket is ready — with classical music piped over the sound system, the smell of freshly baked bread and stacks of paper bags. In January, Barrington became the first Rhode Island town to ban plastic bags at the checkout, under a two-year ordinance that allows the Town Council to evaluate its impact. At 8 a.m., L.J. and Cynthia Henley are among the early birds straggling out of the store with their purchases in a paper bag.
"We like the ban," says L.J. "I'm very pro — because of the pollution going into the river. It's a pet peeve of mine, because I was always picking plastic bags off the sidewalk."
He smiles sheepishly at this paper bag. "Of course we left our reusable bags in the trunk. We have a trunk-full."
Invented in the 1960s, adopted by national grocery chains in the 1980s, polyethylene single-use carriers are ubiquitous today, according to a 2009 United States International Trade Commission report. American consumers used more than 102 billion in a single year; the annual worldwide estimate is upwards of a trillion.
About a decade ago, however, governments began to fall out of love with plastic bags. In 2002, Ireland imposed a tax on plastic shopping bags, and within a year, consumption dropped by 94 percent. Almost an entire nation had switched to cloth bags, and plastic acquired a social stigma. In other locales, plastic bags took on a more sinister aspect. That same year, Bangladesh outlawed plastic bags after determining that they had clogged drainage systems during two flooding events that inundated the country. To combat what the Chinese call "white pollution," China banned free plastic shopping bags in 2008. Currently, there are bag bans or taxes on single-use plastic bags in municipalities or countries in Europe, Africa, Australia and Asia.
San Francisco, with one of the nation's most aggressive recycling programs, became the first municipality in the United States to take aim at plastic bag waste. In 2007, it banned non-compostable plastic shopping bags. The Florida Department of Environmental Protection's Retail Bag Report listed more than eighty communities that have enacted some type of plastic bag ban. Washington, D.C., Los Angeles and Seattle are the largest. Others have opted for ordinances that mandate or encourage plastic bag recycling; still others have also begun to discourage single-use paper bags with fee ordinances.
In New England, the land of "Use it up, wear it out, make do or do without," Westport, Connecticut, is the only other municipality to ban plastic bags. While no statewide bans have passed, legislation has been introduced in more than two-thirds of the nation. The Rhode Island General Assembly has been considering laws aimed at reducing plastic bag consumption since 2008. The latest would ban plastic bags at stores with annual gross sales of more than $5 million and require a 10-cent fee for paper bags.
Jennie R. Romer, Atlantic region director of the Clean Seas Coalition and founder of plasticbaglaws.org, a virtual clearinghouse for information about plastic bag legislation, says she fields inquiries from cities and towns all over the country thinking about joining the movement.
"It tends to be a concern in coastal communities. A large component of plastic-bag pollution is windblown litter that winds up in waterways." Romer says. Once enacted, she says, "there isn't much pushback. People adapt to them quickly. We're seeing changes in consumer behavior without consumers having many complaints about it."
In Barrington, the ordinance began as a recommendation from the Conservation Commission. At a town meeting to discuss the issue, Shaw's supermarket, the town's largest retailer, then owned by SuperValu, surprised officials by supporting it.
"As an organization, we are committed to educating customers on single-use bags and encouraging them to reuse or recycle them. The Barrington store was already one of the first recognized as a zero-waste store," says spokesman Steve Sylven. "It was an opportunity to test removing plastic bags from the store."
Councilwoman Kate Weymouth was an avid proponent for environmental reasons and thought that Barrington could lead the way.
"We aren't going to solve any environmental problem in a town of 17,000 surrounded by towns that continue to have plastic bags," she says. "But it's something very doable at a municipal level."
Councilman Bill DeWitt was the lone skeptic.
"It's a nice thing to say we did it," he says. "At the end of the day, I'm not sure we've helped the environment. The replacements — paper bags and reusable bags — they each have their own set of environmental issues. We needed more conversation."
What appears beyond debate: as litter, plastic bags are harmful in the environment. Plastic photo-degrades, meaning that exposure to light breaks it down into tiny pieces. The Algalita Marine Research Institute based in Long Beach, California, draws water samples from oceans all over the globe and analyzes them for plastic content. The Great Pacific Garbage Patch — an accumulation of mostly land-based plastic debris borne by the currents into the North Pacific Subtropical Gyre — has gained currency as a dramatic symbol of plastic pollution.

What's more worrisome, says Algalita Executive Director Marieta Francis, are what ocean water samples reveal.
"Plastic is dispersed all over the surface of the ocean," says Francis. "We've been sampling since 1999 and it isn't getting any better. We had one particular sample that contained six times more plastic than zooplankton."
The plastics industry argues that the alternatives — paper and reusable bags — are worse. Plastic bags take up less space in landfills, use less oil in production and transportation than paper or reusable bags and are recyclable.
"There's so much misinformation out there. It makes for bad policy. There's no scientific data to support bag bans. It's emotion," says Donna Dempsey, a spokeswoman for the American Progressive Bag Alliance. "We advocate and educate with facts."
And when words fail, industry groups file lawsuits. The Save the Plastic Bag Coalition has sued at least ten California communities over bag bans.
Sarah Kite, Rhode Island Resource Recovery Corporation's director of recycling services, can sympathize with the confusion of the environmentally minded.
"There's no independent study doing a life-cycle analysis that's not loaded with someone's agenda," she says. "Each type of bag has its issues."
Bags that go into the landfill stay in the landfill — more or less intact. Encased in a plastic liner and deprived of air and water, a landfill's contents don't break down. But fewer plastic bags are better for other reasons, she says. When people dump unknotted plastic bags, they get loose and fly away. When people place plastic bags in their recycling bins, they wrap around the sorting screens, bringing production to a halt while workers cut them off.
"It's an operational headache on the landfill side and it's an operational nightmare at the recycling center," Kite says.
Plastic bags are recyclable — but not enough people make the effort to drop them off at large retailers, which are required in Rhode Island to provide collection boxes. Nationally, the United States Environmental Protection Agency reported that in 2010, only 12 percent of plastic bags and wraps were recycled.
With the Barrington bag ban only months old, and a change in ownership for Shaw's, Sylven says it's premature for the supermarket to determine its effect on the store.
Cynthia Henley says she doesn't hear any complaining when she stands in the checkout lines. But there is one downside:
"We've lost our supply of dog poop bags," she says.
Ellen Liberman is an award-winning journalist who has commented on politics and reported on government affairs for more than two decades.