Reporter: Breaking the Payday Loan Cycle
Critics of payday lenders say the practice preys on the poor, while the industry argues its rates are better than those of some banks.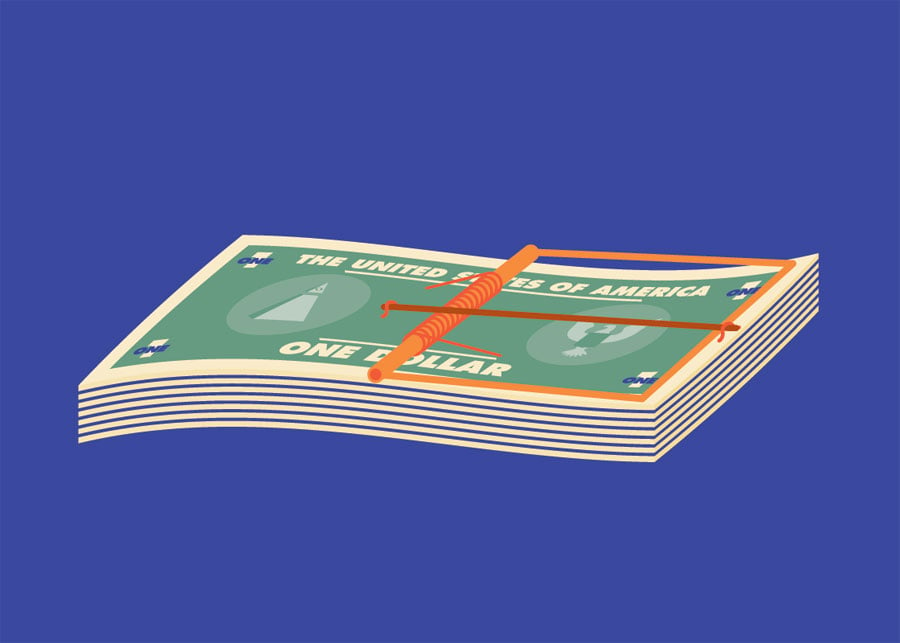 In 2008, Joy Young and her newly immigrated husband were struggling, but making it. She was an administrative assistant for a community nonprofit; he was a Job Lot cashier. Joy owned a home in Woonsocket that she inherited in 1999. Together, they stretched their $30,000 annual income to cover their weekly living expenses and their monthly payments on a 2004 home equity loan that financed house repairs and a used Ford Expedition.
"It was very tight," she says. "You couldn't save."
And then, the SUV's muffler broke. That's all it took to break the bones of their budget. Young thought she could mend things with a quick fix. On the strength of her employment and her bank account, Advance America lent Young $450 — to be paid back in two weeks, plus 10 percent interest of $45. Two weeks later, Young paid her $495 debt. And borrowed again, because now she was a little further behind than she was two weeks earlier. One loan turned into two, then three. By 2010, the Youngs were juggling four payday loans.
Every two weeks, Young would spend two hours on a Friday afternoon, waiting in line to pay off her loans and borrow again, cringing inwardly when she ran into the clients she had helped. Every month, the Youngs and Advance America shuffled $2,000 back and forth, with the latter pocketing $360 in fees.
"Every time I got another loan, I thought it would help me in the short term," Young says. "But there was no way out. I felt like I was in prison. Any time I would talk about my story I would start to cry. It has been a horrible, horrible last few years."
On the other hand, the last few years have been wonderful for the payday loan industry — lending $40 billion in 2010, with revenues of $7.4 billion, according to a 2013 Federal Reserve Board report. Payday loans are expensive, short-term consumer loans, collateralized by a post-dated check or direct access to the borrower's bank account.
The Great Recession, income inequality, depressed wages and a political system too riven to respond has created a thriving marketplace for the purveyors of quick cash. Today, the Federal Deposit Insurance Corporation estimates that nearly 5 percent of all United States households have taken out a payday loan. In 2012, Rhode Island's two payday leaders made 203,954 loans totaling more than $78.6 million, according to a preliminary Department of Business Regulation report.
Payday lending came to Rhode Island in 2001, when the General Assembly enacted a bill that created a new type of loan called a "deferred deposit transaction." Technically a form of check cashing, the deferred deposit transaction permitted a maximum of 10 percent interest: a 260 annual percentage rate (APR).
In 2005, the General Assembly stepped on the gas. New legislation sponsored by, among others, Attorney General Peter Kilmartin, then a Pawtucket state representative, increased the interest rate to 15 percent; increased the size of the check from $300 to $500; and reduced the loan's term from fourteen to thirteen days, raising the APR to up to 280 percent. The new law changed the definition of a rollover to effectively eliminate the old cap of one rollover.
This was in marked contrast to national policy trends, says Diane Standaert, senior legislative counsel for the Center for Responsible Lending. "The trend has been to rein them in. Since 2005, no new state has legalized payday lending. Rhode Island is the only New England state that allows a 260 percent APR on a fourteen-day loan. It is definitely an outlier."
Twenty-one states have eliminated or significantly curbed the practice, she says, because Young's experience is not unusual; it is literally a page from the industry's handbook. In July, ACE Cash Express agreed to pay $10 million in fines and refunds to settle allegations from the United States Consumer Financial Protection Bureau (CFPB) that it used "false threats, intimidation and harassing calls to bully payday borrowers into a cycle of debt."
The CFPB released a graphic from ACE's employee handbook titled "The Loan Process," depicting a five-step circle of new loans to pay off old loans. Step three: "The customer exhausts cash and does not have the ability to pay."
The bureau's statistical analysis of fifteen million payday loans made from 2011 to 2012 found that more than 80 percent are repeat transactions; half were in a sequence at least ten loans long.
"Payday loans are designed to create a long-term debt trap," Standaert says. "That is borne out over and over again from empirical data."
In 2010, legislation knocked the interest rate back down to 10 percent, resulting in APRs that range from 260 to 280 percent, depending on whether the loan is thirteen or fourteen days. In 2011, Warwick State Representative Frank Ferri began filing bills to move these loans under the laws governing other small loan lenders.
"It never got voted out of committee again," says Ferri, who is now running for lieutenant governor. "Whenever I had a meeting with leadership, the argument was: Where are these people going to go?"
In 2009, Brown University students founded the Capital Good Fund, a microfinance institution that began by extending small loans to entrepreneurs and individuals. Last October, the nonprofit expanded its consumer loan business with a line of credit from Navigant Credit Union and a $57,000 grant from the United Way of Rhode Island. United Way CEO Anthony Maione says that increased calls to its 211 Financial Assistance line drove the decision.
"We wanted to see if we could develop an alternative," Maione says.
The Capital Good Fund opened a storefront in Woonsocket, where Advance America has two, offering small loans at 30 percent interest, with a twelve-month term. Borrowers also receive financial counseling and a chance to build a good credit history, says executive director Andy Posner. From ten loans a month initially, the Fund is now making thirty-five.
"[The payday lenders] are doing 10,000s of loans and we are doing in the 100s. But we are piloting everything here and building an infrastructure to scale up," Posner says. "My goal is to put them out of business or force them to lower their prices. Either one is a victory for me."
The battle will more likely be joined on Smith Hill.
Advance America Senior Vice President Jamie Fulmer defends his company's interest rates, pointing out that a bank's fee for a bounced check is typically three times the $10 interest on a $100 loan. Payday lenders offer valuable services that "operate under the toughest laws," he says. "You have to compare our fees to the out-of-pocket costs and the APRs of all the other competitor options, most of which are often more expensive. As noted by the CFPB, overdraft protection products could have APRs of over 17,000 percent."
The Rhode Island Payday Lending Reform Coalition, which includes labor, social welfare organizations, municipalities, church and minority groups, argues the real value is draining away from the state. Coalition co-chair Margaux Morisseau cites an Insight Center for Community Economic Development study showing that the net economic effect for Rhode Island in 2011 was a $1.6 million loss.
"This is absolutely an economic issue," she says. "This bill has a record number of cosigners. Everyone is at the table. But until the leadership decides this is important, they will do nothing."
Kilmartin, who said in an email that he had supported the 2005 legislation "to grant greater access" to credit for low-income borrowers shut off from traditional sources, now says, "the General Assembly should enact legislation to better regulate payday lending companies and lower interest rates to ensure they are not gouging the consumer and victimizing those who continue to struggle through this slow economic recovery."
About a year ago, Joy Young was weeks away from foreclosure and rolling pennies to make up the last few dollars of her payday loans. With help from the Capital Good Fund, she was able to pay off three of them and was slowly retiring the fourth.
"I want to shout it from the rooftops: Free at last."

Ellen Liberman is an award-winning journalist who has commented on politics and reported on government affairs for more than two decades.