Reporter – A Heady Brew
Rhode Island has relied on a three-tiered system to produce, distribute and sell alcohol. Brewers and wineries want to cut out the middleman, but have met stiff industry opposition.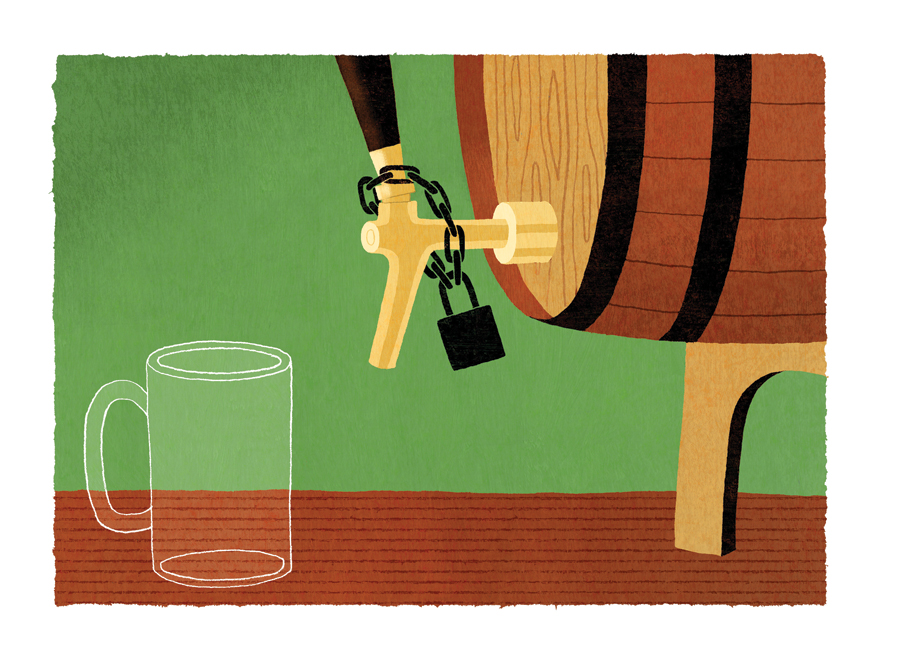 Exeter farmer Matt Richardson took a sip from a bottle of Sam Adams beading in the July sun and surveyed his hopyard. Ocean State Hops is a modest enterprise: 400 plants on a 200-by-eighty-foot patch climbing twelve-foot trellises in neat rows off Route 2.
Richardson and his brother-in-law, Joel Littlefield, began growing hops in 2007 on a lark. Six years later, the thirty-plant experiment morphed to its present size, with vacuum-sealed bags of handpicked, dried hops trucked to Aquidneck Island in August, where Newport Storm brewery uses them in its India Point Ale.
At this point, Ocean State Hops is a break-even proposition "on a good year," Richardson says. But Richardson and Littlefield dream of a day when the hops — a part-time business for the pair — might actually produce a profit. The money, they determined, was in the final product, instead of one ingredient. And so, with the optimism of the innocent, they asked their local legislator to sponsor a bill modeled on longstanding legislation that allows local vineyards to sell limited quantities of their wine to the public directly at the vineyard.
"I thought it was a no-brainer," Richardson says. "I thought it was going to be as simple as asking our representative to put in a farm-to-brew bill. And that's how we found out about the whole liquor lobby thing. They slam the door on your ideas."
Richardson is hardly the first spirited entrepreneur to see his hopes dashed against the monolith of the three-tiered system. Surely, he will not be the last.
By the time Germany's Oktoberfest celebrated its 100th anniversary with 120,000 litres of beer in 1910, the temperance movement in the United States was gaining steam. Workingmen's saloons, which flourished after the Civil War, became a particular target of Prohibition proponents. Many were "tied" establishments, meaning the tavern owners were front men for brewers to exclusively push their products. These bars vied for customers with inducements such as free lunches, freely salted to encourage thirst. The reformers succeeded only briefly in shuttering the beer joints altogether. Breaking up the manufacturer and the retailer has proven to be a more lasting accomplishment.
In December 1933, America's dry experiment was officially declared a failure. Passage of the Twenty-First Amendment ended Prohibition and allowed states to regulate alcohol. A three-tiered system, with a distributor to separate the manufacturer and the retailer and to collect the state excise taxes on alcohol, became the new regulatory model.
"It's a good system," insists Brian A. Goldman, a lawyer and lobbyist representing the Alcoholic Beverage Wholesaler Dealers Association of Rhode Island. The distributors act as guardians against the pre-Prohibition extremes. "It has accountability. Locally, we collect and pay the state excise tax. Likewise, at the retail level, if retailers sell alcohol to a minor, they can lose their license and be closed down. When one part of the industry gets a black eye, we all do."
Rhode Island's three-tiered system may have atomized the chain of distribution, but it has also split a single monopoly in two. While there are only a handful of small wineries and breweries, there are many more retailers and a few large wholesalers organized into two, more powerful groups who zealously protect their turf on Smith Hill. On the retail side, for example, Rhode Island prohibits liquor retailers from owning more than one outlet, so no chain liquor stores or alcohol sales at large supermarkets and big box outlets.
Attorney Robert Goldberg, who lobbies on behalf of the United Independent Liquor Retailers, explains: "It's one store, one family. It's usually their entire livelihood and they are dependent on the structure working. Should there be radical change to the system, their stores would be wiped out overnight by some of the pieces of legislation."
Industry novices describe a system in which, each session, the liquor lobbyists decide which bills — if any — can pass. (The lobbyists dispute this.) Even what appears to be a proposal for a slight modification to the current system, they say, can draw stiff opposition, with warnings about the unintended consequences that can lead to a global giant like Gallo wines or Budweiser crushing local businesses. State Senator Dawson Hodgson, who, as Richardson's representative in Exeter sponsored the farm-to-brewery bill, says he was flabbergasted to see that and a second bill, which would ease the restrictions on wineries advertising their tastings, killed with little discussion.
"I explained how each bill was designed to foster a domestic business in Rhode Island," he says. "The tenor of the testimony was clear: We have our own deal. Don't be messing around in our area. I felt as though I walked into the liquor lobby buzz saw."
The eager beavers at Pawtucket's Bucket Brewery arrived at the state Department of Business Regulation (DBR) ready to license themselves as a manufacturer and a distributor. Officials there kindly explained that they couldn't do that.
"We looked at the laws. They are vague and they could be interpreted as allowing us to self-distribute," says Nate Broomfield, president and co-owner.
But the new generation of young vintners and brewers has been chipping away. This past session, after five years of lobbying, the brewers gained the right, like wineries, to offer tastings and sell their products directly to visitors to their facilities. Artisanal beverage-makers, like John Nunes of Newport Vineyards and Brent Ryan of Newport Storm, say their businesses can't survive without it.
"We have no interest in being the retail store for our beer," says Ryan. "When people visit the brewery we teach about our products. Now they bring something we made back with them, and when their friends come over, they can say: 'You have to try this beer.' That's the kind of marketing that small brewers rely on."
But this year's most spectacular legislative victory went to Carolyn Rafaelian, owner of Alex and Ani. In a move that left her peers breathless with admiration and frustration, Rafaelian became the state's sole manufacturer legally permitted to sell her product at her separate retail locations. Last year, Rafaelian purchased Sakonnet Vineyards as part of her company's transition from a jewelry company to a "lifestyle" brand. Rafaelian wanted to sell the local wines at Teas and Javas, the companion cafe-bars to her jewelry stores. Like other newcomers, she wasn't aware of the restrictions. Unlike other newcomers, Rafaelian is the state's current poster child for successful entrepreneurship, and in a matter of months, got a special bill carving out a specific exception for the holder of a license "located at 162 West Main Road, Little Compton, Rhode Island."
Special legislation like that has led some to question the sanctity of the industry trinity. In 2011, Washington became the first state to jettison the three-tier system, after voters approved a proposition that ended it. In Rhode Island, there's been less radical talk among legislators that perhaps it's time to take a comprehensive look at the system with an eye toward making it more flexible towards homegrown business and less ad hoc, Goldberg says.
"That would be a big process, and it would be pretty complicated," says Louis DiQuattro of the Department of Business Regulation. "There's regulatory and economic development issues. Do you want to talk about the whole delivery system? We don't have chain liquor stores. Is that hurting the consumer? If we went that route, we'd hurt all those little shops. It's a difficult balance."
Richardson and Littlefield's education in the alcohol business may have been nasty, but they plan to try again next year. Someday, they hope to develop their own brew, sold right on the site of their Exeter farm.
Ellen Liberman is an award-winning 
journalist who has commented on politics and reported on government affairs for more than two decades.