Reporter: A Foundation for Recovery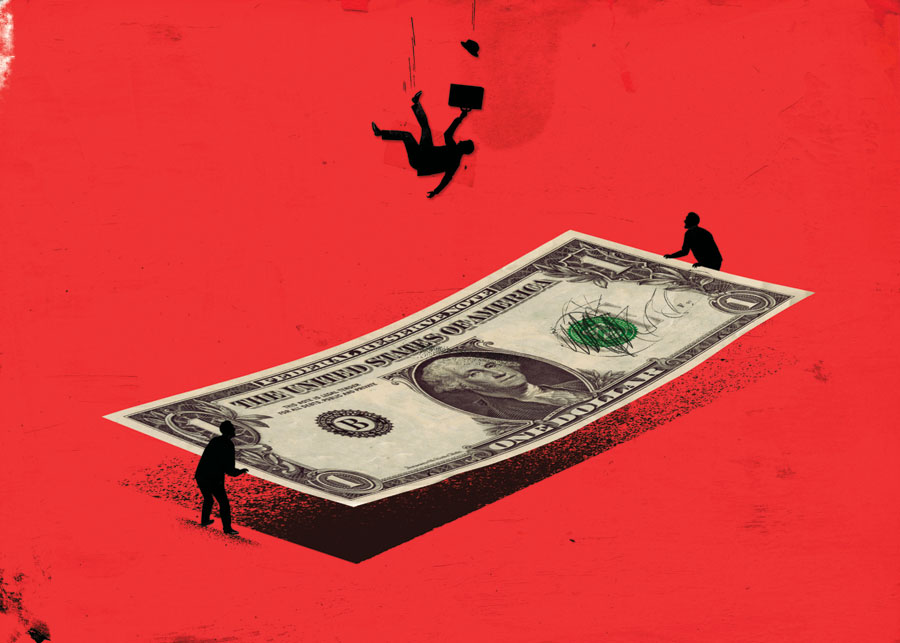 Steven J. King wheels around Quonset Business Park's wide boulevards in the corporation's maroon van, pointing out building expansions in process and the hardtop expanses where Porsches and Volkswagens are unloaded from freighters, to be accessorized before they're trucked to dealerships across the Northeast. In the place where A1-Skyraider fighter planes once trained to protect the United States from a German invasion, Quonset Point welcomes invasions of gleaming new German automobiles every week. It's been a top-ten foreign auto importer since 2011.
"Things are looking up," says King, managing director of Quonset Development Corporation (QDC), as he passes a fleet of parked cars in their chalk-white plastic exoskeletons. "We've done well not to lose anyone in the downturn, and we saw growth with our existing tenants."
Quonset Business Park is one of the state's quietly efficient engines of economic development. Retail shops and a grocery store front the campus. The airport and the cargo port hug the shoreline in the rear. In between, the 3,207-acre parcel at the north end of North Kingstown is home to 175 companies, situated on lots separated by stands of trees and adjacent to recreational amenities like a public golf course, bike path and sandy beaches.
Quonset Business Park is the epitome of a public-private economic development partnership, with parcels owned by the state, the federal government, the town, the QDC and some private companies. While the corporation funds its operations entirely from its lease income, the state and federal governments have invested heavily in its success: $665 million since 1980, in infrastructure and environmental clean-up. Private companies have invested another $317 million since 2005. The result is more than 9,500 full- and part-time jobs.
"We have invested a lot in providing a platform for business to be successful," King says.
The Quonset Business Park could be seen as both a reflection of, and a model for, the state economy. As the General Assembly reconvenes this month to again grapple with policy decisions designed to improve the state's economy, legislators may do well to ponder its investment in Quonset's transition from a defunct military installation to a solid jobs generator.
According to the New England Economic Partnership (NEEP)'s forecast for 2014, the state is slowly improving but still struggling to recover from the effects of the 2008 recession. In November, Rhode Island still boasted the highest unemployment rate in New England, at 9.2 percent in October. In the second quarter of 2013, 3.5 percent of mortgages were in foreclosure. Median household income has declined. The poverty rate has increased. A study by EMSI, a private economic modeling company, found that Rhode Island was the only state to lose middle-wage jobs from 2010 to 2013. College-educated young adults are decamping to find work elsewhere.
Despite the negatives, there are signs of a modest rebound. NEEP's fall outlook cites the steady increase in demand as measured by the growth in net general sales and gross receipt taxes; the rise in the number of jobs from 459,100 in 2010 to 468,100 in August 2013; and the expansion of the Real Gross State Product to 1.4 percent in 2012, after no growth the previous year. NEEP concludes that the conflicting indicators augur an economy with "significant challenges."
"If you put these pieces together," says Bryant University associate professor of economics Edinaldo Tebaldi, a co-author of the report, "the economy is growing, but not growing at the pace we need to turn things around."
The turnaround strategies vary widely. Last session, the General Assembly touted as its biggest achievement a restructuring of the state Economic Development Corporation (EDC). The state's failed $75 million gamble on 38 Studios, Curt Schilling's video game development company, prompted a package of bills to replace the quasi-public EDC with the Rhode Island Commerce Corporation in 2015 and move the agency under the new Executive Office of Commerce, headed by a new Secretary of Commerce. The commerce secretary will run daily operations, guided by a board of directors under performance benchmarks. The legislation added a member of the Governor's Workforce Board and created a capital finance subcommittee, to write loan guidelines, principals and processes for all loans.
Finally, the legislative package would create a nine-member Council of Economic Advisors to gather economic data and advise the governor, the General Assembly and the Secretary of Commerce on economic matters.
Republican Brian Newberry and Democrat Jan Malik floated the idea of creating jobs by abolishing the sales, food and beverage taxes, which account for about $900 million in state revenues. A 2013 report from the conservative Rhode Island Center for Freedom and Prosperity claimed near-magical effects: 25,000 new private-sector jobs, reduced unemployment and hundreds of millions in municipal tax revenues, new capital investments and other state taxes and fees. Malik's bill failed, but a commission to study the state sales tax sprung to life and began meeting this fall.
For some, neither radical nor cosmetic surgery is the right prescription.
A 2012 report found that Rhode Island, with 40,000 manufacturing jobs, led the nation in job losses in that sector over the previous ten years. In 2014, Bill McCourt, executive director of the Rhode Island Manufacturers Association, expects the state's manufacturing companies to maintain those jobs and grow slightly — but not because of state policy interventions. Instead of dramatic action, he says, what about edging Rhode Island's cost and tax structure more in line with its neighbors?
"What we find is that we are slightly higher than a lot of other states on a wide range of competitive factors. The culmination of those little variances end up meaning a lot," he says. "I honestly don't think there's a home run out there. It's a lot of strategies coming together."
Strategies that have been adequately vetted, he adds. The 2010 personal income tax reform that slashed the top rate while eliminating deductions meant that many small business owners, who pay personal rather than corporate income taxes, had a higher tax bill, he says.
University of Rhode Island economist Leonard Lardaro, who has been analyzing state trends since 1995 with his Current Conditions Index, thinks that is a perennial problem.
"We've all heard the arguments to eliminate the sales tax. Their models are ideological. If you lower taxes, you move to heaven. If you raise taxes, you go to hell," Lardaro says. "Where are our model-based estimates? The special interests always have analyses. Even if they're horrible, the state has nothing, so the horrible analyses take on a life they don't deserve. We need in-house due diligence, so that we are not flying blind."
Governor Chafee, who unsuccessfully opposed the 38 Studios deal and unsuccessfully proposed cutting the corporate income tax, called the EDC restructuring legislation "window dressing."
"That was nothing significant in my view," he says. "Just cover for bad decisions on 38 Studios. I've been very consistent in saying that government sets the table for a good economic climate. We provide good schools, roads and bridges. We treat the wastewater efficiently. Once you provide an atmosphere of stability and consistency, business can then invest and that's how you build an economy."
As it so happens, that is how the QDC approaches economic development. King cannot travel the country a la Texas Governor Rick Perry, tempting new tenants by trash talking other states and bragging about his low taxes. But he can offer them efficiency and predictability. The corporation has already taken care of the preliminary site preparation and streamlined the permitting process, so that new tenants can break ground three months after signing a lease.
Quonset Business Park still has thirty-five vacancies, and King says that the inquiries have picked up a little.
"People always ask me: 'What industry are you going after?' I say: 'All of them,' " he says. "But our strongest strategy is to help our established businesses grow."
Ellen Liberman is an award-winning journalist who has commented on politics and reported on government affairs for more than two decades.