Reporter
The recession is fading in Rhode Island, at least for those at the top. But the state needs to think long-term if the jobless are ever to join the upswing.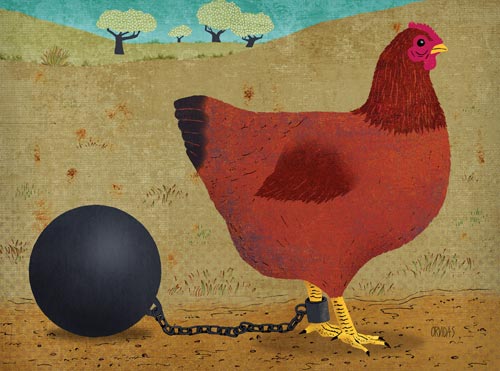 Rosedale Landing unveiled its $13.5 million restoration at a Wednesday afternoon luncheon. The seventy-year-old Cranston apartment building had been restored to its Art Moderne glory and the lawn, flush with spring's first green, rolled uninterrupted to the sun-lit Narragansett Bay. It was a beautiful day to sell real estate. Sally Lapides, doyenne of the high-end market, surveyed the seventy-five brokers inspecting the units with their requisite stainless-steel-and-granite kitchens and thought: "This is nice."
Nicer than it's been for a while. "It was a contrast," she recalled. "We've seen prices stabilize and increase slightly — the kind we see in a normal market. The market still has legs. It's exciting to see the energy back in the business."
Susan Jarosz, on the other hand, is desperate for a little slack. She is a veteran of the market's other end, and since the collapse of the housing bubble and the state economy, the 
seventy-two-bed Family Resources Woonsocket Emergency Shelter had been packed.
"It used to be an emergency shelter." She barks out a mirthless laugh. "My shelter is full. I have a waiting list and people calling daily. We are a ninety-day shelter program, and we have families staying six to nine months, some up to a year. And it's because of the economy — they can't move and I can't help anybody else."
In May, the state revenue estimating conference — the Senate and House Finance committee's twice-yearly economic forecast — revised its fiscal year 2010 estimate upwards by $78.3 million. Sales taxes had increased and the deficit was expected to shrink by about $75 million in the next two years. State leaders welcomed the reversal in momentum as signs that Rhode Island's deep recession was at an end. But the tales at the margins of the housing market illustrate sharp divides in the Rhode Island economy right now: life at the top, a squeeze in the middle, and unremitting stress at the bottom.
Economists generally agree that Rhode Island's economy is gathering some steam. University of Rhode Island economics professor Len Lardaro, who has been posting a monthly current conditions index since 1995, says that March saw the strongest indicators since May 2007. Lardaro's calculation combines twelve different factors, including consumer confidence, single-unit permits, new unemployment claims and retail sales.
"We were dead as a door nail in 2008," Lardaro says. "In 2009, we regained a pulse. We were in third gear when the rain started. Current conditions before the floods showed that we were close to the bottom. That was the cruelest irony."
For example, March saw its eighth drop in new unemployment claims in the last nine months — a whopping 56 percent. And permits for single-family homes surged that month by 63.4 percent compared to a year ago, largely due to a small number of permits last March.
In its most recent forecast, the New England Economic Partnership, a nonprofit that issues twice-yearly regional snapshots, has also projected that Rhode Island will plod out of recession.

"The businesses are beginning to buy again, the banks are lending money and companies are expanding," says URI business professor Edward Mazze, who prepares the Rhode Island forecast with Edinaldo Tebaldi of Bryant University. "You begin to see sectors come back."
Retail sales had been up two months in a row before the April floods, which temporarily shuttered the Warwick Mall. The mall is undergoing a major facelift, with anchors Macy's and JCPenney taking advantage of the damage to refurbish their locations. Mall co-managing partner Aram Garabedian would not say how much the renovations cost, but he was characteristically buoyant about retail's future prospects.
"All these people spent money on carpentry, plumbing, electrical. A lot was done with Rhode Island employees. The new Warwick Mall will be successful," he declared. "I am truly upbeat. The stock numbers bounced up, the 401Ks started coming back, people got more confident and started spending."
Hotel revenues declined in 2009 from the previous year, but Dale Venturini, president of the Rhode Island Hospitality Association, sees green shoots in 2010.
"I'm very optimistic. The wedding market is good," she says.
Even housing is beginning to turn around. Lapides says the business relocation department of her real estate company, Residential Properties, is busy, a sign that companies are hiring. Employment 
is the single biggest driver of the housing market, says Richard Godfrey, executive director of Rhode Island Housing.
"All signs are pointing upward," he says. "Unemployment is not getting worse, and as employment picks up, the housing market will pick up."
But there are signs that the middle still struggles. The state may have gained 600 jobs in the first quarter of 2010, but it lost 40,000 jobs since 2006. The strains of unemployment — at about 12.5 percent in April — and underemployment — about 20 percent — can be found from the state's docks to the doctors' offices. Boat registrations have been dropping since 2007, from 43,734 to 42,301 in 2009. The state Department of Health's cancer screening program for uninsured women went bust in March. The program, funded by an annual $1.5 million federal grant, saw expenditures explode with an influx of patients.
"We've been doing this program for eight years and this is the first time it's happened," says Department of Health spokeswoman Annemarie Beardsworth.
The United Way's 2-1-1, a call center that links Rhode Islanders to health and human service programs, has seen a steady uptick in its numbers and a change in its clientele. In the first four months of this year, the center fielded 2,000 more non-flood-related calls than the same period in 2009.
"It's the middle class," said Cristina Amedeo, 2-1-1 director. "One year ago they had a job that paid them pretty well. Now they don't have a job or a job that pays half of what it paid a year ago. They thought the safety net was there and now they are the ones living off it, and they've figured out the safety net is pretty slim."
And stretched tighter than ever, say human service agencies. April saw the highest one-month number for emergency shelter occupancy — 1,300 people — in the twenty years the Rhode Island Coalition for the Homeless has kept records. The number of people served at emergency food pantries over the last two years rose from 35,500 in March 2008 to 58,000 people in March 2010. Food stamp enrollment has likewise skyrocketed, from 85,000 in March 2008 to 140,000 in March 2010.
"They say a recovery is on the way, but the people we serve don't see any signs," says Andrew Schiff, CEO of the Rhode Island Community Food Bank.
What is more worrisome, say Mazze and Lardaro, is the long arc of the state's economy. Right now large federal infusions of cash, from the stimulus package to the $43 million Rhode Island received in mortgage foreclosure prevention funds, have propped us up. But once the federal dollars stop flowing, old problems will resurface: the state's tax and cost structure, the redundancies in municipal services, the state deficit, the $4.3 billion unfunded pension liability, and nothing to replace the state's lost manufacturing jobs.
"We really have no economic development strategy," says Mazze. "We're still praying that large companies move in."
Lardaro says the lack of political will to solve these problems could throw the state back into recession once the stimulus money is gone: "All of this is coming to a head because we've never done anything about it — the bad decisions and non-decisions. Politicians always look at the glass as half-full. To an economist, it doesn't matter how you look at the glass. The only thing that matters is the size of the glass. It's not just bad luck that we got here. We earned it."
Ellen Liberman is an award-winning journalist who has reported on politics and government affairs for television, public radio, newspapers and magazines for more than two decades.