Reporter
One year later, the global waiver that allowed Rhode Island to go its own way on Medicaid has patients worrying that budget cuts, not innovation, are the prescription.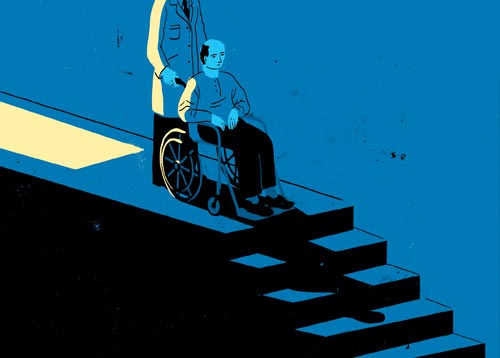 Roger Williams Medical Center's HIV Complete Care Program is a modern medical miracle. With the aid of case managers, interpreters, nutritionists and other support staff, Dr. Gail Skowron keeps HIV from immobilizing her 
patients. The program serves Rhode Islanders who otherwise would become much sicker without people to get them to their doctor's appointments, or help them eat right or make sure they stay on their meds.

"For $2,000 per patient per year, I essentially keep them out of the hospital, covering things that aren't covered by insurance," Skowron says. "We have a clear consensus: Good primary care keeps the whole person healthy. It's much more cost effective."
HIV is a very expensive chronic condition. The average cost of one HIV hospitalization in the U.S. is about $6,000. In 2006, a major study estimated the lifetime HIV treatment cost at $618,900. Containing the treatment costs for the population most vulnerable to a setback for $2,000 a year seems as much a miracle of modern medicine as any that a laser can perform.
In 2008, the state promised that it could work similar wonders if the federal government would free Rhode Island from the strictures of the Medicaid program. The Rhode Island Consumer Choice Global Waiver Compact, granted by the Centers for Medicare and Medicaid Services in January 2009, gives Rhode Island the freedom to re-design the care system in exchange for capping federal spending at $12.3 billion over five years. In his pitch, Govenor Donald Carcieri estimated that the waiver would produce savings of $67 million in the first year.
"I see real potential for success," says Lieutenant Govenor Liz Roberts, who once launched her own campaign for state universal healthcare coverage. "The state has some of the highest percentages of elders living in nursing homes. We have been tilted much more heavily toward institutional care and we need to be able to support and sustain community-based care."
January marked the one-year anniversary of the global waiver. At a state Senate oversight hearing in March, Secretary of Health and Human Services Gary Alexander presented a snapshot of its progress. The Department of Human Services (DHS) reported that it had made strides toward its primary goal of reducing long-term care costs: One hundred patients were transitioned out of nursing homes into community-based care. More than 400 elderly patients and adults with disabilities were being diverted from institutional settings under a new three-level assessment system that better matched services to the needs of the patient. The department had moved all adult Medicaid recipients into managed care programs with case workers to help them access primary care doctors and other services.
But like many Medicaid providers, Dr. Skowron marked the milestone by trying to figure out how the state HIV program could possibly absorb a $375,000 loss in the current fiscal year and a potential $2.3 million loss next year.
Medicaid, the state-federal healthcare partnership, turned forty-five in 2010. Middle age has only amplified its com-plexities and confusing, sometimes contradictory, rules. It now consumes 24 percent of the Rhode Island state budget as it covers more than 180,000 low-income state residents.
Many states (including our own) have requested and received waivers for spe-cific parts of the Medicaid program, but Rhode Island's global waiver was unique in seeking unprecedented authority over the entire program. The idea was to put patients in the least restrictive setting, break down the artificial walls between Medicaid-funded programs and create a comprehensive system of care, and to bring some sense to the way the state paid health providers for services. But potential devastation of the HIV program illustrates how the lofty goal of delivering lower-cost, effective treatment and care has run into the brick wall of the state budget.
"How are they going to replace a system that works so well?" Skowron asks. "Most Rhode Islanders don't realize how bad it can be."
In this fiscal year, DHS was expected to cut $125 million from total state Medicaid spending. This spring, Govenor Carcieri proposed additional reductions. Rising medical costs and a flood of new recession-ravaged recipients has prompted the state to wring another $80.3 million out of Medicaid by the end of 2011, just to keep pace. How much will come from system reform is hard to untangle from more mundane cost-cutting like rate reductions to hospitals and nursing homes.

"One of the driving goals was to not impact benefits in any way when determin-ing cuts," says Elena Nicolella, the state's Medicaid director. "We are targeting hospitals and nursing homes, but didn't touch primary care services. We're trying to align the way we pay for services with the health-care resources people need."
The view is a little different on the ground. The state's hospitals, for example, did not welcome the state's plan to change from the old pay-for-service method to a flat per-case rate.
"What they are doing is voiding existing contracts," says Edward Quinlan, president of the Rhode Island Hospital Association.
And distrust lingers elsewhere. Few providers believe that the state will achieve the advertised savings by making the system more efficient and delivering more appropriate care.
"They haven't re-structured the rate systems in the alternative programs that make it attractive for providers," says Robert Carl, vice president of the Homestead Group, which serves about 1,300 Rhode Islanders with developmental and other disabilities. "You have to incentivize the agencies to change. You have to show families that where they are putting someone is safe and stable. You can't just show them it's cheaper."
Dawn Wardyga, president of Rhode Island Parent Information Network, which advocates for families of medically fragile children, says that parents complain that they are being more frequently denied or actively discouraged from applying for more comprehensive benefits.
"I refer to it as covert rationing," Wardyga says. "If we make the process harder, then people don't apply."
Congressman Jim Langevin, long a champion of the disabled community, says his office is also fielding calls from worried families.
"There is definitely frustration and confusion among the participants," he says. "We have heard that services are being reduced. The state is using the waiver as a cost-cutting tool, rather than as an innovative model."
Even those who see the waiver's possibilities for advancing the public system worry that the budget woes will drive it backwards. One of the waiver's primary advantages is access to more federal money. Rhode Island recently got a significant bump in the federal share of its Medicaid program. But that only magnifies the impact of the cuts — for every dollar the state wipes from its side of the ledger, programs lose another $2 in federal funds. And under the waiver, the state can now receive federal match money for services, such as transportation for the elderly and substance abuse treatment, that formerly were funded entirely by the state.
"The bottom line is: How much is the state willing to invest in Medicaid?" asks Linda Katz of the Poverty Institute. "The waiver has given the state some fiscal relief, but that hasn't been used to expand services, just to offset state general revenue spending."
Alexander acknowledges: "It's always difficult to do anything in a budget crisis, but the entire nation is in the same position. The notion that we are using the global waiver as a disguise for cutting the Medicaid program is not true."
This spring, DHS was looking for a way to use its new flexibility to save the HIV program, because, like Skowron, Alexander knows how bad it can be.
"Operating in the old world, it would be worse," he says. "The cuts would be deeper."