Reporter
Local news isn't flying in new business models for print journalism. Why care? Because the Providence Journal and its kin are all that stand between us and chaos.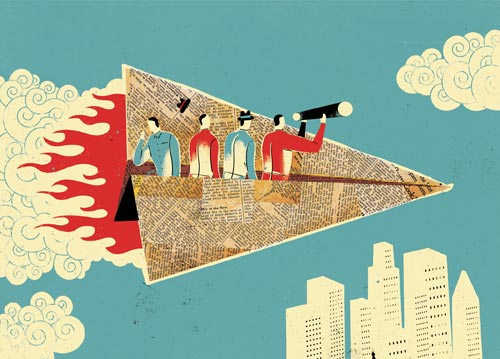 Gerry Goldstein's retirement was going to consist of three things: guitar, Spanish and tomatoes. For twenty-five years, he'd been telling South County stories to the readers of the Providence Journal. In 2001 he left his editor's post and relocated to a small farm in Greenville, which, in a state like Rhode Island, is the modern equivalent to hitching up a Conestoga to homestead in Oregon. There, in the great northwestern territory, Goldstein would finally have time to conjugate irregular infinitives, limber up his picking hand and stack hay.
Two years ago, he ran into an old Journal colleague who worked as managing editor of the weekly Valley Breeze. And though he still claims the title "Tomato Emperor," Goldstein now spends his evenings with the Smithfield School Committee and mornings producing copy for Thursday's edition.
"I'm sixty-nine years old, and I think I'm the oldest beat reporter in the state," he says with equal parts pride and rue. "They were looking for a couple of stories a week, but I decided I'd better start going to all the meetings. Many times, I find myself the only media person there, and that's a frightening thought."
Most thoughts about the state of the newspaper business are frightening these days. As late as 2000, the newspaper industry boasted profit margins of 22 to 29 percent. But the 
Internet busted print's monopoly on readers and advertisers into a million fragments, and there's no getting it back, say industry analysts.
Blogs like Newspaper Death Watch draw a healthy number of page views by following the plummeting fortunes of the dailies. Last year, characterized by its author Paul Gillin as "unquestionably the worst year in the history of the business," 130 newspapers ceased publication; thirteen switched to on-line editions only; and nearly 15,000 newspaper jobs were eliminated through buyouts or lay-offs.

Publishers of some of the nation's largest metropolitan news outlets — including the Minneapolis Star Tribune, the Chicago Sun-Times and the Philadelphia Inquirer — filed for bankruptcy protection.
"The business model is broken," says Gillin. "What we have today is not sustainable. All of that has to be re-thought and replaced by something else. Publishing a printed newspaper seven days a week is rapidly going away."
While the Providence Journal shows no signs of going away, the contours of its imprint have shrunk considerably in the last two decades. According to figures published by the Audit Bureau of Circulation, the Providence Journal's circulation has fallen from 199,507 in 1989 to 106,875 in October 2009. Last year alone, it lost 25,000 weekday subscribers. Ad revenues have also dropped sharply — down 32 percent by the third quarter of 2009, A.H. Belo, the Journal's parent company, reported.
By any standard, those are shared losses. The Providence Journal is the nation's oldest continuously published daily newspaper, a Pulitzer-prize-winning standard bearer — and as any close observer knows, the only thing standing between Rhode Island and total chaos. Despite recent job cuts, the paper still fields as many reporters as all the state's other media outlets combined, making it the point of generation for most Rhode Island news. And unlike smaller outfits, it has the clout to hold politicians accountable and the resources to shine a bright light in the state's darkest corners.
But the light has dimmed. "With all the cutbacks and buyouts, you've lost institutional memory," says Chip Young, otherwise known as half of the Providence Phoenix's satiric Phillipe and Jorge column. "That's critical. They have brought in talented young people, but you have to take them by the shoulders and turn them and say, 'Narragansett Bay is that way.' "
In the near future, the Journal will join the national print experiment of charging its online-only customers. (Subscribers of the paper edition will continue to have free access to the Internet version.) It won't be the first in the state to try this: The E.A. Sherman Publishing Company, which publishes the Newport Daily News and others, instituted a pay wall in August, charging its online-only customers about $100 more per year than its print subscribers. Publisher William F. Lucey III said the move was necessary. Online ads are much cheaper than print ones and even a virtual newspaper without printing and delivery costs cannot deliver quality journalism on Internet revenues alone.
"It's helped our business," Lucey says. "We are still struggling. But we are managing and we are still going to be around."
Belo is in better financial shape than many of its peers. "The Providence Journal is still a very profitable entity in the state," says Journal publisher Howard Sutton. It is generating new revenues by contracting its printing presses and distribution network to other publications, he says. Even with the recession and the loss of classified advertising revenues, "we are still making money."
The New York Times owes $917 million, three times its operating profits for the last twelve months. Belo's debt-to-operating profits ratio, by contrast, is zero. But the balance sheet didn't right itself — the company has been shedding jobs, real estate and media properties. Among other things, the Journal slowly shuttered its statewide network of bureaus, the linchpin of its local presence. The last two outposts, South County and East Bay, closed in 2008, leaving disaffected Journall readers with the option of going to smaller weeklies to catch up on local news — not exactly a timely choice.
Then in October, it unveiled a new look that gave the front page to state news and pushed national and international stories to the B section. "It's a different kind of newspaper," says reporter John Hill, a twenty-year veteran and president of the Providence Newspaper Guild. "I miss the old one. What they are trying to do is be a paper for Rhode Island with the staff we have now, and that can be supported by the economy we have now."
Sutton says that the content changes were in tune with market research showing that readers most wanted the Journal to cover statewide news.
"The locally generated story count is actually higher," he says. "We still have 160 people in our newsroom and in aggregate that's greater than all the broadcast, radio and daily newspapers in the state."
Cold comfort to towns like Foster, Glocester, Burrillville and Exeter, where the Journal's pullout leaves residents dependent on sporadic visits by papers such as the Woonsocket Call and North Kingstown Standard Times. In January 2010, the Standard Times had last run a story on Exeter's local governance in August 2009.
"It's a huge source of frustration," says Exeter Town Council President Calvin A. Ellis. "The public needs to be informed and deserves to be informed." Burrillville Town Council President Nancy Binns says that "the town website is now our only real outlet and we try to refer people to it, but we have a number of people who are not computer literate, or can't afford one."
And, increasingly, news organizations cannot afford to deploy platoons of reporters to the remoter corners of the world, says industry analyst Alan Mutter. Nor do they have to: "With a lot of people, the asking price for writers is driving ever closer to zero. There seem to be a large number of people willing to unearth their thoughts for nothing."
A few Web-based news outlets pay reporters and provide good coverage on limited subjects — like politics, he says. "But it doesn't replace what's been lost by the decline or, in some cases, the fall of newspapers."
All of which bestows a special significance on the sacrifices of a journalist willing to end his career where he started, chronicling zoning variances or listening to the town blatherskite make a point he's made 400 times.
"You have a bunch of elected officials meeting and nobody's watching," reporter Goldstein says. "It's a bad omen for the culture. We run on information and who is going to gather it?"
In Smithfield? Rhode Island's oldest beat reporter. That's who.