Reporter
New laws outlawing prostitution don't change the real problem — that it's women who end up in jail, again and again, and not the men who pimp and traffick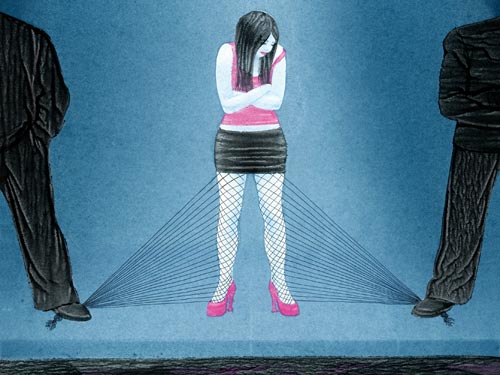 Barton Street was once the Route 2 of the sex trade. No woman could stroll casually down the Pawtucket thoroughfare without being stopped by a man in a car looking for a "date." Periodically, the police would swoop through and make arrests. Two weeks later, the prostitutes and their johns would re-take the streets.
It seemed to be an intractable feature of the neighborhood. Then, five years ago, the Pawtucket Citizens Development Corporation tried a different tack: direct outreach and services to the commercial sex workers. The program is tiny, consisting of a director and one outreach worker with a $145,000 budget (approximately the annual cost of two female inmates at the Adult Correctional Institutions).
The results have been astounding. From 2005 to 2008, prostitution arrest rates dropped from forty-one to eight. In one year, the number of calls to the Pawtucket Police for the Barton Street neighborhood dropped by 900. Revitalizing & Engaging Neighborhoods by Empowering Women (Project RENEW) offered women classes on HIV and sexually transmitted disease prevention, mentoring, connections to substance abuse treatment, housing and employment, state social services and transportation to appointments.
"One of our biggest success stories was a transgendered client," recalls Director Colleen Daley Ndoye. No Rhode Island agency would accept her, because of her gender status, but Project Renew found a drug rehab bed for her in New York and a social welfare agency, Crossroads, to pay for her ticket. "She ended up being HIV positive, with Stage 3 syphilis. But she got clean and stayed clean for over two years. She's now living on her own, has a job and is an HIV-peer educator."
How many upbeat anecdotes will Rhode Island's new prostitution laws produce? In early November, the state entered a new era of ramped-up prostitution enforcement. Soliciting outdoors had long been a crime, as were pimping, coercing women into the sex trade or operating, as the old law delicately put it, "a house of ill fame."
But in 2002, prosecutors lost a case against some sex workers operating out of a Providence massage parlor, because indoor prostitution was not explicitly banned. Seven years later, the alleged Craigslist Killer, Philip Markoff, was charged with assaulting a sex worker and attempted robbery during an assignation at a Warwick hotel. In 2007, the state had added a human sex trafficking law, but the chain of criminality had a few broken links. The repair wasn't pretty.
Moralists, law and order, and sex worker advocates, civil libertarians and social workers agreed that a new law would not end indoor prostitution; minors should not be prostitutes and no one should be coerced into sex work. After that, there was violent disagreement that shoved the debate into public name-calling and widening rifts between potential allies.

"Even though the issue was championed by trafficking advocates, the final bill was largely controlled by law enforcement," says Nick Horton, author of the state's most comprehensive snapshot of prostitution policy and practice. Rethinking Arrest: Street Prostitution and Public Policy in Rhode Island was issued by the Family Life Center, a nonprofit that advocates for and provides social services to ex-offenders. "It became clear at the final hearing that the goal was to outlaw indoor prostitution."
The short-term effect was swift. By Thanksgiving, one spa worker complained that her business dried up overnight. Her co-workers had to decamp to spas in other states, where the activity was just as illegal, but not under a spotlight. Worse, "no customers," she says. "Everybody scared."
The Phoenix, which normally printed two pages of display advertising for massage parlors, saw its lineage cut in two.
"I do believe we will get half of it back when it all dies down," says Steve L. Brown, the weekly's associate publisher. "They are all waiting for the first bust to see what happens."
That came in December, when state police announced they'd charged six women and eight men under the new law. But the arrests may not address the heart of the problem.
"What the people in Rhode Island don't realize is there is trafficking in our state," says Chief George L. Kelley III, Pawtucket police chief and head of the Rhode Island Police Chiefs' Association. "There are some active investigations going on and you are going to see quite a bit of activity in the beginning."
After "the beginning" is more worrisome. Despite past laws that largely prohibited the buying and selling of sex, enforcement has almost exclusively targeted the most visible suppliers. According to the state Department of Cor-rections 2009 population report, the most common misdemeanor offense for women awaiting trial — accounting for half of that group — was prostitution. In 2009, the Adult Correctional Institutions had held women for the crime of prostitution, either as a sentenced offender or an individual awaiting trial, 235 times. (Some women account for multiple instances.) There were no men in jail for pimping, trafficking or buying sex.
And with a few exceptions, the arrest math comes out the same: Prostitutes are charged more often than their customers or managers by a factor of three-to-one, or eight-to-one, or eleven-to-one. Donna Hughes, a University of Rhode Island women's studies professor and an ardent supporter of the new law, has studied these statistics. Nonetheless, she anticipates that tighter restrictions will enable police "to hold accountable a lot of sex industry predators." A provision in the new law requiring police to report their prostitution-related arrests every six months will allow policymakers to determine if the figures remain skewed.

"There is a paradigm shift around the U.S. and around the world to recognize that many of the women are often victims," she says.
In New York City, where the Enlightenment has not yet dawned, a nearly identical law has had the opposite effect.
"A criminal record bars sex workers from immigration options; it keeps people in an unemployable state; it even comes up in public or private housing," says Sienna Baskin of the Urban Justice Center, which provides legal and social services to vulnerable populations. "People feel really trapped. It does reduce the visibility of indoor prostitution. But what we've seen is: the heavier the penalties, the heavier the law enforcement, the harder it is to find people who are victimized or coerced or trafficked."
And the closer you get to street level, the more dubious the view. Ten years ago, with the help of her faith and a host of informal mentors, Felicia Delgado left the life. Since 2004, she has helped others do the same as Project RENEW's outreach worker.
"Rhode Island talks a lot," she says. "When it comes down to hardcore resources for this community — a resource that covers their body when they sleep at night, like a blanket, or nourishes them, or keeps them not curled up under a bridge and dying — until someone produces resources, you just have something in writing. You have nothing."
The ACI provides each female offender with a risk assessment, counseling and discharge planning. And, says Director A.T. Wall, "it's often very clear in our experience that women offenders really benefit from interventions that address their underlying issues."
Yet 70 percent of female inmates are incarcerated for less than a year. Half stay for less than six months.
"It does limit our ability to intervene effectively," he concedes.
Providence Representative Joanne Gian-nini, primary sponsor of the new law, is now reviewing state services and researching other states' initiatives.
"We created a foundation, now we need to see what can be done to help the victims," she says. "I'm not done."
With another horrific budget year looming on Smith Hill, don't expect a replay of the miracle on Barton Street.